There is a whole lot of goodness taking place in this years NFL DRAFT CLASS!! We have had a blast with the new BEHIND THE NUMBERS podcast that kicked off this season w/Tyson Banker. But we realize you need more data… so consider add this to your weekly viewing as we break down the Top 10 RC prices!
In typical years we'd be stuck with just the base Donruss Rated Rookie as the rookie card to track. This year we have the release of Mosaic Football which has been a revelation for the hobby. We are going to give you the adjusted average for both the Rated Rookie AND the MOSAIC Base RC.
I mean come on.. check out this INSANELY COOL 2020 Panini Mosaic Justin Herbert Rainbow LISTING. This is one heck of a cool product.
Now…we dive into the finer details of this data in the BreakerCulture Premium group…but this should satisfy the collectors that want simplicity.
We also breakdown the Week 3 Performances in our BEHIND THE NUMBERS Week 3 episode:
Let's dive into this!
---
Top 10 Football Rookie Card Movers
Through Week 3.
---
#10 – HENRY RUGGS III |

Raiders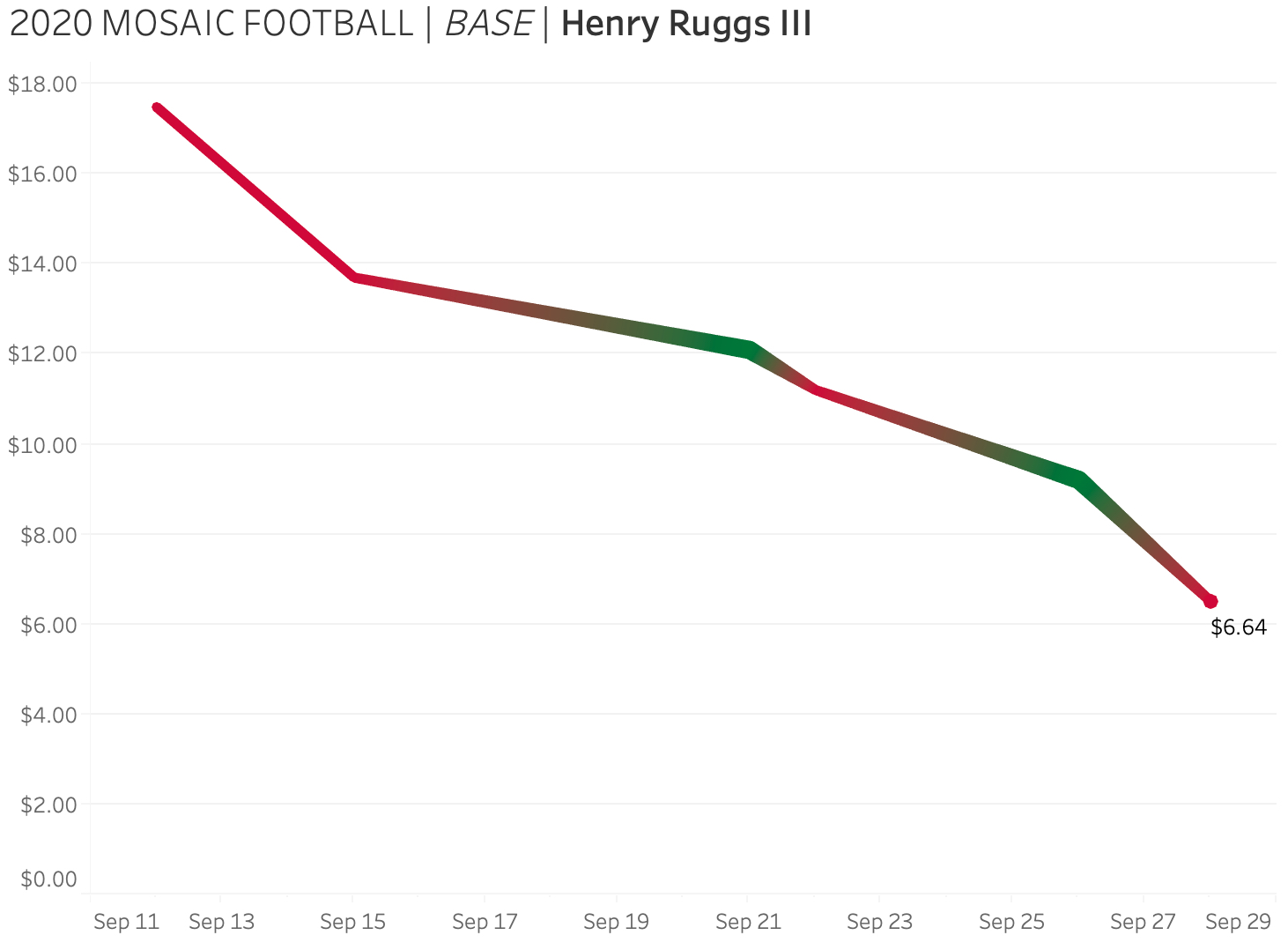 ---
#9 – JUSTIN JEFFERSON |

Vikings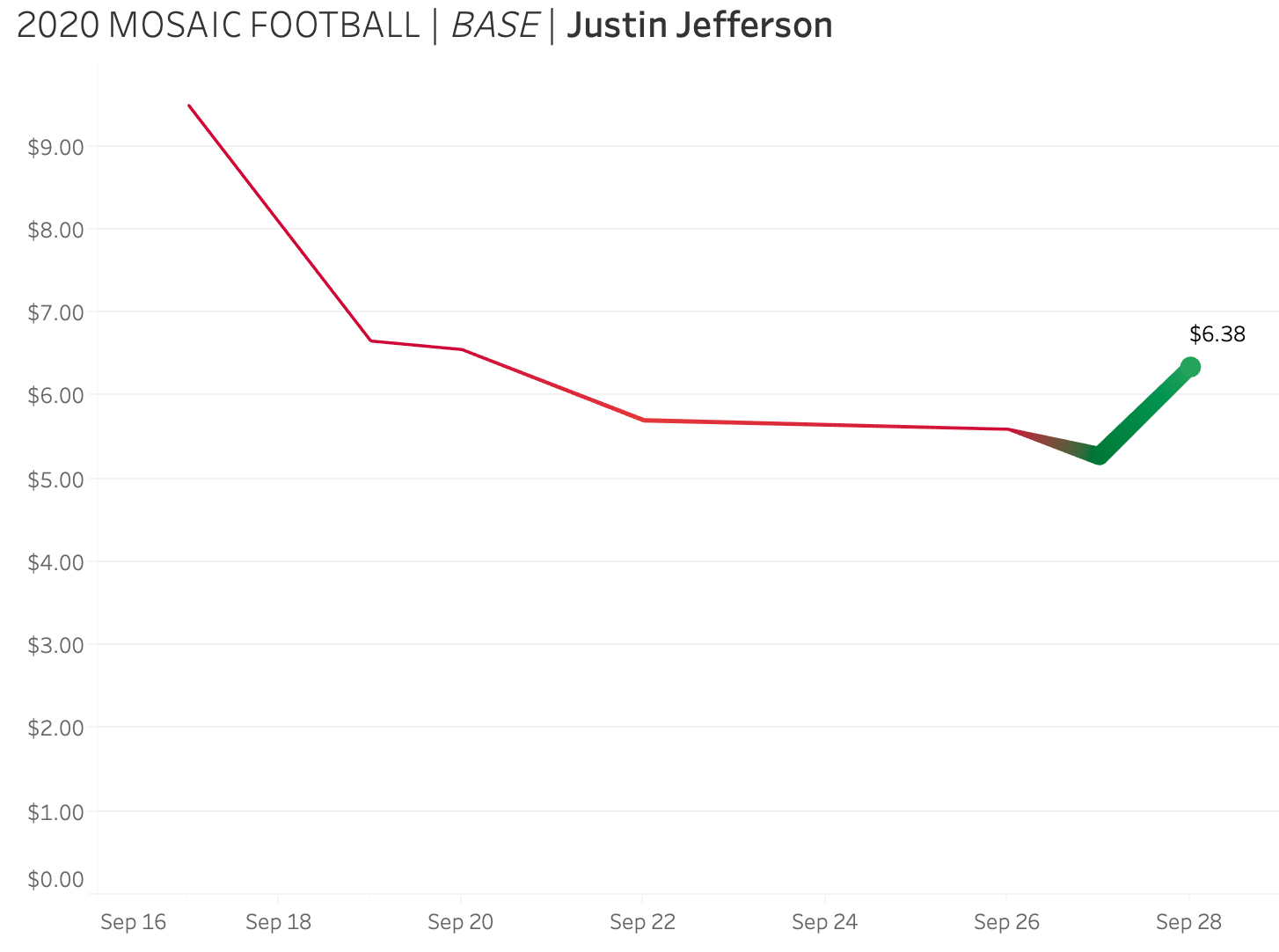 ---
#8 – JALEN HURTS |

Eagles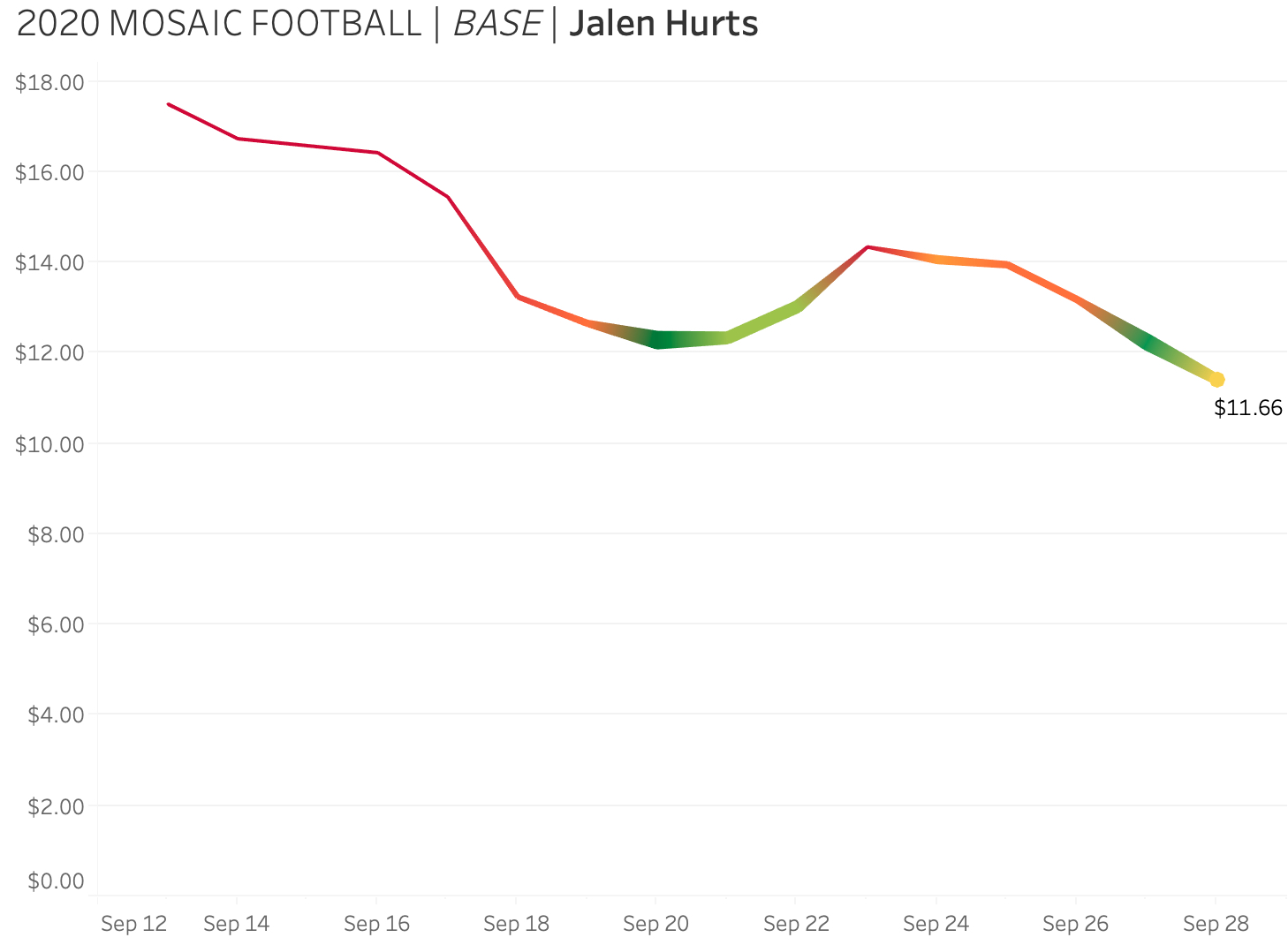 ---
#7 – CEEDEE LAMB |

Cowboys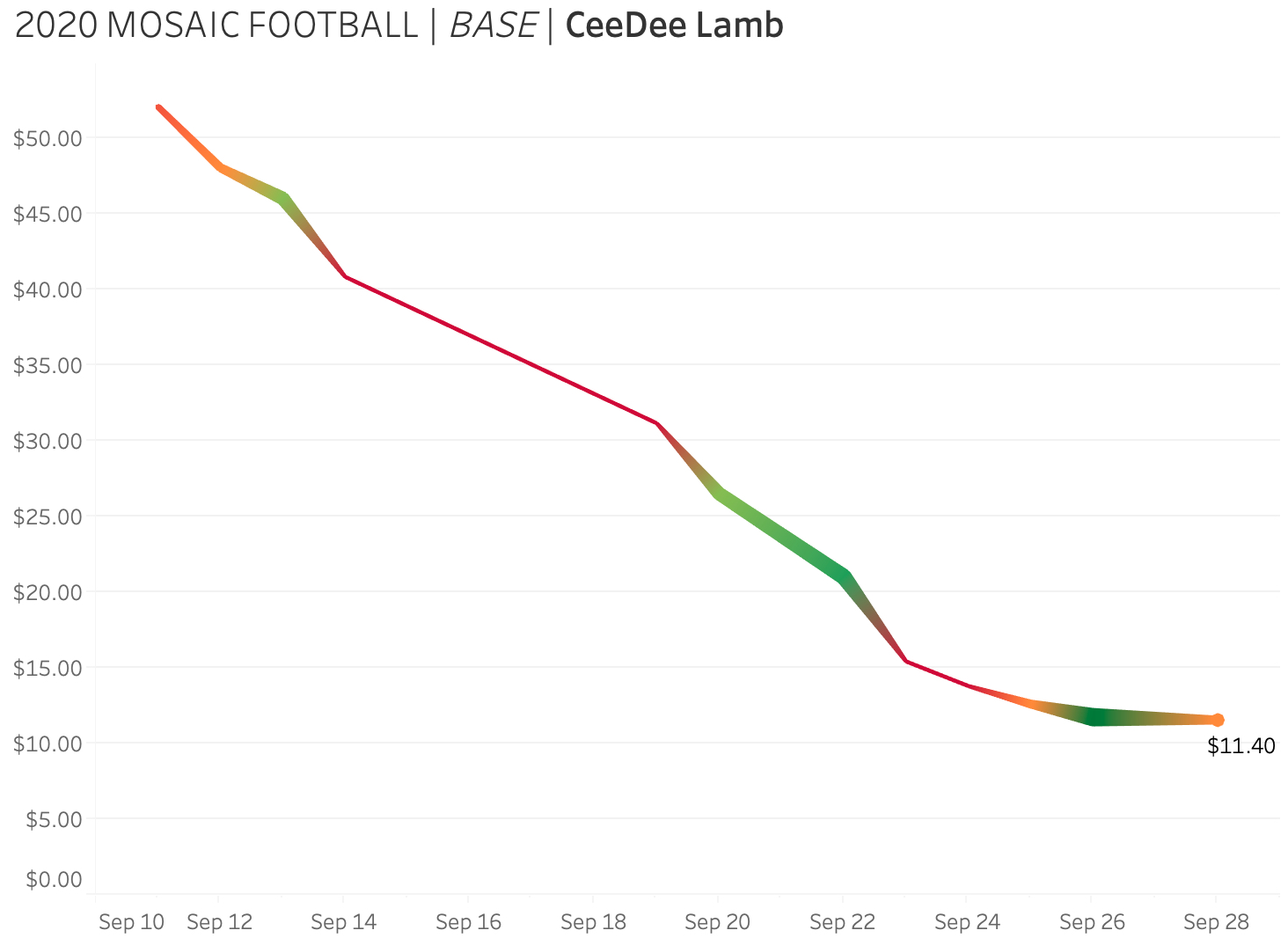 ---
#6 – JORDAN LOVE |

Packers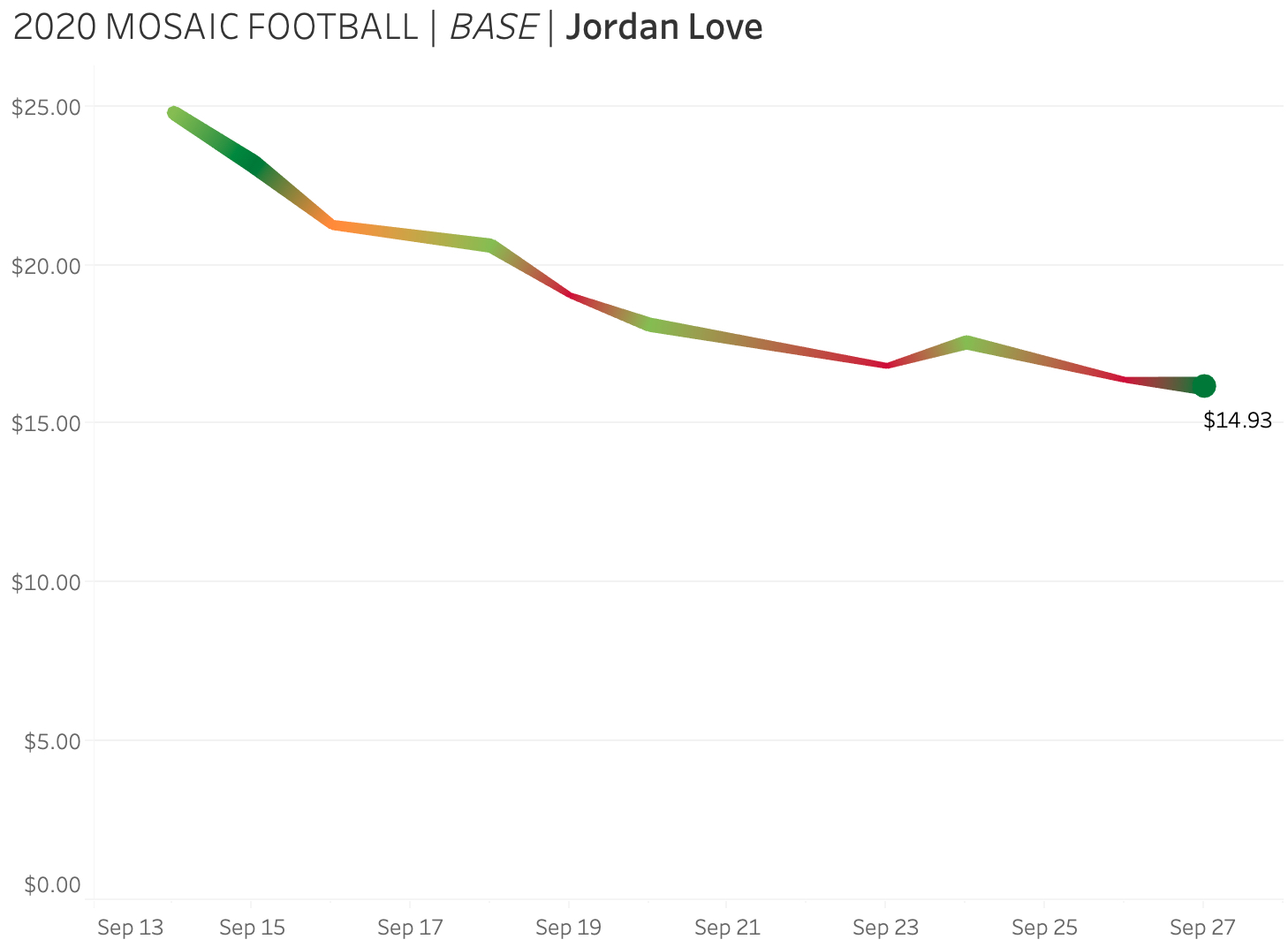 ---
#5 – JONATHAN TAYLOR |

Colts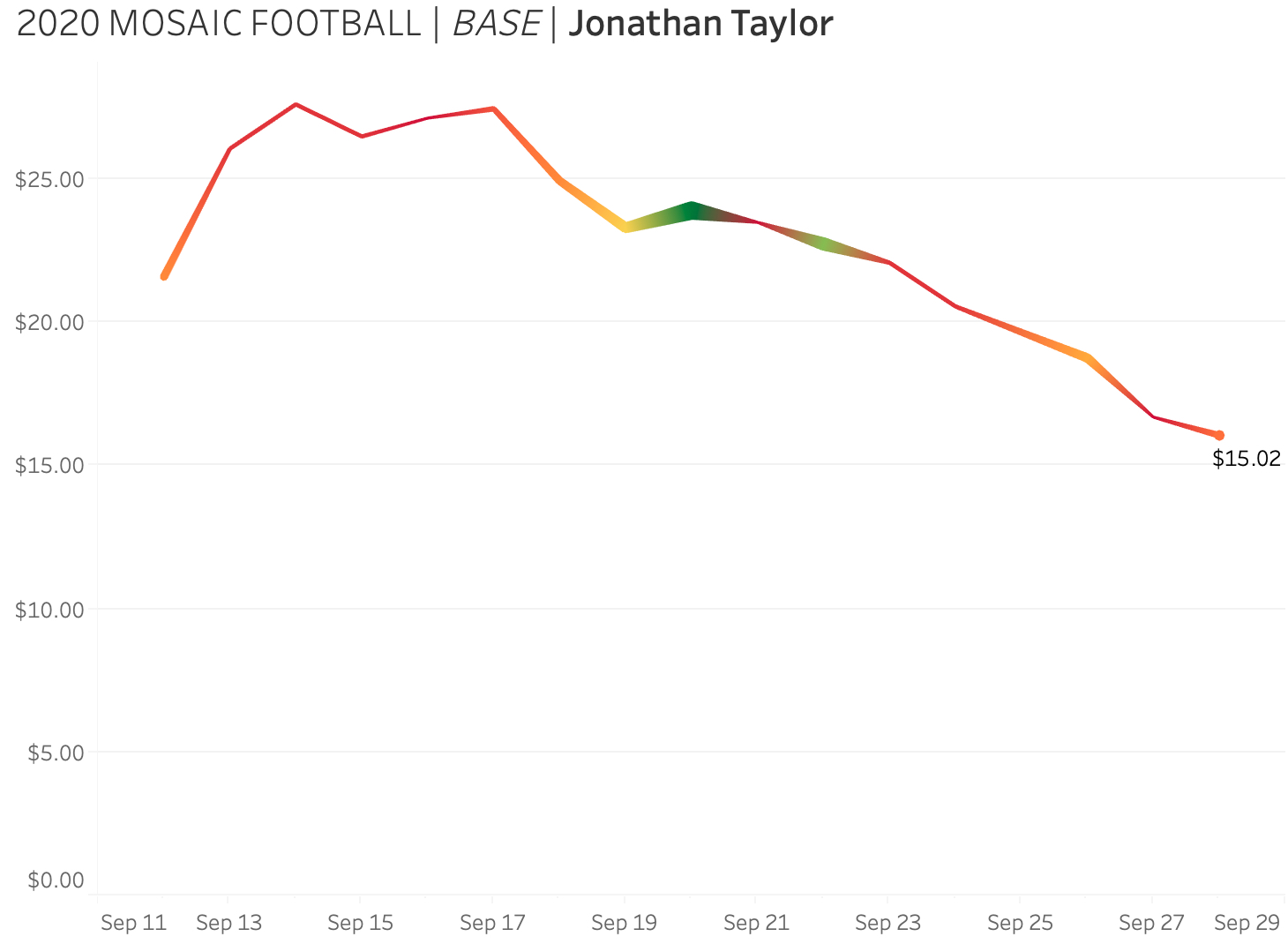 ---
#4 – CLYDE EDWARDS-HELAIRE |

Chiefs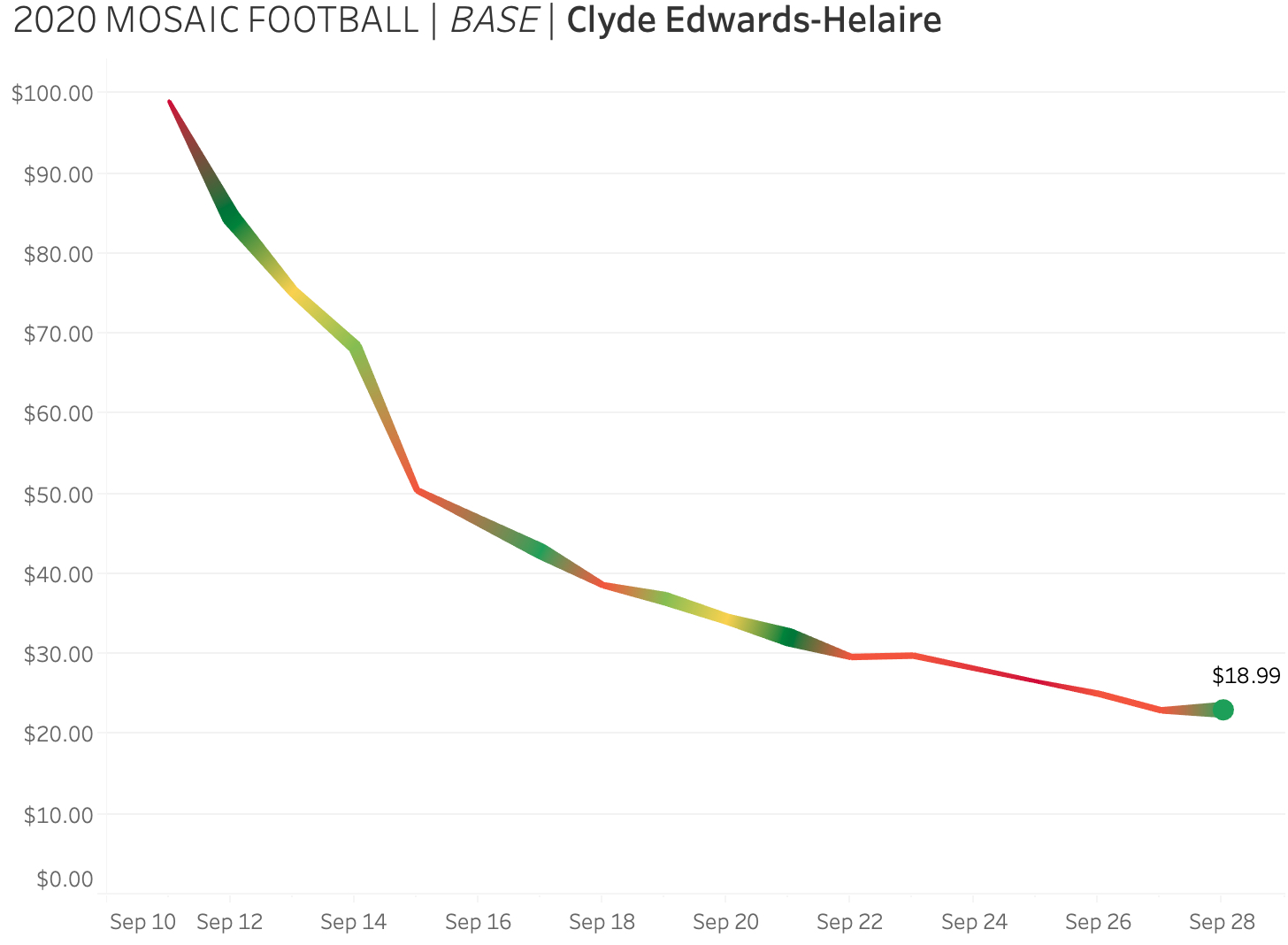 ---
#3 – TUA TAGOVAILOA |

Dolphins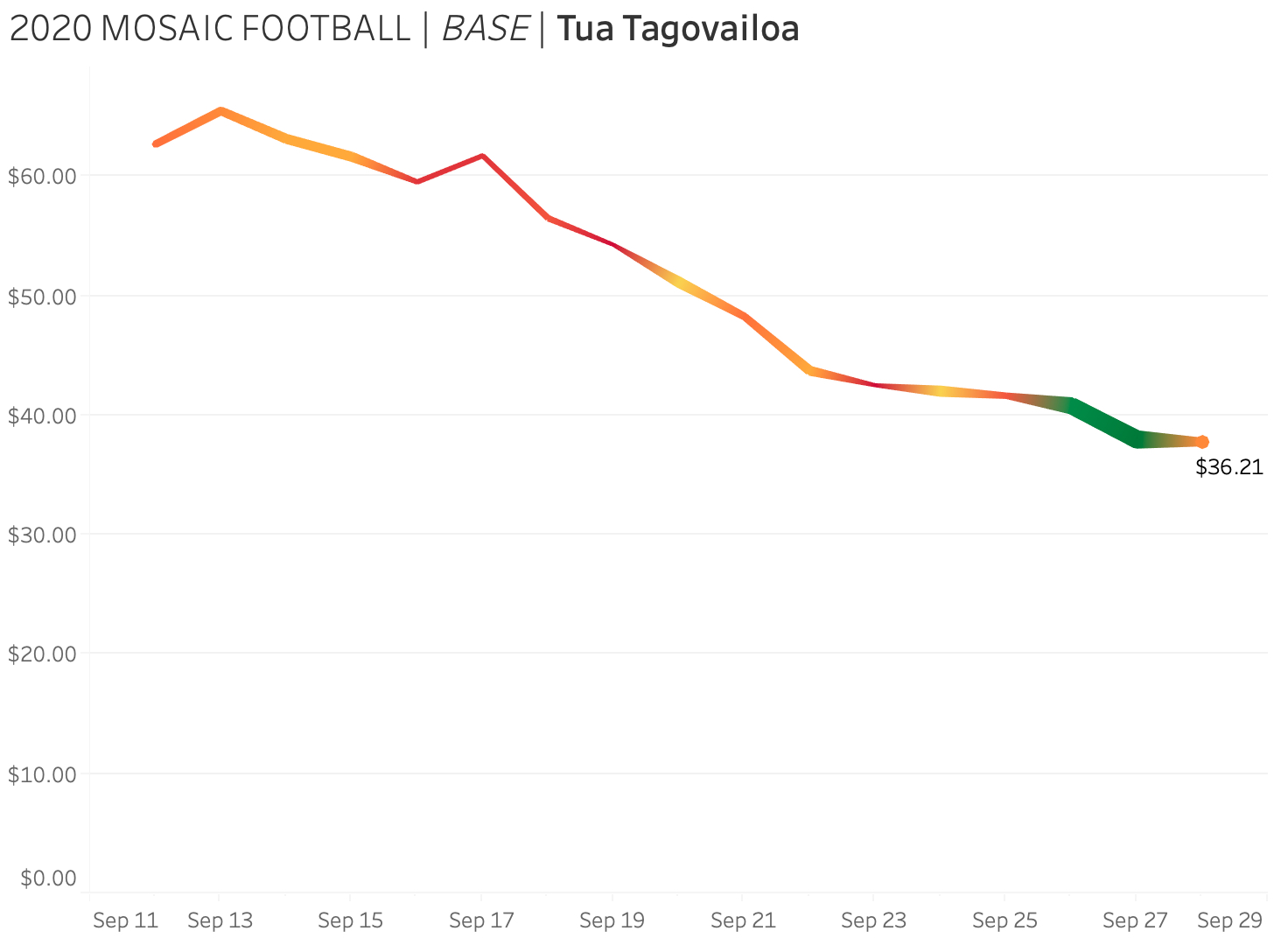 ---
#2 – JUSTIN HERBERT | Chargers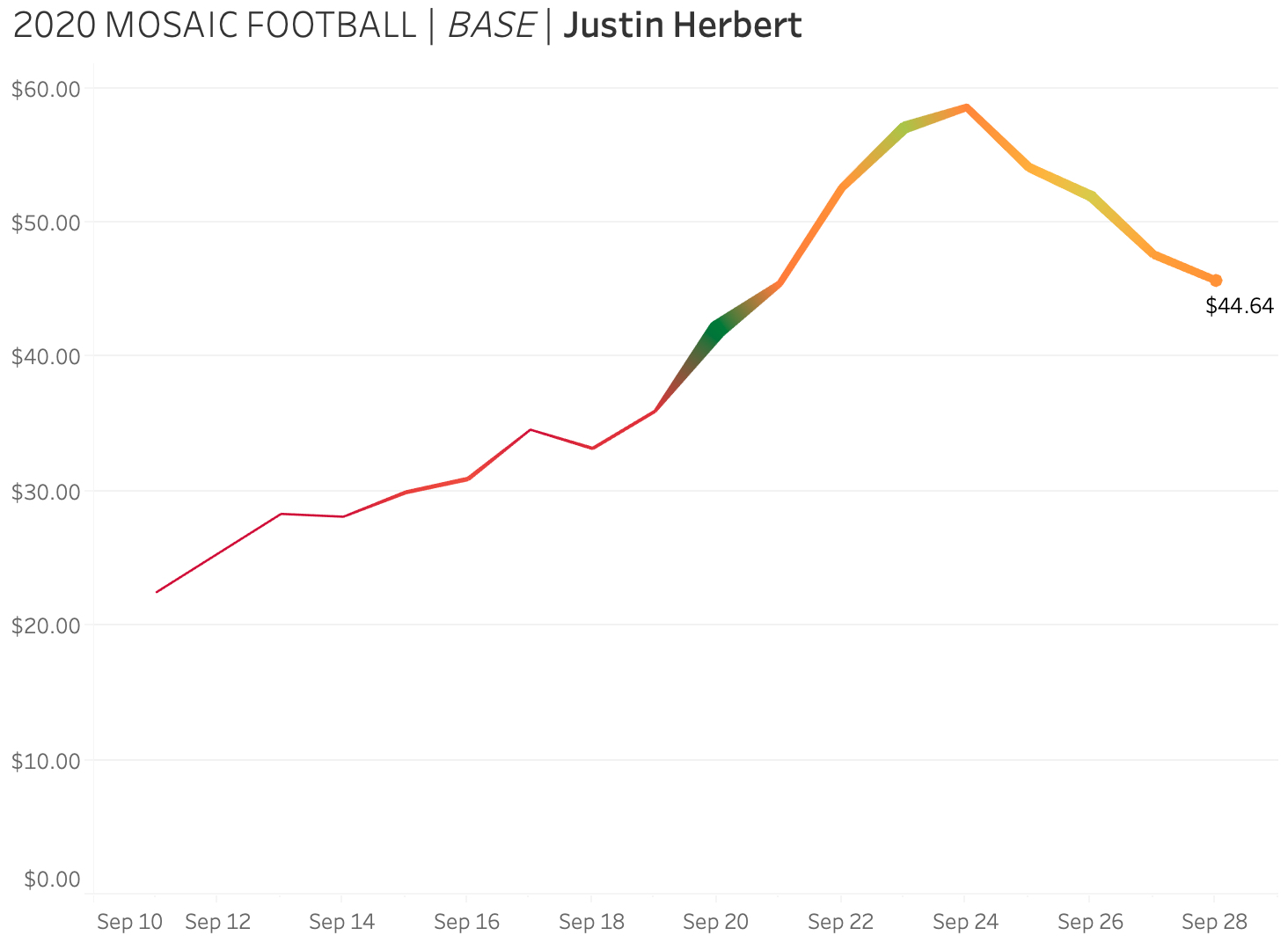 ---
#1 – JOE BURROW |

Bengals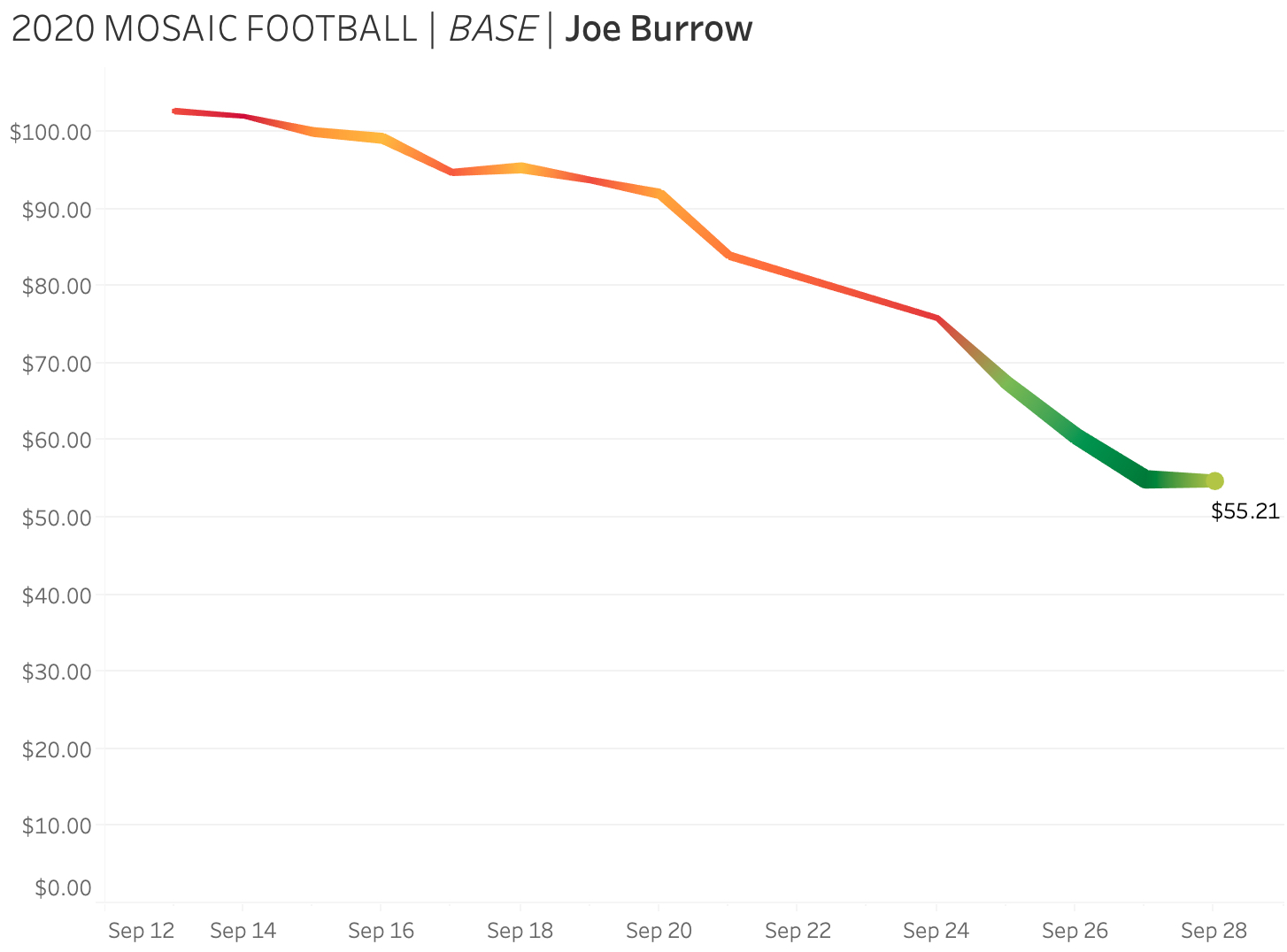 ---
Whew! That's a lot of numbers thrown at you. Hopefully it helps as you try to identify where the opportunities are…and how you should buying/selling your NFL cards this season.
If you are curious about how the overall TOP 10 is doing in terms of AVERAGE COMBINED prices…here you go.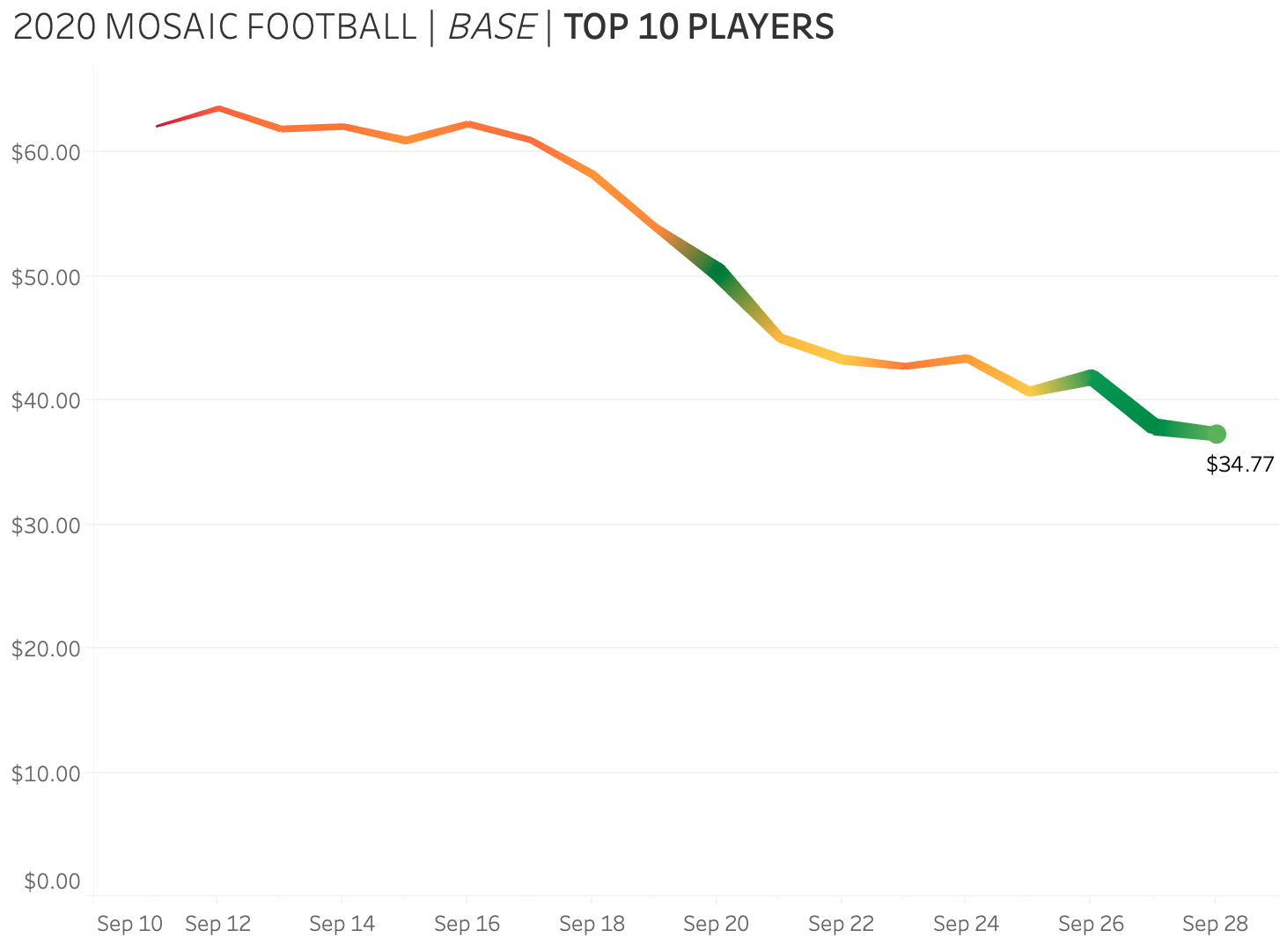 The color/size reflects the volume. So you can see the average price has been declining for the Top 10 Players… but the volume is starting to increase. This is likely for two reasons.
Mosaic is starting to pop out across retail outlets and saturate the marketplace.
The past week there was performances spread across various players…driving some more interest into their cards.
I think we likely start to settle on base/silver prices over the next 7-10 days. So if you are looking to invest in some of these rookies, the initial release drop is priced in and you likely have a good entry point.
Also worth considering, there are some decent deals for 2020 Panini Mosaic Football Boxes. CLICK HERE to see the boxes ending today on eBay.
Finally, below you'll find the TOP 10 MOST WATCHED Mosaic Football Cards as of this moment!