2018 Topps Update Baseball
Based on my sales on 2018 Update Series and what you are expected to hit in one hobby case, my gross sales target on one case is currently $823.00.  I do not factor in shipping proceeds in this figure and any potential extra cards that are leftover, but I typically see a 15% loss in value after I factor in shipping (added funds but also subtraction for shipping), eBay and PayPal fees.  After all of that, my current "take home" number is currently $699.50 on one 2018 Topps Update Series Hobby case.
So if you are looking to purchase a hobby case and attempting to turn a small profit, you will need to look for pricing in the low $600's or if you are lucky, in the $500's.  Buying at full retail currently will limit your ability to turn a profit unless you hit a monster!  The goal here is to turn a profit by playing to the numbers and finding untapped value in some of the most routine cards.
---
Top 3 Observations
Timing is Key:
As simple as it sounds, the first people to list their cards, will always typically see the best return.  While you do want to be mindful of your initial pricing, if you put up the first listing with an extreme price tag, you will scare away all buyers and erase your head start.  Attempt to be one of the first but also be reasonable on pricing.
Take for example the All-Star Stitches Relics & Short Prints this year.  I had two hobby cases arrive four days early and I was able to realize Short Print sales at around $20 a card and base All-Star Stitches Relic cards at the $10+ range.  My All-Star relic cards were essentially flying out of my store but now a month later, prices are just a fraction of that for both cards.
It is all about the Rookie Cards:
Especially this year when we are dealing with Ronald Acuna Jr., Juan Soto, Shohei Ohtani and Gleyber Torres, the hype will always be around the rookie cards.   Hitting veteran parallel cards are nice and will occasionally return a nice sale but the true money is in the rookies.
Take some time and understand the rookie market before listing your cards.  A guy like Dereck Rodriguez who doesn't really elicit an immediate "boom" when you pull his cards, can potentially cost you money by not understanding his value is not that of a standard rookie.  Searching sold eBay listings will help you out nearly every single time.
The hits are not the "hits":
If you are opening flagship products for the auto's or relics, you will come away disappointed.  While you will occasionally hit an auto, approximately two to three per hobby case, the real hits that you are going after are the numbered rookie cards.  Also, do not be swayed into purchasing a Jumbo case because it has three guaranteed hits per box with six auto's.  Jumbo cases are priced lower for a reason, even with more guaranteed auto hits.
The parallels that you want to go after or are looking to hit are the /67 black parallels in this year's release along with the ever growing popular /76 Independence parallels. You will also want the rookie's main base card as their All-Star and Rookie Debut cards are not as sought after.
---
Top 3 Strategies
Be Patient:
There will always be someone out there willing to undercut a current low price because they need to turn a quick dollar.  Do not just look at the lowest price and list lower than that.  Take a look at comparable sales for that player or parallel and price accordingly.
If you are not careful you will get caught in the "race to the bottom" and that is a race that no one wins at.  I could have easily marked my Update Series complete base sets down every week but a month later I am still selling them at the BIN price of $30 and averaging $29 a set after selling 49 of them.
Don't Be Greedy:
A vast majority of cards that I sell, are sold due to me or the buyer accepting an offer.  When you receive an offer, before you just immediately send a counter offer over, take a look at what the current inventory levels are for that card in the marketplace.  Also, look at the card and identify if it is a "one or two" buyer card or does it have mass appeal.
I made a mistake with two buyers this year where I countered on a Derek Jeter and Mariano manufactured relic cards and both offers were declined.  Once month later those cards are still in my store, with no other offers and $35 not collected because I was greedy during my "pre-release" weekend.
Numbered RC cards are still numbered:
This goes in line with being patient but with releases that have a heavy focus on Rookie Cards, once the first month goes by a lot of the low numbered rookie parallels will essentially disappear from the marketplace.  Some will be stashed away, some sent to PSA and then stashed away but a lot of them will never be discovered as they are in retail, destroyed in shipment, etc.
Do not be afraid to hold onto a low numbered rookie parallel until Spring Training versus selling in the middle of December when very few people are focused on baseball cards.
HERE IS THE DATA FOR YOU: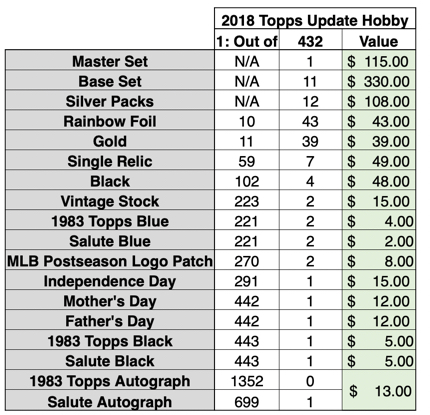 Personal Preferences
Selling the Silver Packs:
In Series 2 and Update Series this year, I decided to just sell the silver packs once I received them.  While there is great potential in them, I prefer the safer guaranteed route with them and earn back approximately 15% of my case price by selling them.
As a seller though, you have to remember this one important fact.  You either need to open all of them or sell all of them.  At no time should you open to a "big hit" and then sell off.  This is no different than selling boxes after you hit the "case hit."  It is just a matter of ethics and elevating your business practices above the rest in this hobby.
---
Final Thoughts
Individual case breaking can be a lot of fun but is also a lot of work. What is not covered here is what to do with all of your extra base and inserts that are left over.  Familiarize yourself with how run a promotion on ebay, selling on Twitter, Instagram and other various message boards.  Someone is always looking for the cards you have but it takes time and a little bit of effort.
We all want that "one card" to pay for case scenario but they are few and far between.  While it will be very rare that you sell every card from a case break, if you stick with it, you can sell a vast majority of them, turn a profit and start the entire process over with another release or another case of the same product, which is what we all want to do!  Thanks for reading this and best of luck with your breaks!