NFL Preseason RC Report 2021
As we get closer and closer to opening night I wanted to give us a picture of the NFL RC card landscape. I am going to do a top 20 list, which as you can imagine is QB heavy. In the end, I will give a Top 5 RB and WR/TE list. Similar to my baseball RC report, I will have 3 checkpoints for this report. I will update this week 9, and then before the playoffs start. NFL RC cards are a different beast compared to baseball and basketball. The biggest difference from my view is the supply. Pop reports for football cards are much lower compared to Basketball and Baseball. I do believe this does give football a bit more stability. Football has higher injury risk, so it's not completely safe but I do feel better about getting proven players in football when their prices dip. I will reference this report often on my podcast and make sure to follow me @numbers_behind for links to my content. 
#1 Tom Brady 2000 Bowman Chrome RC
#2 Patrick Mahomes 2017 Prizm RC
#3 Ben Roethlisberger 2004 Topps Chrome RC
#4 Aaron Rodgers 2005 Topps RC
#5 Russell Wilson 2012 Prizm RC
---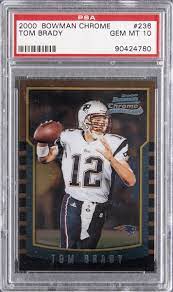 The elite group at the top as you would expect is all Qbs. Tom Brady will be the football Rc to have that in my opinion will be stable and steadily grow over time. He is the best QB of all time, he will overtake the major QB all-time statistical categories by next year. All QBs on this list have a Super Bowl title, which we know defines greatness for the QB position. Mahones lost his chance (mostly due to his OL) to make his mark on Brady's career. While Mahomes is the most talented QB I have ever seen play, he is in a big pivot year. Can he get the momentum in his career to have multiple titles, or will he be similar to Brees and be capped at one title and great career numbers? Big Ben is back for another year, he is a very stable Rc card long term. He has multiple championships and has been a major reason Pittsburgh has been competitive ever since he took the team over his RC Season. Rodgers and Wison could see a nice bump if either of them can win a Super Bowl before their time is done. 
---
#6 Matthew Stafford 2009 Topps Chrome RC
#7 Josh Allen 2018 Prizm RC
#8 Dak Prescott 2016 Prizm RC
#9 Lamar Jackson 2018 Prizm RC
#10 Deshaun Watson 2017 Prizm RC
---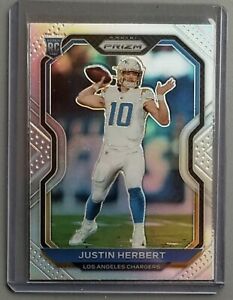 Staffords rise is very surprising to me. In his career, he doesn't have a playoff win. Now that is not all on him, as the hapless Lions did not help him at all. My biggest concern with Stafford is consistent health. Losing Akers is a big loss for the Rams' offense as well. Allen, Prescott, and Jackson are all in big years in terms of their hobby value. Allen needs to come back and prove last year's MVP performance wasn't a fluke. Dak coming off his major injury, getting Dallas back to the playoffs with their high octane offense. Lamar bouncing back close to his 2019 MVP form or is 2020 more of what to expect going forward in his career? We all know the cloud over Watson, but his talent as QB is unquestioned but the Texans roster is depleted. If a miracle trade were to happen I think anywhere would be better than Houston at this point for him.
---
#11 Derrick Henry 2016 Prizm RC
#12 Justin Herbert 2020 Prizm RC
#13 Joe Burrow 2020 Prizm RC
#14 Carson Wentz 2016 Prizm RC
#15 Baker Mayfield 2018 Prizm RC
---
Derrick Henry is the first Non-QB to make the Top 20. It does make sense as his running style and physical nature make it feel like he will have a longer career than expected at the running back position. I expect another big year from him in 2021, but I am unsure if the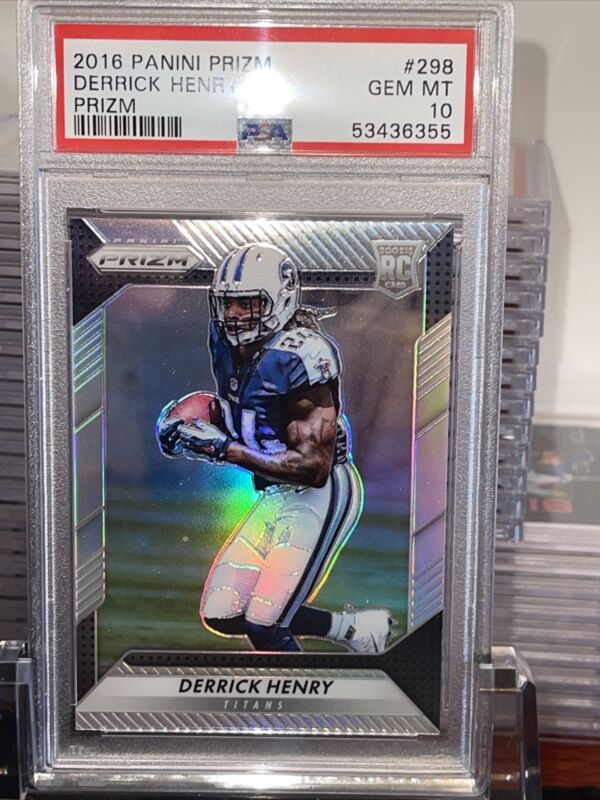 Titans team will see the same level of success. I understand the optimism with Wentz but still think I prefer Baker Mayfield. Burrow and Herbert are representing the 2020 RC class, you can see they have solid value but I believe they are hindered by higher pop reports compared to others. I expect there to be even more in the backlog at PSA. If you want to invest in Burrow or Herbert pick up a parallel.
---
#16 Kyler Murray 2019 Prizm RC
#17 Christian McCaffrey 2017 Prizm RC
#18 Larry Fitzgerald 2004 Topps RC
#19 Travis Kelce 2013 Prizm RC
#20 Tyreek Hill 2016 Prizm RC
---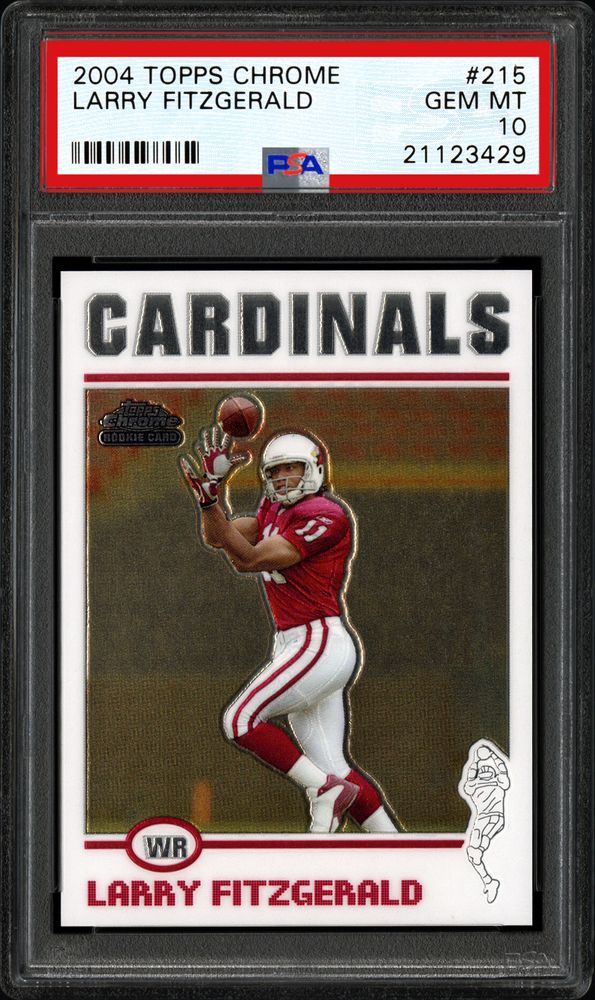 In our chunk of 5, the non-Qbs make a push. Fitzgerald is a surefire Hall of Fame WR that will have great long-term value. I do think he will be around once he retires in a way that people will still know of his name. The Chief's tandem of Kelce and Hill round out the list. As long as they are in KC they will continue to produce great numbers, it is too bad Mahomes didn't arrive earlier for Kelce as he could have been looking at the best TE of all time if he had more time with him Mahomes. CMC returns for 2021 and is still a #1 overall pick for Fantasy even after missing all of last year. Shows how special his skill set is. I hope he can maintain health for the next couple of years and I can see his cards rise again with his fantasy value. A lot of this hinges on QB play from Darnold. Kyler is really cheap and somewhat similar to the 2020 RCs his Pop is quite high which limits his upside. He is in a tough division and I believe the Cardinals and their staff are in a make-or-break year. I don't see the Cardinals having a chance at the division, but my hope is they can compete and Kyler can see a bump in his card value. 
---
---
Top 5 Running Backs
Derrick Henry 2016 Prizm RC $519 Pop: 137
Christian McCaffery 2017 Prizm Rc $315 Pop: 928
Ezekial Elliott 2016 Prizm Rc $237 Pop: 893
Alvin Kamara 2017 Prizm Rc $185 Pop: 670
Dalvin Cook 2017 Prizm Rc $ 184 Pop: 499
Very interesting to me that with running back being hard to invest in, the top 5 RBs are all in 2016-2017 classes. I do think that this list is guys at peak or on the decline, so it is a question of which guys have done enough to sustain value. Zeke is looking to bounce back from a rough 2020 without Dak and a beat-up OL. Kamara is the one guy on the list that I can see a long career with his style of play. I love Dalvin Cook's game, but he would be the guy in the group I would sell. Smaller market and has a tough time being healthy, even though he is a great player when healthy. 
Top 5 Wide Receivers/Tight Ends
Larry Fitzgerald 2004 Topps Rc $311 Pop: 215
Travis Kelce 2013 Prizm Rc $291 Pop: 107
Tyreek Hill 2016 Prizm Rc $275 Pop: 243
Deandre Hopkins 2013 Prizm Rc $237 Pop:229
Julio Jones 2011 Topps Chrome Rc $230 Pop:105 
I was quite shocked that DK Metcalf or AJ Brown didn't make the Top 5. They're Not proven but thought their upside would be commanding more value. Julio is on the decline and has been battling injuries. Julio and Hopkins are guys on the list I would be selling as I don't see them improving their careers in 2021. Hopkins can turn in a fine season, I just don't see it having much value if the Cardinals finish 4th in the division. The top 3 seem to have stable value with great situations and/or locked up HoF careers. 
Looking forward to week 9 check-in and see where the movement is with this top 20. We will have some breakout stars and can't wait to see who is making noise to start the season. Tune into my podcast Behind the Numbers for all the updates and values to keep you up to date with Football within the hobby!