One thing is for certain, we missed the minor leagues this past year. However, I wanted to give you some guys to look forward to as we approach the 2021 season! Prospect cards are still the chase in baseball. You will not see Wander Franco, Jasson Dominguez, or Julio Rodriguez on this list. You will see some guys that have tools and upside to help you make some more affordable purchases with room to grow! We have completed the 2020 rounds of Bowmans Product and many are already pre-ordered for 2021 Bowman, with Austin Martin one of the main chases. With that let us take a look at some players that could see some movement in their values in the 2021 season.
---
TOP PROSPECTS TO WATCH FOR 2021
---
CORBIN CARROLL 
OF Arizona Diamondbacks 5'10 165 lbs age 20 
Rookie Ball – 31 Games – 2 HRS – 23 R – 14 RBI – 16 SB – .288 Avg
2019 A Ball – 11 Games – 0 HRs – 13 R – 6 RBI – 2 SB – .326 Avg
2019 Bowman Draft BGS 9.5 Auto $96
>> FIND HIS TOP CARDS on

e

B

a

y

RIGHT HERE <<
Caroll is one of the more puzzling players in the hobby. He is consistently in the top 20-30 on most prospect lists, yet he isn't being valued that way in the hobby. He has a very small sample size in A ball but the tools are there. He has great contact on the ball with speed to steal some bases. The power could develop which leaves all tools on the table. The Diamondbacks have a strong farm system right now with Kristian Robinson, Alek Thomas, Seth Beer, and more. This is a reason he could be overlooked. I have seen Diamondbacks at very affordable PYT prices in breaks for the 2019 Bowman Draft, if you see them grab them up! Otherwise, go grab is BGS 9.5 base auto for under a ridiculous $100.
---
JORDAN GROSHANS 
3B/SS Toronto BlueJays 6'3 205 age 21
2019 A Ball – 23 Games 2 HRs 12 RBI 13 R 1 SB .337 Avg
2018 Bowman Draft 1st Bowman Auto BGS 9.5 $175
>> FIND HIS TOP CARDS on

e

B

a

y

RIGHT HERE <<
I have had this article in the works for a while, and since then Groshans has already grown about 40% on his value. The Blue Jays are already a young exciting team that is only going to get better. It seems that Vlad Jr is determined to play 3B but that won't last if they want to get Groshans in the mix. The only issue with Groshans is the log jam in the infield in Toronto, which brings the question of will to he be trade bait? At any rate, Groshans can play either 3B or SS and has the size and speed to be an all-star. We know Bo Bichette has the SS position locked down long term and the Jays top draft pick Austin Martin can slide to the OF if needed. They can make it work for Groshans and I think his value is best in Toronto with that young promising lineup. Blue Jays are also affordable in PYT pricing for the 2018 Bowman draft. Groshans 1st Bowman gem auto is still under $200 with room to grow.
---
ALEK THOMAS 
OF Arizona Diamondbacks 5'11 175 age 20

2019 A Ball  91 games- 8 HRs 63 R 48 RBI 11 SB .312 Avg
2019 A+ Ball 23 games  2 HRs 13 R 7 RBI 4 SB .255 Avg
2018 Bowman Draft BGS 9.5 Auto $96
>> FIND HIS TOP CARDS on

e

B

a

y

RIGHT HERE <<
The second Diamondback on the list is Alek Thomas. Thomas checks in the top 30 of most prospects list but similar to Carroll is not getting much love in the Hobby even with the speed/power combo he offers. In a small sample he had a rough start in A+ with over 30% K rate, but still showed he can hit the home run and steal some bases which you love to see. Take advantage of his cheap gem 1st Bowman Auto under $100, there is room for growth here as he approaches the big leagues.
---
JOSH JUNG
3B Texas Rangers 6'2 215 age 23 
2019 A Ball- 40 games- 1 HR 18 R 23 RBI 4 SB .287 Avg
2019 Bowman Draft BGS 9.5 Auto $195
>> FIND HIS TOP CARDS on

e

B

a

y

RIGHT HERE <<
The Rangers are another system that is slowly adding some very impressive bats to their system. Jung is one to keep tabs on. He is much lower in prospect rank than a few on this list and higher in price, but I do think he has some elite tool to work with. He has some power and a little bit of speed as well. In his small start in A ball, he showed all-around skills. The only downside to Jung is his age but his 1st Bowman Auto is still under the $200 threshold and has room to grow as he climbs his way to the majors.
---
BRAYAN ROCCHIO 
SS Cleveland 5'10 150 age 20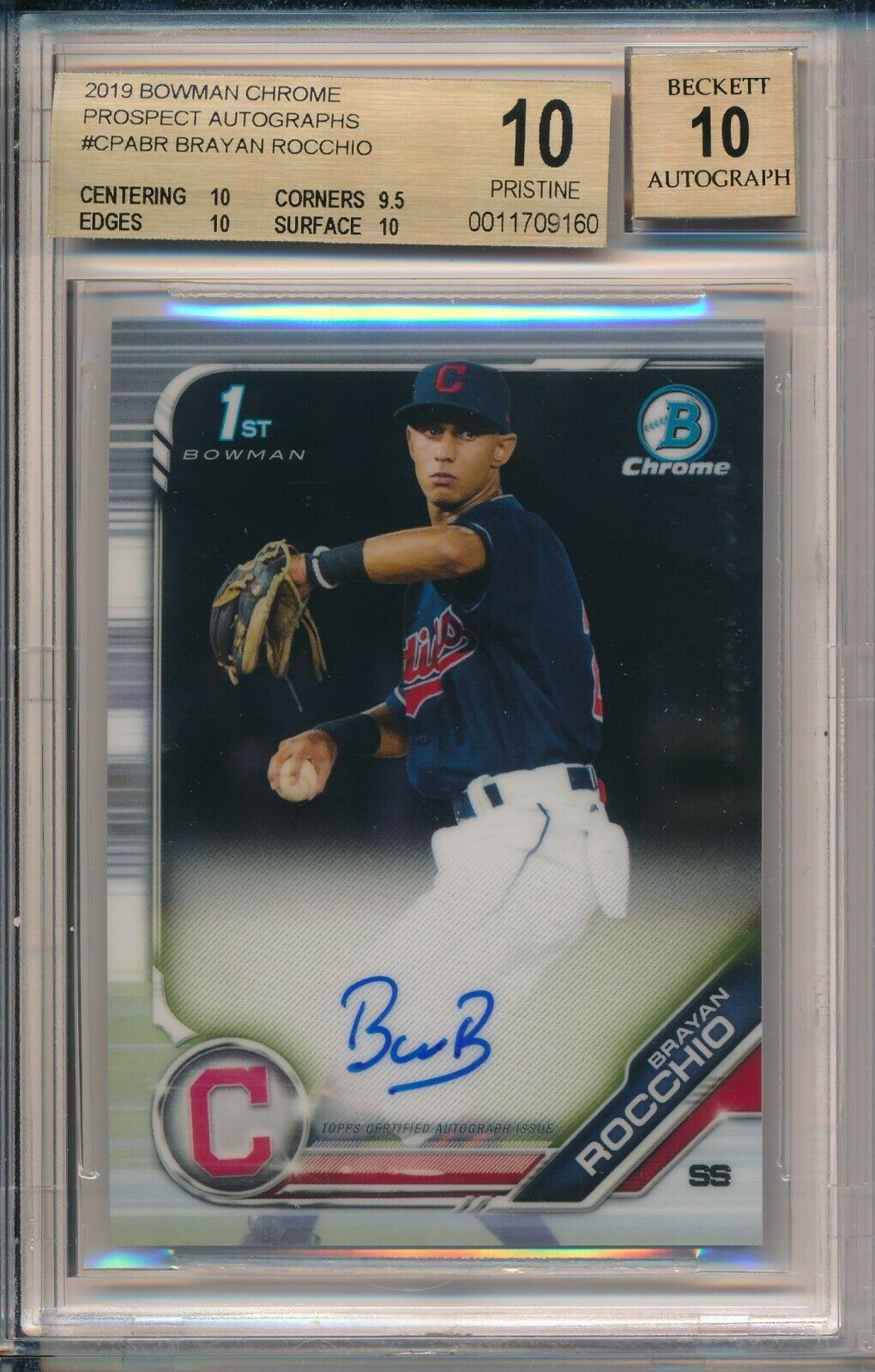 2019 A Ball – 69 games – 5 HRs – 33 R – 27 RBI – 14 SBs .250 Avg
2018 Bowman Chrome BGS 9.5 Auto $53
>> FIND HIS TOP CARDS on

e

B

a

y

RIGHT HERE <<
Rocchio is probably my favorite player on this list. He is young and has shown some impressive tools already in his initial star to A ball. With his slight frame, he still has some pop to accompany his very impressive speed. With Lindor gone in Cleveland, there is an opportunity to come up and be the next SS for the Cleveland baseball team. The even more appealing part about Rocchio is his price! He is around $50 for his base gem Auto. You can't lose at that price and I am buying Rocchios and you should too.
---
GARRETT MITCHELL 
DH Milwaukee Brewers 6'3 215 age 22
No Minor Stats
2020 Bowman Draft Auto (Non-Graded) $98
>> FIND HIS TOP CARDS on

e

B

a

y

RIGHT HERE <<
Mitchell is one of the more interesting players on this list. He has no Minor league experience coming up from UCLA and fresh out of the 2020 Draft to Milwaukee with the 20 overall selection. The Brewers were very cheap out of the gate as a PYT option for Breaks, since then they have come up with Mitchell landing in the top 40 for most prospects lists. Mitchell possesses some elite hitting traits that the Brewers need to help one of the weakest farm systems in baseball. Mitchell's base auto not graded is going for $98, which leaves a lot of room for growth as he will probably climb quickly to the majors with his age and collegiate play. Grab what you can of Mitchell before his ascent to the big leagues happens quicker than you thought.
---
ALEXANDER CANARIO 
OF San Francisco Giants 6'1 165 age 21
2019 A Ball- 49 games 9 HRs 38 R 40 RBI 3 SB .301 Avg
2019 Bowman Chrome BGS 9.5 Auto $120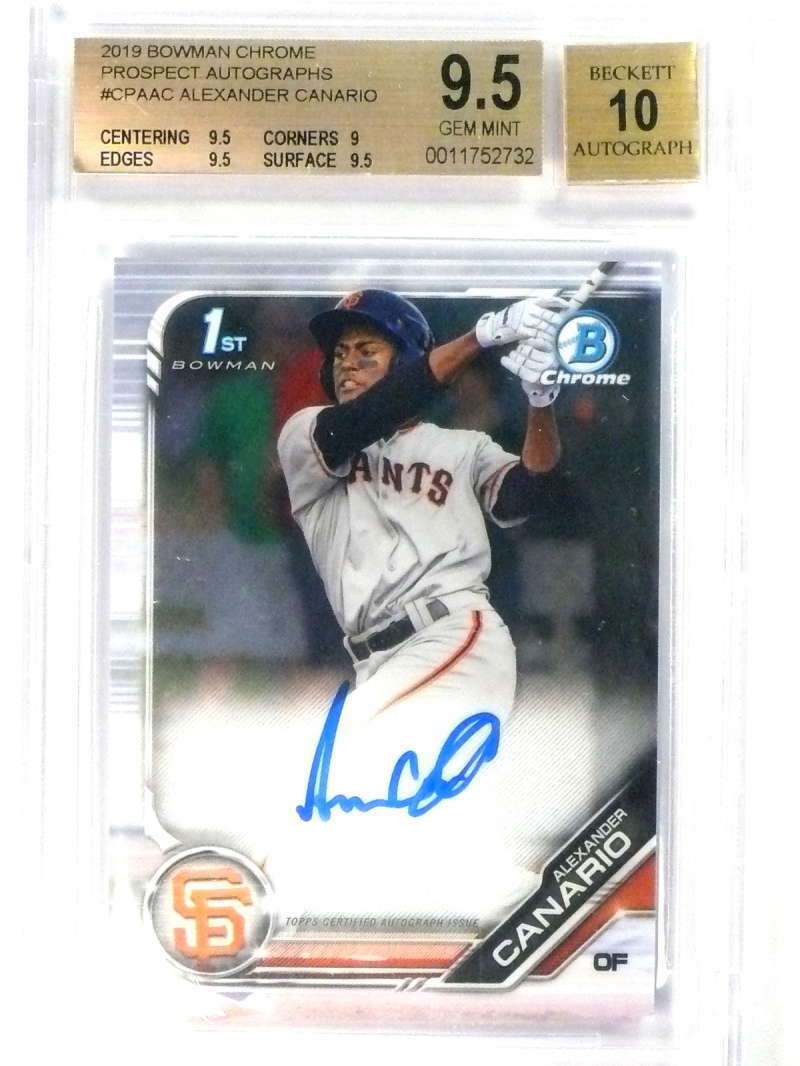 >> FIND HIS TOP CARDS on

e

B

a

y

RIGHT HERE <<
The next two prospects fall under the deep sleeper category. Now Canario has solid value on his base gem at $120. This illustrates how Carroll and others are undervalued, but Canario had a really good showing in A ball and is in a great market that needs a youth overload. The Giants are turning the clock back as they get ready for Bart, Luciano, Bishop, Ramos, and potentially Canario to help rebuild the franchise. Canario is on this list because he has the tools to be great and I like his talent as a hitter. He is barely above $100 for a 1st bowman gem auto so the opportunity for growth is there. You can find Canario in 2019 Bowman Chrome and I believe we will see some gains in his values over the next year.
---
KAMERON MISNER
OF Miami Marlins 6'4 218 age 23
2019 A Ball – 34 games 2 HRs 25 R 20 RBI 8 SB .276 Avg
2019 Bowman Draft PSA 9 Auto $101
>> FIND HIS TOP CARDS on

e

B

a

y

RIGHT HERE <<
My second deep sleeper is Missner. This is a pick based on potential and a guy I like based on tools. Bleday was the top pick for the Marlins in the 19 Draft but Missner has shown some impressive tools in his early play in A ball. He has a massive frame and shows surprisingly good speed to go with it. There aren't many sales for Missner but if you get the chance to take a cheap shot at his autos I would consider it, he has the upside we look for in the hobby. His only downside is his age of 23 and not performing above A-ball yet.
---
---
TREVOR LARNACH 
OF Minnesota Twins 6'4 223 age 23 
2019 AA Ball – 43 games 7 HR 26 R 22 RBI 0 SB .296 Avg
2018 Bowman Draft BGS 9.5 Auto $86
>> FIND HIS TOP CARDS on

e

B

a

y

RIGHT HERE <<
Larnach lacks the speed combo but seeing his 6'4 223 frame you understand why. He has shown great power and contacts coming up with the Twins. Many are on Lewis and Kiriloff as Twins prospect Cards to own, but Larnach is right there with them in prospect ranking and much cheaper. When you see a Gem base auto under $90 the reward outweighs the risk in this case. Get some Larnach before he gets called up. You will have some easy gains.
---
---
BRENNEN DAVIS 
OF Chicago Cubs 6'4 175 age 21 
2019 A Ball – 50 games 8 HRs 33 R 30 RBI 4 SB .305 Avg
2020 Bowman BGS 9.5 Auto $167
>> FIND HIS TOP CARDS on

e

B

a

y

RIGHT HERE <<
Davis is one of the more all-around impressive players on this list. He has a strong market with the Cubs, he has a very impressive frame, he has power, he hits for contact, and he has speed. There isn't much else to say other than he has everything you want from a Hobby perspective. Now, he has confused the hobby as he had his 1st Bowman Chrome in the 2018 Draft, but no Auto. His first prospect auto did not come until 2020 Bowman. With that, I do think his 1st Bowman Chromes in the 2018 Draft is being overlooked, and his Autos in 2020 are still relatively cheap. Get some Davis Autos and 1st Bowman Chromes while you can, I feel really good about this value going forward.
---
Thanks for checking out my Prospects to keep an eye on as we approach 2021. Who do you like? Let me know in the comments! I look forward to baseball season and hopefully for it to be closer to normal for our prospects!
TOP 20 – MOST WATCHED BOWMAN CARDS