With baseball being at the tail end of the 'offseason', it is time to take a look at the players we think you should snatch up during the next few weeks. It is no secret that the best time to buy is in the offseason…and BreakerCulture research has shown that mid-Jan to mid-Feb is a GREAT time to buy Baseball cards! I have 15 players for you to consider and have put them into three categories that we will roll out the next 3 weeks. Let's dig into this!
The FIRST category is players that are well known but at a good price and have massive upside. The SECOND category is targeting those players in the early stages of their careers that have breakout potential. The THIRD & final category is dedicated to undervalued prospects. High priced players like Acuna, Soto, and Wander Franco you will not see here. I am focusing on players you can make gains on and hopefully……afford.  🙂
---
CATEGORY #1 | BIG NAMES with BIG UPSIDE!
In this section, I want to focus on young budding stars that have lots of room to move in value. These players will not shock you but the prices of their cards might. I feel that these five guys are superstars that can bring you value in investing. I have ordered them based on my preference. 
#1 Rafael Devers 3B Boston Redsox
Rafael had a rough first year with Boston, many doubted him quickly even though he was a top prospect coming in. His second year he came back strong and played to an elite level. Devers barely 23, is being overlooked by the hobby right now. He is one of my top buys right now. We know the Red Sox can keep bringing in players to compete right away and Devers could have a Soto type finish to a season…. take a look at these numbers. 
Now, hold on…. hear me out. I know Juan Soto is 2 years younger, I also know that Soto just came off a World Series win. However, as I mentioned, it is not far fetched that Devers could win a World Series soon of his own. They have identical numbers with Devers having the stronger WAR. I will even concede that Soto is the guy I would want to own if I had to choose between the two, but right now Juan Sotos PSA 10 Topps Update RC is selling for $63-$70 (FIND BEST DEALS HERE), you can have Devers for $16-$20 for a PSA 10 RC (FIND THEM HERE). I believe Devers will add to his strong 2019 and there is value to be had in investing in him now with little risk. 
Top 8 of his cards on eBay right now!
#2 Fernando Tatis Jr SS/3B San Diego Padres 
Tatis was having a fantastic year before suffering a back injury that cut his season short. It was still an impressive rookie season to add to his prospect status. Tatis is a guy that isn't cheap by any means, but for the talent that he has displayed you need to take advantage of the current discount. Let's take a look at what Ferando Tatis Jr numbers would like compared to Ronald Acuna Jr. if he maintained his pace for an entire season at 20 years old. 
It's important to understand the sheer upside the Tatis Jr. He was very close to Acuna in all categories with a small gap in Runs and SB which can be expected based on their spot in the order. Tatis had a stronger average but weaker WAR… as Acuna was a superior player in the field for his position. You can get a PSA 10 Topps Series 2 RC of Tatis for $30-$40 dollars (BUY HERE), while Acuna's 2019 Topps Update PSA 10 is more than double at $75-$85 range (FIND BEST PRICES HERE). Let's not forget in Acuna's chase for 40/40 his Update RC PSA 10 / BGS 9.5 were going consistently over $100. There is great potential for Tatis to grow and improve your investment at his current price point. Tatis is a multi-tool player with a tremendous upside at very young age.
Top 8 of his cards on eBay right now!
#3 Eloy Jimenez OF Chicago White Sox
Eloy seems to be the forgotten Rookie in 2019. You have Vlad Jr. and Pete Alonso driving the highest values with Tatis not far behind. Then after a ridiculous drop-off, and you have Jimenez. Eloy had some of the top exit velocity and hard-hit % numbers in the league last year. Because of that, I decided to see what his numbers looked like next to the first year of Cody Bellinger who also crushed the ball his first year. 

In ten fewer games, you can see the numbers are comparable for Jimenez. The upside for Jimenez to have a 50 HR 110 RBI season is there. If he can hit that 50 HR plateau he will be in the Alonso area of value which would be a big gain from his current price point. Jimenez' PSA 10 Topps Series 2 RC Card is going for $20! Seriously… $20! (BUY THEM HERE)  Cody Bellinger's PSA 10 Topps Update RC is currently going $55-60 (I find to be underpriced as well) – FIND HERE – but still gives you an idea of where Jimenez can go. The White Sox look like a young team ready to take off, Eloy could lead them there and give you some gains on your investment along the way.
Top 8 of his cards on eBay right now!
---

---
#4 Gleyber Torres 2B New York Yankees
With Gleyber it is a very similar approach to Devers. Except that Gleyber is quite a bit more expensive, but they both have similar upsides. They are also both in big markets, which also gives them that bump in value. Here is the exciting part… the Yankees have re-tooled this offseason and look to be in even stronger contention for the title. This gives Gleyber a strong chance to be on the big stage again. If you don't recall … Gleyber had an exceptaionl postseason in 2019 with 8 of his 12 hits going for extra bases including 3 home runs. If he can put together a 40 HR -100 RBI- 100 R season in 2020 while getting his WAR above 4 – all within reach – his value will rise even more.
There is no reason to believe he can't jump from his $40 PSA10 Topps Update RC to the $60-$65 Range if he can continue his growth – BUY THEM HERE! -. This will only be his 3rd season. He showed improvement from year 1 to year 2 and finished 2019 on a tear. I am adding him to the table from above for comparison.


Torres needs to improve on his K rate but with a handful fewer games showed the power you like to invest in. With Torres's price already commanding a good number, it won't be the biggest gain in the list, but I believe he is a safe investment for 2020. 
Top 8 of his cards on eBay right now!
#5 Austin Meadows OF TB
My 5th and the final player is Austin Meadows. Meadows had a tremendous first full season in the bigs. Twisting the knife to the Pirates on the Archer trade. The trade opened up immediate playing time for him and he took advantage. He is overshadowed by the big guns in 2018 Topps Update but lets took a look at what Meadows has done at the young age of 24 compared to what Christian Yelich did at the same age. 

Now, I know that Yelich has an elite contact swing and is now considered an elite player in the league. This is simply showing you that Yelich was considered good when he was in Miami….as he was starting to blossom as a hitter. Austin Meadows was comparable in his first season and showed promise across nearly all areas of his development. If it wasn't for an injury he could have hit the 40 HR mark his first full season! He is also showing speed on the bases as well.
When I was first searching for an interesting comparison, I was most interested in the Walk Rate and K rate between the two. I thought Meadows would be much farther away from Yellich at 24. In terms of the hobby, Meadows PSA 10 RC from 2018 Topps Update sold between $15-22 the last two months – BUY HERE -. If Meadows can put together a season similar to 2019 with some gains in all categories he should get a nice jump in value to the $40-$50 range. He is an easy investment decision for me, as there is little risk with potential double even triple his current value if he continues to improve. 
Top 8 of his cards on eBay right now!
Here is a quick chart summarizes the last 60 days of sales from 3 of the 5 guys: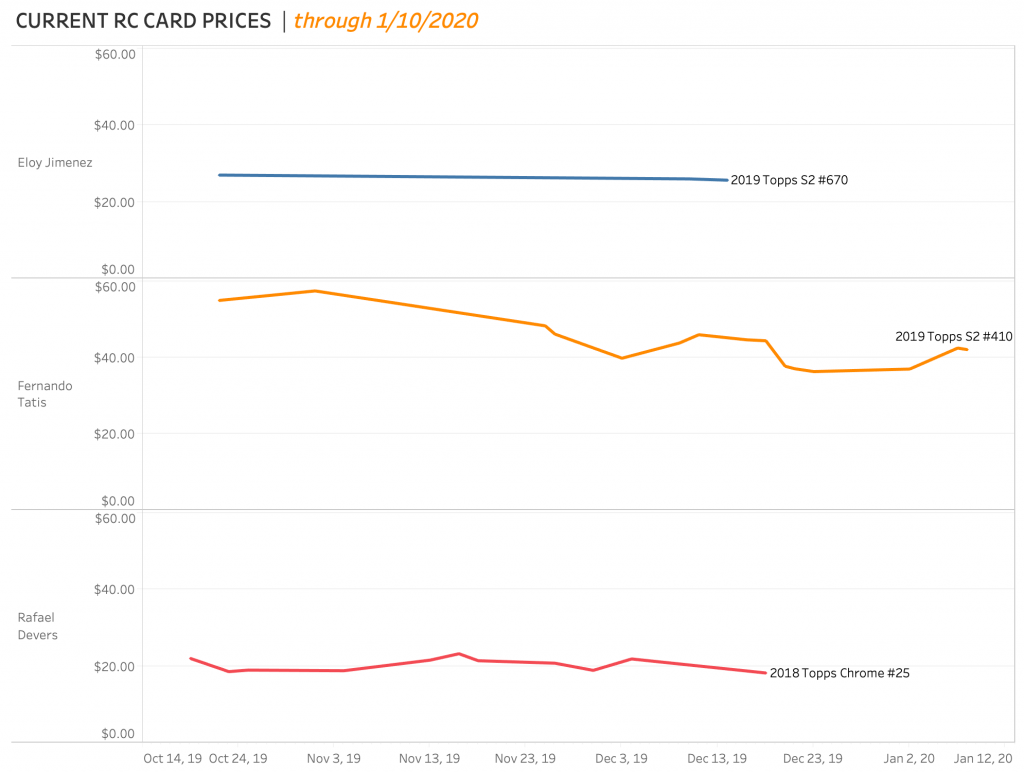 ---
We will be back next week with 5 breakout guys to watch out for in 2020. In the meantime, come find me in the Patreon Group (

HERE

) or the Free Discord Chat Group (

HERE

)!
Tyson