For those that don't know, Baseball has two main focuses for players when it comes to collecting — Flagship RCs (usually Topps) & 1st Prospect Autos (usually Bowman). It can sometimes be confusing when you try to figure all of it out, especially with 30+ releases each year.  So fo the past few months I have been planning this article series to help clear up the cloudiness…and I am excited to roll it out for the first installment of my monthly Baseball Flagship RC Report.
This report is cut off in 2011, for now, to keep it more recent and comparable. This report is meant to be your personal guide to FLAGSHIP ROOKIES on a monthly basis. I will provide a TOP 20 ROOKIE VALUE CHECK,  Trending players UP and DOWN, Sleepers, and some notable sales over the past month for each player in the Top 20. I will also update you on the newest flagship product and maybe some good flagship buys that are laying around. Finally, we'll be doing a video review every few releases on the Bench Clear Media Network to help articulate what's been happening! 
Before we dig into values, I wanted to provide a simple Flagship RC chart for which players are in which products. Refer to this chart often when you are considering to buy some finds or just in general if you are wondering who is in what.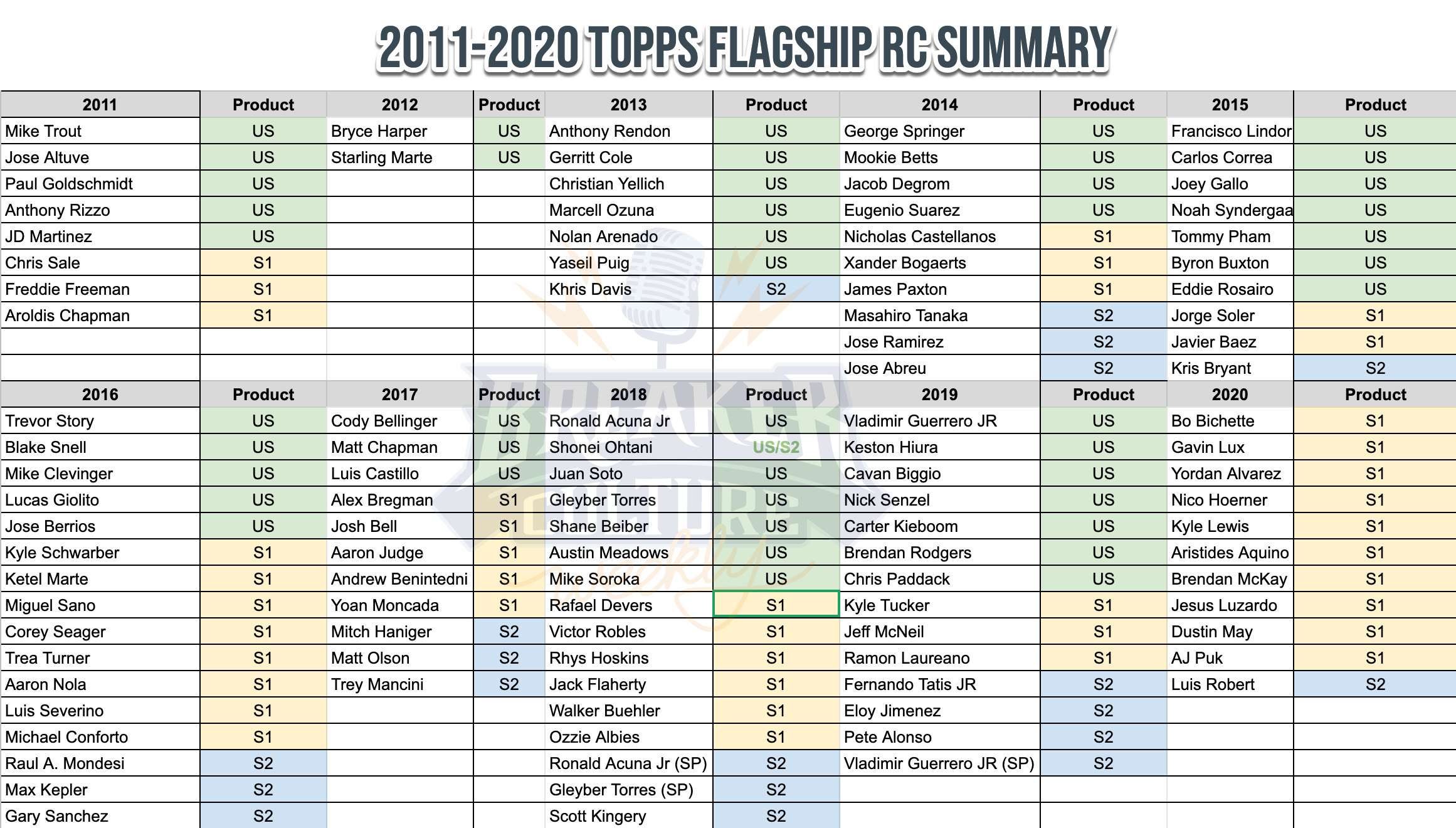 Let's get going! Here is my first installment of the Top 20 RC Flagship Values for July. 
---
TOP 20

FLAGSHIP ROOKIES | JULY 2020
(Prices through 1st week of July)
---
#20 JOSE ALTUVE  (2011 Topps Update)
PSA 10 = $74
PSA POP = 2,740
Click to find on

e

B

a

y
---
#19 OZZIE ALBIES (2018 Topps Series 1)
PSA 10 = $75
PSA POP = 369
Click to find on

e

B

a

y
---
#18 GERRIT COLE (2013 Topps Update)
PSA 10 = $76
PSA POP = 263
Click to find on

e

B

a

y
---
#17 FERNANDO TATIS JR (2019 Topps Series 2)
PSA 10 = $78
PSA POP = 6,299
Click to find on

e

B

a

y
---
#16 BO BICHETTE (2020 Topps Series 1)
PSA 10 = $80
PSA POP = 411
Click to find on

e

B

a

y
---
#15 KRIS BRYANT (2015 Topps Update)
PSA 10 = $80
PSA POP = 482
Click to find on

e

B

a

y
---
#14 SHOHEI OHTANI (2018 Topps Update)
PSA 10 = $90
PSA POP = 1,959
Click to find on

e

B

a

y
---
#13 JACOB DeGROM (2014 Topps Update)
PSA 10 = $93
PSA POP = 195
Click to find on

e

B

a

y
---
#12 GLEYBER TORRES (2018 Topps Update)
PSA 10 = $100
PSA POP = 4,720
Click to find on

e

B

a

y
---
#11 FREDDIE FREEMAN (2011 Topps Series 1)
PSA 10 = $105
PSA POP = 554
Click to find on

e

B

a

y
---

---
#10 NOLAN ARENADO (2013 Topps Update)
PSA 10 = $110
PSA POP = 2,723
Click to find on

e

B

a

y
---
#9 JUAN SOTO (2018 Topps Update)
PSA 10 = $110
PSA POP = 11,054
Click to find on

e

B

a

y
---
#8 ANTHONY RIZZO (2011 Topps Update)
PSA 10 = $120
PSA POP = 519
Click to find on

e

B

a

y
---
#7 BRYCE HARPER (2012 Topps Update)
PSA 10 = $130
PSA POP = 2,199
Click to find on

e

B

a

y
---
#6 FRANCISCO LINDOR (2015 Topps Update)
PSA 10 = $175
PSA POP = 583
Click to find on

e

B

a

y
---
#5 CHRISTIAN YELICH (2013 Topps Update)
PSA 10 = $176
PSA POP = 2,607
Click to find on

e

B

a

y
---
#4 RONALD ACUNA JR (2018 Topps Update)
PSA 10 = $198
PSA POP = 12,981
Click to find on

e

B

a

y
---
#3 MOOKIE BETTS (2014 Topps Update)
PSA 10 = $224
PSA POP = 2,432
Click to find on

e

B

a

y
---
#2 CODY BELLINGER (2017 Topps Update)
PSA 10 = $240
PSA POP = 1,789
Click to find on

e

B

a

y
---
#1 MIKE TROUT (2011 Topps Update)
PSA 10 = $2,700
PSA POP = 4,885
Click to find on

e

B

a

y
---
REACTIONS
---
Three older players that stand out to me are Degrom, Rizzo, and Freeman. They are all 3 great players and warranted to be where they are in terms of value, I just haven't seen as much of them sold or talked about in my view. Partially because you can see they have low pop reports across the board. I think Rizzo and Freeman gain value simply by being in the 2011 Topps Update product with Mike Trout. Ozzie Albies making the list over Rafael Devers is shocking to me. I like Albies and he is still really young. I just think he is the number 2 guy on his team for the foreseeable future. Devers PSA10 RC did touch $100 and slowly came back down to $65-$70 range it is now. Devers is also in a position to be the guy in Boston going forward, which leads me to believe he will easily be over $100 for his PSA 10 if he starts the season off right.
It is interesting to see how grading cards have evolved over the past couple of years. You can see the new young star's population reports are absurd compared to older rookie cards. The Ronald Acuna Jr PSA 10 Rc is almost at a population of 13,000! While we have Christian Yelich sitting at 2600 for the population of his PSA 10 RC Card. This helps illustrate the picture of scarcity and the progression of grading cards within the hobby. That scarcity in combination with Bellinger's talent is why he is number 2 on the list. He has less than 300 total gems across BGS and PSA combined! On the flip side, we know the 2018 update series was a massive product for Flagship Rcs. In fact, 4 players (Acuna, Soto, Torres, and Ohtani) all made the top 20. Those 4 players represent 51% of the total PSA 10 Population for this top 20 list. Let that sink in…. 4 guys over half of the populated PSA 10s from this top 20 list.  
Looking through the notable sales column is always fun and a good illustration of how strong the hobby is. BGS 10 Mike Trout RC sold recently for $6,000. Then you have the BGS 9.5 Clear Ronald Acuna Jr. RC sell for over $10,000. It is eye-popping numbers like this that drive the itch. Everyone wants to hit a monster that has an enormous amount of value. This is part of the fun. Not to the same level of value but the Cody Bellinger, SSP sold for just under $3,000 caught my eye. I am a big fan of the SP and Variation cards as they are fun chase and twist to the Flagship RC chase.
---
TRENDS — Buy/Sell
---
In my 15 players to buy series back in March almost every player I recommended increased in value so in turn, I am now a hobby genius, or every card in the baseball market increased…. how about we just go with option #1. 😉 At any rate, a lot of those guys on that list are not yet in the Top 20 but I still believe they have room to get there. I will highlight some of these players and players lower in the top 20 in my trending section. This section normally will be geared towards performance, but with baseball not quite back yet, I will generalize on guys I have noticed are picking up steam before the season in value and attention.
---
TRENDING UP
---
Shohei Ohtani OF/P Los Angeles Angels 
Ohtani has been building steady momentum the entire offseason. He is one player I should have mentioned in my 15 players to watch. The interesting thing about Ohtani is his first RC card shows up in 2018 Series 2, however, his most desired card to this point in his 2018 Update US1 Rc. Ohtani has nearly 3x his PSA 10 RC value since the 2019 season. If the 2020 season is a go, he is a player that could benefit from a shorter season. Durability has been an issue with him but the Angels have been very cautious with him. He also carries an international appeal to the hobby as well, and playing alongside the best player in the game will give him even more exposure. Hold your Ohtani cards you have as I believe he is on the rise. 
Luis Robert OF Chicago White Sox
Luis Robert has been a top 5 prospect for a couple of years now, so this isn't breaking news that he is a player on the rise as he starts his first MLB season. The reason he is on this list is that he is the only RC heavily desired in 2020 Series 2, and with that, he is gaining a lot of interest and sales over the past two weeks since the release of series 2. With his flagship RC being heavily hunted it has even propped up his 1st Bowman cards. His non-auto 1st Bowman PSA 10 Chrome card hit $175! With that being said the peak may be near for him, so don't buy now but pay attention to where this peak hits so you will have some idea of where it can go if he plays well out of the gate. 
Gavin Lux OF Los Angeles Dodgers
Lux is another top prospect that many Bowman fans are aware of. Once Lux PSA 10 RC's started popping they were being sold for over $100 out of the gate. It seemed high at the time as he hasn't played much as Bichette & Yordan have. It has since come down to $60 per PSA 10 RC, which is still really respectable and relatively close to the top 20 list above. I have him as trending up because he needs to play is the only thing holding him back from Bichette level or higher. If Lux can come out and produce early in that market he will get back to $100 in a hurry. Hold on to your Lux cards for now and see how he starts out in 2020.
Rafael Devers 3B Boston Red Sox
As mentioned above Devers is at a low point in value. I think his card prices and play are trending up. With the moves in the offseason, Boston is going to heavily rely on Bogaerts and Devers to carry the team. Devers has proven that he can, and Bogaerts has shown flashes of being great. One issue I see is the Red Sox are not as equipped as the other strong AL East teams to make a deep run, however, Boston seems to find ways to be competitive regardless of roster construction and the short season could help with that as well. Look for Devers to continue his impressive play and metrics going into 2020 and his value will get easily into the Top 20 list. 
Trea Turner SS Washington Nationals
Trea Turner's value in the hobby has always confused me. This is a guy that has been very impressive when healthy. He is consistently a top 20 Fantasy pick because of the numbers he puts up. His one issue has been durability. Mostly unlucky, last year took a fastball off the wrist that caused him to miss a chunk of time. With Rendon gone he is now with Soto to carry the middle of that order. A short season could be really good for his style of play. His PSA 10 RC is going for $28! Very little risk and player I would be looking to add to my stock. 
---
TRENDING DOWN
---
Aristides Aquino OF Cincinnati Reds
Click to find on

e

B

a

y
Aquino was the surprise player of 2019. He was relatively low on most prospects lists and he came into Cincinnati clubbing home run after home run. The issue is we are unsure at this point if he has a starting job with all of the acquisitions the Reds made. They added Castellanos and Shogo in the offseason and have a highly regarded Nick Senzel looking to lock down Center Field. Even Jesse Winker was a high prospect for the Reds who was competing for time in the outfield as well. Aquino is still selling close to $60 for his PSA 10 RC out of 2020 Series 1. I would be selling those if you can as it is looking a lot like he might be one of those one-hit wonders that fade away faster than he came in.
Eloy Jimenez OF Chicago White Sox 
Click to find on

e

B

a

y
Now, this isn't saying Eloy is a sell or a guy to dismiss. I think with the Robert hype it has cut into interest on Eloy and his values haven't moved much. I think he is a guy that will need to come out fast in 2020 to keep the hobby interested in his sample size from 2019. I would still consider Eloy a buy as his cards overall are still pretty cheap compared to the big names in 2019. Eloy's PSA 10 Series 2 RC is selling for only $40 right now. It was as high $60 early in the offseason but watch how he starts and if he starts slowly at all, take advantage of the small dip in his current price as I am still a long term fan. 
Jose Altuve 2B Houston Astros 
Click to find on

e

B

a

y
Altuve is another one of those players you can find in the 2011 Topps Update Series. His cards have declined since the stealing sign situation. His prices have already dipped because of it and if he has any major changes to his normal statistical output in 2020, expect the bottom to fall out. Altuve was already naturally an awesome contact hitter, but paring that with knowing what's coming made him incredible. Can he still be a .315 + hitter? It will be interesting to see play out but he is definitely a player who is trending down. 
Nolan Arenado 3B Colorado Rockies 
Click to find on

e

B

a

y
Arendado at first glance does not belong on this list. He has had 5 straight seasons of roughly 40 HRs and 100 RBI. However, he is in Colorado and that is what is hurting is overall upside in the hobby. The rumblings of him wanting out of Colorado intrigued me as I thought he could land in a bigger market which I thought could give him a nice bump. As of now, he is still in Colorado and we won't get to see how much boost he gets from the hitter-friendly ball-park quite yet. Arenado just turned 29 so he is coming out of his prime years. He has an Opt-out option after the 2021 season, which could cause him to be a trading chip if the Rockies are not competitive in 2021. This season will be really important for him to maintain his top 10 status on the Rc list. 
Bryce Harper OF Philadelphia Phillies 
Click to find on

e

B

a

y
I honestly was really surprised to see Harper #7 on the Rc list. He has had one great statistical year in his career so far and everything outside of that is average at best. He is still a superstar and all Phillies fans are hoping he can earn his money better in year two than he did in year one. His price is very volatile in my mind in two ways. If he gets hurt or doesn't perform again in 2020 his price should drop drastically. Second, he is in Philly, if they aren't happy we will know about it and do think that will have an impact on his perception in the hobby. I personally think Harper is a fun player, I just don't see him turning the corner as much I see him sliding down the list. 
---
SLEEPERS
---
In this section, I am focused on players that are under $40 for their PSA 10 RC cards. These are going to be focused on young guys that have a chance to break out and improve their status in the hobby. 
Kyle Tucker OF Houston Astros
With all that has gone on in Houston this past year, I am really intrigued by how Kyle Tucker does in his first full season with the club. We can excuse him from Trash Can-Gate as he wasn't up there yet and frankly struck out enough to make you feel like he wasn't using the advantage. Tucker was regarded as high if not higher than Yordan in their system coming up. He has impressive power and is a player I could see trending up if things click for him in 2020. The majority of the focus in Houston is on everyone but Tucker, so he should have a nice clean shot to make an impact in 2020. 
Walker Buehler P Los Angeles Dodgers
The Dodgers really need Buehler to fully take over as their lead Ace. He has had two years in the bigs and progressed each year. With Ryu off to Toronto and Kershaw still not back to form, Buehler is going to need to carry the staff. He has the tools and team around him to do it. His PSA 10 RC is still going for under $30. Very little risk in a player that has the market and team to make some noise in 2020. Keep an eye on him in 2020 and look out for 2018 Series 1 buys. 
Cavan Biggio 2B Toronto Blue Jays
I like Cavan Biggio as a sleeper because the majority of the population is focused on Vladimir Guererro Jr and Bo Bichetter RC cards for the Blue Jays. Biggio had a really fast start when he debuted for Toronto, he then slowed down and had some issues with getting on base. In ⅔ of a season, he still managed to come close to a 20/20 season. If he can cut down his K% we could see a nice bump in his overall WAR and production. Biggio just turned 25 and is coming into his first full year with Toronto. I look forward to seeing what he can do with the young talented Blue Jays infield. 
2020 Topps Series 2
2020 Topps Series 2 was just released at the end of June. The product hasn't been great overall. It only has Luis Robert as a top desired RC card. It has a couple of 2nd, maybe 3rd tier RCs like Shogo Aikyama in it. The depth is really concerning after Robert. The wax price has been dropping since release. I do think the SP and SSPs make it fun to open. I think with the last 3 products of Topps being loaded with RCs it has made this product feel worse than it is. Wait for the product to keep coming down and don't buy any retail over the market as it won't be worth it. 
Hope you enjoyed the first installment of my Flagship RC Report! Please leave comments below or contact me on twitter @tbanker28 if you want to chat about the hobby!