Today….on EPISODE #59!
The content keeps flowing as we spend an hour and hear the story of the popular hobby series PackGeek (Check out YouTube channel HERE) AND we the best part is we tap into the YouTube prowess of Jeff. Here his tips & tricks for maximizing content on YouTube, focusing your approach, and monetizing the RIGHT way.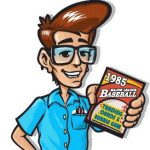 YouTube is a treasure trove of data…and is searched more than any other site in the world NOT named Google.
You MUST get your content up on YouTube and today will help you wrap your mind around a good approach. 
Also, we are giving away 40 packs of 2019 Bowman Baseball. Subscribe to our YouTube Channel (HERE) to learn more.
---
LISTEN HERE
You can also find us on the following platforms.
and….. we are NOW ON YouTube!!! 
Check out our YouTube Channel RIGHT HERE.
[embedyt] https://www.youtube.com/watch?v=zg8Wg2LY54Y[/embedyt]
If you enjoy the listen we'd love for you to give us a review on iTunes and come discuss the content RIGHT HERE!    <<<<<<<<<<<<<<<<
---
2019 Bowman Baseball
---
2018 Bowman Draft Baseball