We've all been pleasantly surprised with some great NBA rookie performances in 2017-18. Despite seeing the #1 pick go down with an early-season injury, there have been multiple guys step up and put together some impressive seasons. The beautiful thing about the NBA is that a few solid performances can quickly impact pricing for rookies.
Over the course of the season we've put out different resources for you to keep tabs on the pricing fluctuations for NBA Rookies (Rookie Ladder). But as we near the end of the regular season and many of the primary products have been released, it's time help you decide how to invest in these rookies. Specifically… we've broken down all of the auction sales from the last 4 months and consolidated the data. We have chosen our Top 5 players
The idea here is to give you a quick reference for deciding which cards are good investments, avg values, and difficulty of acquiring. We realize that a few more key releases will impact this list (NT, Flawless, Immaculate, Optic) so we'll adjust over the next few weeks.
Which players made the list?
Donovan Mitchell
Jayson Tatum
Dennis Smith Jr.
Lauri Markkannen
Josh Jackson
Markelle Fultz
Lonzo Ball
So let's dig into the data and help you decide on where to invest your $$.
If you want to discuss on our forums — the post is
HERE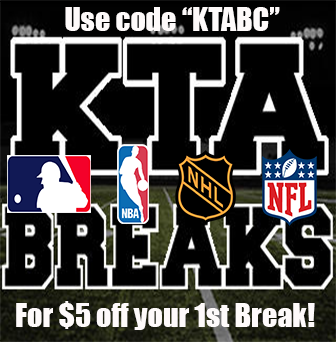 Before we do, we want to give a quick shout out to our SPONSOR:
  KTA BREAKS (their page is here) || —————————————>
USE CODE "KTABC" for $5 off your 1st Break!
---
Donovan Mitchell
[wpsm_numhead num="1″ style="4″ heading="1″] Panini Contenders Cracked Ice Auto
[/wpsm_numhead]
Average Sales Price: $817.14
[wpsm_reviewbox description="7 Sold since 12/1/2017 —– #'d to 25″ criterias="Design:10;Scarcity:6;Long-Term Value: 9;" ]
[wpsm_numhead num="2″ style="4″ heading="1″] Panini Prizm Gold Auto
[/wpsm_numhead]
Average Sales Price: $1,390.00
 [wpsm_reviewbox description="4 Sold since 12/1/2017 —– #'d to 10″ criterias="Design:6;Scarcity:8;Long-Term Value: 10;" ]
[wpsm_numhead num="3″ style="4″ heading="1″] Panini Contenders Premium Auto
[/wpsm_numhead]
Average Sales Price: $607.14
[wpsm_reviewbox description="7 Sold since 12/1/2017 —– SSP, no info on print-run" criterias="Design:10;Scarcity:5;Long-Term Value:7;" ]
[wpsm_numhead num="4″ style="4″ heading="1″] Panini Select Tie-Dye Prizm Auto
[/wpsm_numhead]
Average Sales Price: $537.50
[wpsm_reviewbox description="4 Sold since 12/1/2017 —– #'d to 25 " criterias="Design:10;Scarcity:6;Long-Term Value:7;" ]
[wpsm_numhead num="5″ style="4″ heading="1″] Panini Donruss Next Day Auto
[/wpsm_numhead]
Average Sales Price: $351.18
[wpsm_reviewbox description="8 Sold since 12/1/2017 —– SSP – no info on Print-Run " criterias="Design:5;Scarcity:5;Long-Term Value:8;" ]