As with most sports it usually begins and ends with the rookie class. If the rookie class is solid then you can expect a constant increase in wax prices and a general momentum throughout the season. If the class is weaker, interest will shift to 2nd – 3rd year players and overall excitement will be a bit lower. This is the nature of our hobby and will likely never change.
What makes this draft so special is that it's full of a group of 10-20 players who have All-Star potential and nearly half of them are playing in top markets. In addition, there are 2-5 players who have the talent / pedigree to command TOP dollar… so excitement is running high on our end! 😉
Our breakdown of the 2018/19 NBA Rookie Class:
Tier 1
Luka Doncic
Generational talent with ability to be the face of a franchise. Will have the highest ceiling in Year 1 with combination of skills and international popularity.
DeAndre Ayton
Likely the best true big man we've seen since Anthony Davis and has an insane amount of momentum heading into season. Very limited downside this season.
Trae Young
He's going to carry a huge price tag because of his comparisons to Steph. Unfortunately it might take a Steph like season to maintain his high prices.
Jaren Jackson Jr
He might be the hottest rookie heading into the season. Has all the goods to contend for Rookie of the Year…and might surprise us with a 20/12/5 stat line by the end of the season.
Marvin Bagley III
If we wasn't in Sacramento he'd easily contend for Top 2 or 3. We'll know pretty quickly if he is going to adjust quick enough this season…but easy to see a 15/10/3 guy.
Tier 2
Kevin Knox
Wendell Carter Jr.
Mohamed Bamba
Collin Sexton
Michael Porter Jr
Sleeper Tier 2 Picks
Shai Gilgeous-Alexander
Miles Bridges
Mikal Bridges
Deep Investment Sleepers
Landry Shamet
Lonnie Walker iV
Moritz Wagner
Grayson Allen
Troy Brown Jr
Alonzo Trier.
(Last-minute Add)
There are going to be some great opportunities to invest in high-upside players with this years class. Guys drafted deep in 1st rd and early 2nd rd can make waves this season. Keep an eye on our ladders and see how guys move throughout the season.
OUR FINAL OVERALL RANKINGS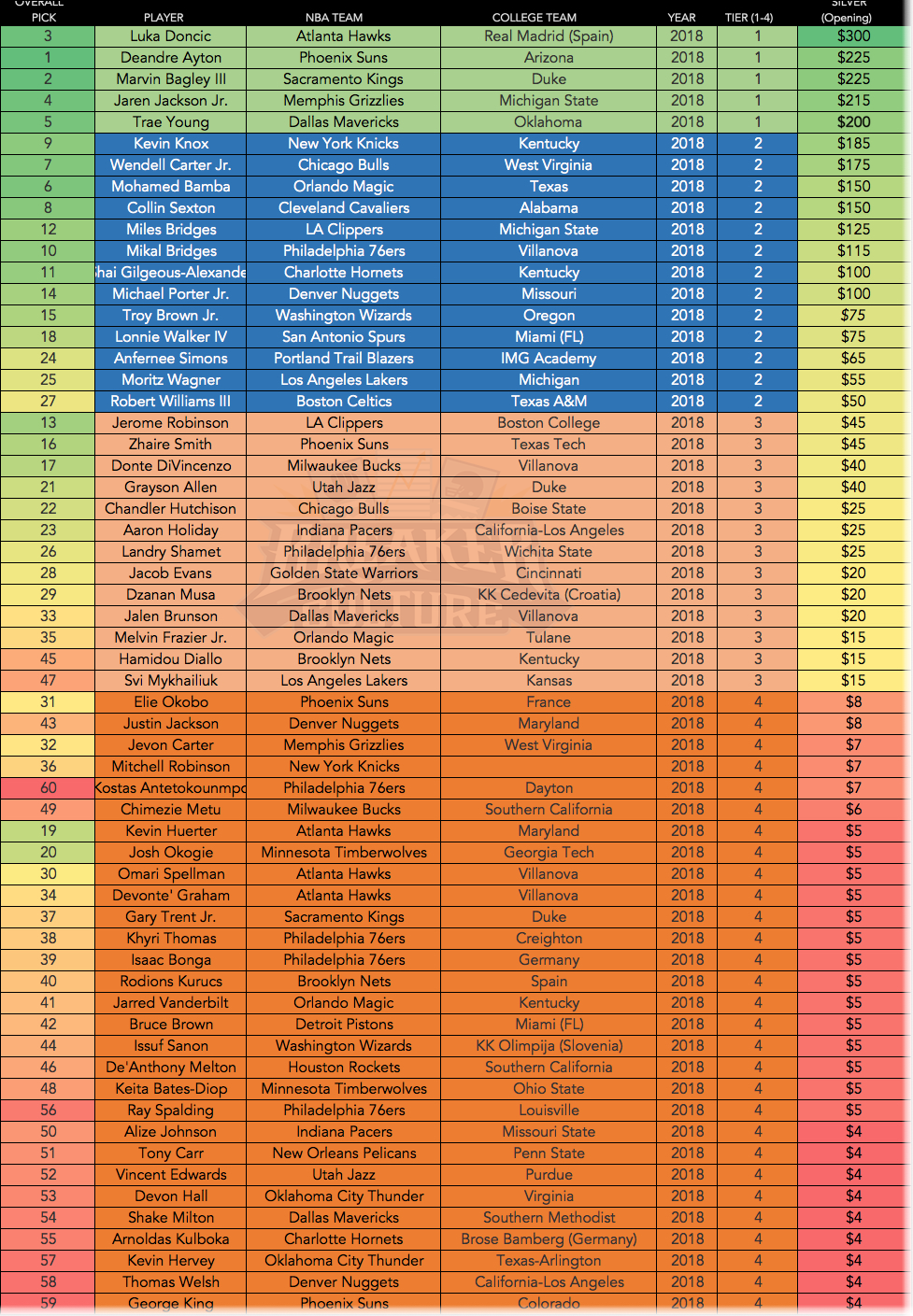 Be sure to leave your comments below!