What a fascinating RC update. So much movement from pre-season sales to now is incredible and mostly in the negative direction. From my perspective, it was a perfect storm of events. With the restrictions of the pandemic being lighter, money has moved elsewhere. The 2021 RC Class has done minimal due to injuries and production. There have been major injuries to young talent Acuna, Jimenez. Hayes, Robert, and Madrigal. It's truly been a whirlwind of negative news.
Let's get to some interesting observations on the new data:
Pre-Season I tracked 33 players, those 33 players in the pre-season had a combined value of $14,125, that same group of 33 is now worth $10,393 down 27%!

Only 5 guys tracked from Pre-season to the All-Star Break increased in value

10 players in that 33 had their value nearly cut in half

Yankee fans aren't on board with their current players either, as not one Yankee is in the top 20 which says a lot from that market.

The Top 3 Pitchers (Degrom, Verlander, and Scherzer) Saw gains or minimal loss compared to the rest.
Mookie Betts is down a shocking 60% on his value

26 players currently have RC Cards at or more than $100
Whew, those are some crazy numbers! Let us take a look at the new Top 20 PSA 10 RC cards of current players. I did forget to include Kershaw and Posey in the first installment, so they both make their first appearance here.
 ———- #'s 1 to 5 ———— 
#1 Mike Trout 2011 Topps Update RC (Same Spot #1)
$3,350 (down 24%)

Pop – 5411 (+169)
MOST WATCHED eBay LISTINGS
---
#2 Albert Pujols 2001 Topps Traded RC (Same Spot #2)
$2600 (down 27%)

Pop- 224 ( +3)
MOST WATCHED eBay LISTINGS
---
#3 Clayton Kershaw 2008 Topps RC
$900 Pop

927 (New to the List)
MOST WATCHED eBay LISTINGS
---
#4 Jacob DeGrom 2014 Topps Update RC (Up 1 Spot)
$675 (up 50%)

Pop -1150 (+59)
MOST WATCHED eBay LISTINGS
---
#5 Justin Verlander 2005 Topps RC (Down 1 Spot)
$426 (Down 10%)

Pop – 932(+59)

MOST WATCHED eBay LISTINGS

---
Mike Trout sets the bar for RCs. His RC affects the overall look of this market. His major injury along with the market pullback has caused his RC to come down over $1,000. I had some pushback in questioning his legacy pre-season but the fact is he has had trouble giving us a full Trout statistical year in the past couple seasons continues to spark question. With Ohtani taking some of the spotlight, it will be interesting to see where Trout's legacy and RC cards go. Degrom is the only guy on this list that saw gains and rightfully so. He has been absolute lights out for the Mets this year, even with some injury scares he has still been very efficient for a competing team. I missed Kershaw in the first installment, he is in the same RC product as Verlander and has a much higher price tag than I envisioned. Pujols has been quiet and is now with the Dodgers. He is producing but the farewell tour was held up a bit by his surprising departure from the Angels. 
---
————- #'s 6 to 10 ——————- 
---
#6 Mookie Betts 2014 Topps Update RC

 (down 3 Spots)
$345 (down 60%)

Pop 3099 (+347)

MOST WATCHED eBay LISTINGS

---
#7 Max Scherzer 2008 Topps Update RC (down 1 Spot)
$330 (Down 10%)

Pop 1104 (+50)
MOST WATCHED eBay LISTINGS
---
#8 Vladimir Guerrero 2019 Topps Series 2 (No Number) (Up 10 Spots)
MOST WATCHED eBay LISTINGS
---
#9 Shohei Ohtani 2018 Topps Update
MOST WATCHED eBay LISTINGS
---
#10

Buster Posey 2010 Topps RC

MOST WATCHED eBay LISTINGS
---
This group is quite interesting. We have the two biggest movers in Ohtani and Guerrero cracking the top 10. Vlad is fresh off his All-Star MVP performance, and Ohtani being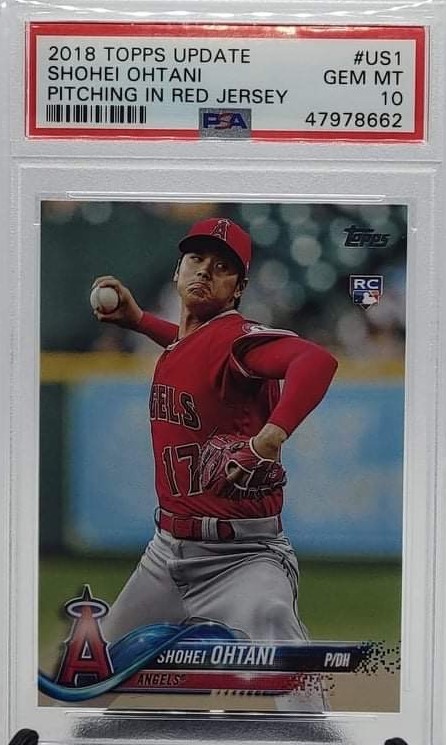 the starting pitcher and lead-off hitter for the AL squad. These two have kept some excitement in the game and Ohtani is doing things that have never been done before that's not only capturing the market here but also the international market. Ohtani's RC cards are 5x from where they were on opening day. Guerreros have doubled since opening day. Mookie has had the opposite effect. He has struggled compared to his normal production and the Dodgers aren't running away with the NL as many thought. Mookie is down a shocking 60% from pre-season, which is way too far in my opinion and I look for Mookie to have a big second half. Posey has had a great year back from his opt-out in 2020 and has already established his career as a great all-time catcher. Scherzer has bounced back to form, even with the Nationals struggling. Scherzer could be a trade candidate in which we could see some growth in his value if it's the right landing spot. 
---
 ———— #'s 11 to 15 —————- 
---
#11 Juan Soto 2018 Topps Update RC (Down 4 Spots)
$150 (down 52%)

Pop 17,778 (+1653)
MOST WATCHED eBay LISTINGS
---
#12 Freddie Freeman 2011 Topps Update

 RC (Down 3 Spots)
$150 (down 54%)

Pop 814 (+116)
MOST WATCHED eBay LISTINGS
---
---
#13 Fernando Tatis 2019 Topps Series 2 RC (Down 3 Spots)
$150 (down 44%)

Pop 14319 (+2456)
MOST WATCHED eBay LISTINGS
---
#14 Anthony Rizzo 2011 Topps U

pdate RC (Down 3 Spots)
$145 (Down 35%)

Pop 595 (+39)
MOST WATCHED eBay LISTINGS
---
#15 Francisco Lindor 2015 Topps Update RC (Down 7 Spots)
$140 (Down 50%)

Pop 855 (+142)
MOST WATCHED eBay LISTINGS
---
I am quite shocked that Soto, Tatis, and Acuna are not in the top 10. However, when you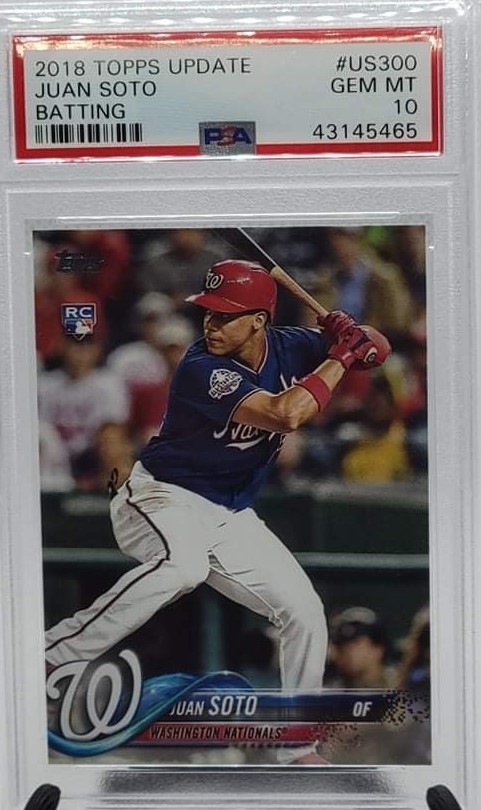 see the Pop Reports compared to the rest it's easy to understand why. I also think it will keep rising as PSA catches up. Soto has had a sub-par year and with that, his cards are cut in half. Tatis is starting to join Acuna and Soto with the 15K plus a pop report on their RC cards which will limit their values. Lindor had a nice off-season in value with his RC cards with the move to NY but hasn't played well and his RCs have come down. With the Mets contending I can see a strong second half from Lindor and some gains in his value. Freeman and Rizzo or long-time vets that are pretty stable, Cubs are out of it and Braves are basically out of it with Acuna going down. I don't see their values going anywhere and if so possibly down. 
 ———— #'s 16 – 20 ————- 
#16 Ronald Acuna Jr 2018 Topps Update RC (Down 4 Spots)
$125 (down 42%)

Pop 18,584 (+1046)
MOST WATCHED eBay LISTINGS
---
#17 Trevor Bauer 2012 Topps Up

date RC (Down 1 Spot)
$120 (down 40%)

Pop 69 (+10)
MOST WATCHED eBay LISTINGS
---
#18 Cody Bellinger 2017 Topps Update RC (Down 1 Spot)
$112 ( down 40%)

Pop 2610 (+123)
MOST WATCHED eBay LISTINGS
---
#19 Nolan Arenado 2013 Topps Update RC (Down 5 Spots)
$110 (down 48%)

Pop 3247 (+182)
MOST WATCHED eBay LISTINGS
---
#20 Trea Turner 2016 To

pps RC (New to list)
$110 (up 18%)

Pop 174 (+71)
MOST WATCHED eBay LISTINGS
---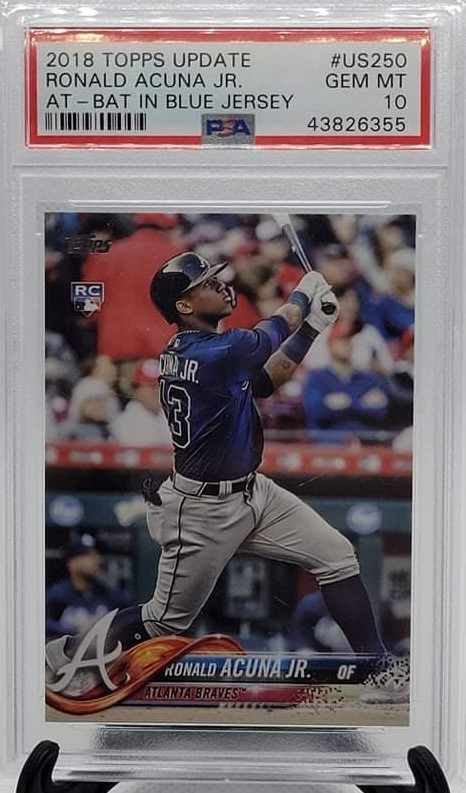 Just missed group: Bryce Harper, Christian Yellich, Jose Altuve, Xander Bogaerts, and Matt Olson. Acuna's torn ACL right before I pulled this data dropped him down to 16. He had been having an incredible year and playing to what most hoped and expected, and even with that, he would have barely been in the top 10. I again point to the Pop Report, his supply is so massive that it makes it difficult to ever touch the 1k or higher conversation for his RC. I am shocked that Bellinger isn't down more, he has been injured most of the year and the team is underperforming. Bauer will see some fallout with his current situation, but his low pop means we won't see many sales regardless. Arenado has had a nice season so far for the Cardinals but is way down from his pre-season number. Trea Turner finally getting some love and is one of the 5 players whose value was gained through the market correction. Goes to show how undervalued he was when cards were higher as a group. It is crazy to me that Bryce Harper and Yelich didn't make the Top 20. They both were pretty strong cards in 2020 and now seem to be slowly slipping. Matt Olson is getting some respect in the hobby as a consistent young 1B for Oakland. I think Bogaerts and Devers are still both quite undervalued and I look forward to seeing if they can climb this list for the next installment before the playoffs for my next RC Report. 
---
3 Players that fell HARD from the Last Report
---
Luis Robert 2020 Topps S

eries 2 P

SA 10 RC
$52 (Down 60%)

Pop 7820
Robert has been injured but his hype train has ended. He was playing relatively well before being injured but his pop report which I think will have the biggest growth of the guys mentioned when PSA catches up will continue to drive his paper RCs down. He was hitting $140-$150 pretty consistently for his PSA 10 RC now hovering over $50. When you factor in his paper cards that have a less than 50% gem rate, it's not a good endeavor to grade his base Rc cards. If you believe in him…. go for color. 
MOST WATCHED eBay LISTINGS
---
Manny Machad

o 2013 Topps PSA 10 RC

Machado had some hype going into the season. He is still relatively young, was playing for a young exciting team, and is also considered a top 10 Fantasy player. He has had a good year and has a nearly 3.0 WAR and has still plummeted. I think the base cards, in general, have plummeted but since he never will be a top guy in the league or even on his team, his value couldn't go anywhere but down. I still think he is undervalued overall, especially with his low pop report.

MOST WATCHED eBay LISTINGS
---
Gleyber Torres 201

8 Topps Update PSA 10 RC

It seems that even the Yankee fans are done with Gleyber. The team has been up and down but looks to be sellers before the trade deadline. Gleyber has been horrendous this year and that's the main reason his RC cards aren't even worth the price of grading. It is hard to tell if it's a really bad slump or if he just was overhyped. His 2018 & 2019 numbers and night and day compared to 2020 and 2021. He might be a player that needs to get out of New York and we may see old Gleyber, but for now, it's not looking good for him long term. 

MOST WATCHED eBay LISTINGS
---
Closing Thoughts
What I take from this report is we are seeing a massive combination of a market pullback, poor player performance, injuries, and supply issues. While the hobby is still strong in numbers there are quite a few that came quickly when the hobby was hot and now are gone. There is also some underlying economics (see Ty's video series PART 1 & PART 2) that are explaining the money fall out. At any rate, to me, this is the start or finish (however you want to phrase it) of the end of the base card game in my opinion. When the hobby was picking up steam two years ago, it wasn't common for all in the hobby to grade, now it is. Color is still going relatively strong and hasn't seen the same pullback as base cards have seen. Quick proof of that is the big 3 (Soto, Tatis, and Acuna) when PSA catches up will be close to 20,000 PSA 10 cards for each of them! With that type of supply, it really caps the potential of those guys base RC cards.
Lastly, we have to mention that Mike Trout alone attributes to 25% of the fall in market cap of the players I pulled in the last report with is RC card down $1000 since pre-season. Proving that Trout plays a big part in the overall fall of this group. Injuries and lack of new RCs producing has limited the excitement. It would be scary to think about where we would be if Ohtani and Vladimir Guerrero Jr. weren't making so much noise for the sport. Share your thoughts and opinions below! You can find me on Twitter @numbers_behind and look for my video on bench clear summarizing this article!
(Card Picture Credit to Justin D. Miller)