2018 Heritage High Number is coming in hot! With Juan Soto and Ronald Acuna absolutely blowing up, this is going to be looked at as one of the crucial releases of 2018. As is the case with Heritage ("Series 1") there are a few different ways to purchase wax. It's a hobby and retail product…and each has a unique set of cards + odds. Let's break it down.
---
WHY SHOULD YOU CARE?
You should care of 2018 Heritage High Number because it holds coveted base rookies of Juan Soto (FIND HERE) and Ronald Acuna (FIND HERE)…and the must desired REAL ONE AUTOGRAPHS of all of the top rookies, including Juan Soto's first major rookie auto. Here is how I would prioritize the importance of the main cards in the set.
In my book those are the 5 key components of Heritage and help carry a majority of secondary market value. But, there are obviously a slew of inserts, mini's, relics, and other obscurities that will bring additional value.
WAX BUYING OPTIONS
Again, this is a wide-release for Topps and is available within both Hobby & Retail. Here are the options for both, with some $ metrics to consider: Keep in mind there is exclusive content for Target boxes (Collector's Cards) // so there will be a little extra "value" built into those. Otherwise, these should be available at most retail outlets.
RETAIL:
| | | | |
| --- | --- | --- | --- |
| Type | Configuration | Market Price | Total # of Cards |
| Blaster Box | 8packs, 9cards per pack | $20.00 | 72.0 |
| Hanger Box | 1pack, 35cards per pack | $10.00 | 35.0 |
| Rack Pack | 1pack, 20cards per pack | $5.00 | 20.0 |
HOBBY:
| | | | |
| --- | --- | --- | --- |
| Hobby Box | 24packs, 9cards per pack | $122.00 | 216.0 |
THE BEST VALUES?
We break down the odds (Hobby will be added on 9/14) and show you were to invest your $. Let's look at the odds for Auto's, Chrome, Variations, and Mini's"

Based on this info, here is how we'd rank the better buys in retail
#1: Rack Packs | They win the day in just about every category. They are the cheapest entry point ($5) and give you best odds across the board.
#2: Blaster Box | Best chance at getting an AUTO and Mini….. and the 2nd best cost per card.
#3: Hanger Box | Not a lot to get excited about here. Odds are the worst of the 3 across ALL categories…and it's the most expensive cost per card.
VARIATIONS?
Here is what you need to know about variations, they are finally easy to find! On back of the card (underneath the #) you'll find the variation noted. This helps you avoid having to go cross-eyed looking at printing codes on bottom of the card.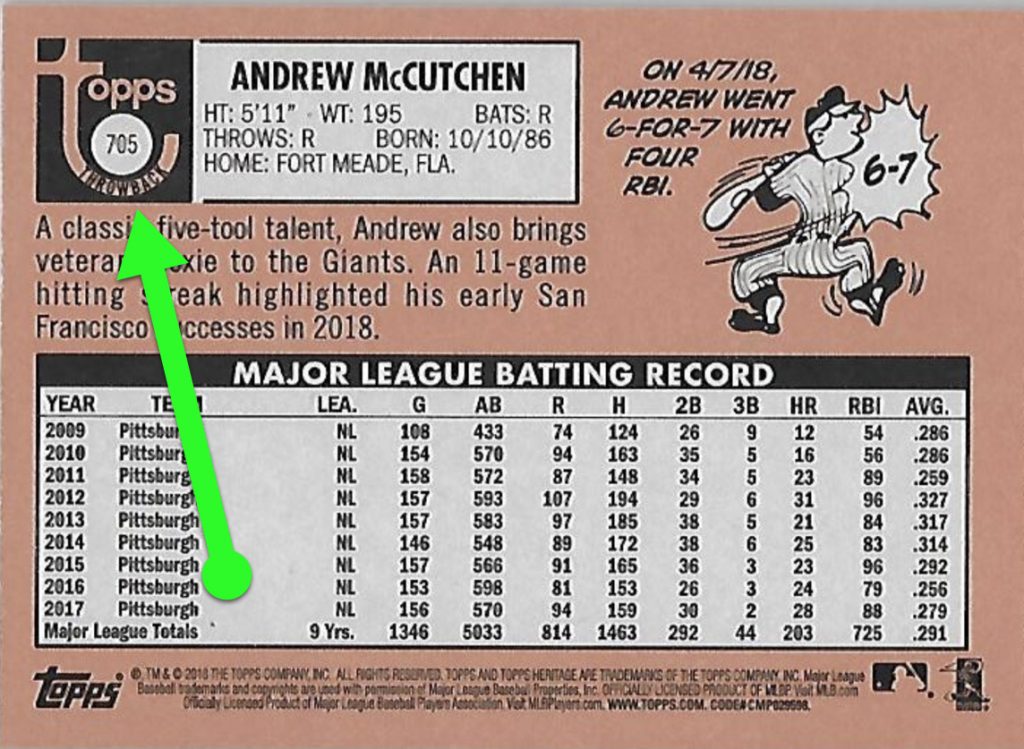 You are looking for the following key variations:
ACTION –> The most common  (Examples Here)
TRADE —>  The 3rd most common (Examples Here)
NICKNAME –> The 4th most common (Examples Here)
ERROR —>  The 2nd most common.. (Examples Here)
THROWBACK –> The most sought after and hardest to hit.  (Examples Here)
---
There is a lot to like about Heritage High Number… and things will be changing REALLY quickly. So… join the discussion in the comments below or jump into the forum RIGHT HERE and share your findings!
Top 5 Hits from HHN are right here…