The 2019 NFL season is off and running. We at BreakerCulture want to give you some consistent analysis and updates regarding what rookies are making their mark early and which ones are fading in terms of value and production. The 2019 NFL draft class overall is weak in top end talent compared to recent years, but it does have a bigger list of solid guys that could mold into something in the future.
Kyler Murray came into the hobby as the top hunted player for 2019. With his skill set and background he provided a lot of upside from the highly coveted quarterback position. Last year, we saw the quarterback position stacked with 5 guys in Baker Mayfield, Sam Darnold, Josh Rosen, Lamar Jackson, and Josh Allen. This years class isn't close in depth but may have the best QB in both classes combined. In addition, we have a few guys with Daniel Jones and Kyle Allen who are quickly rising up the ranks. 
Before we dive into the list, you should absolutely join our free DISCORD chat group RIGHT HERE.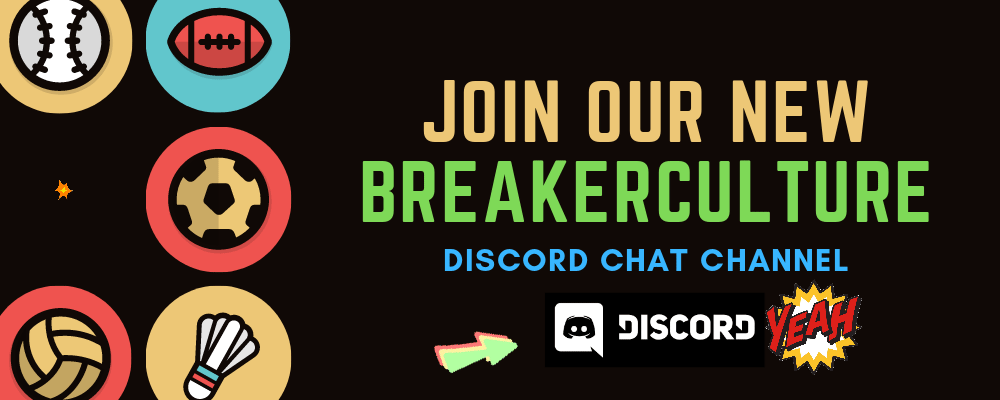 ---
2019 NFL Rookies Watch List
VOL: 7
Through Week 11
---
#10 Ryan Finley | QB | Cincinnati Bengals 6'4  207lbs
Thru 10 weeks: 16/30 167yds  1 Td 1 INT 16.7QBR, 5 att for 22 yards.
Trending: DOWN
My Personal Opinion: SELL
2019 Prizm Silver Prices through NOV 14, 2019!
 
Finley made his first start in a blowout loss to the Baltimore Ravens. I saw some good things and some bad things from Finley's first start. The good, I thought he moved within the pocket well, showed good accuracy on deeper throws and his back shoulder TD to Eifert was nice. His arm looked average at best, seem to float the ball a bit. He gave up two defensive TDS, he stared down an out towards Marcus Peters, which never ends well. He also gave up a sack FF TD as well. I think you are in a good spot to sell on a QB who I don't believe will be a long term starter for his career. The ceiling is limited and you should cash out or look elsewhere for some gains. 
Here are his 3 TOP CARDS on
e
B
a
y:
---
#9 Jarret Stidham | QB |  New England Patriots 6'3" 215 lbs
Thru 10 weeks: 2 / 3 for 14 yards 0TDs and 1 INT
Trending:
UP
My Personal Opinion: SELL
2019 Prizm Silver Prices through NOV 14, 2019!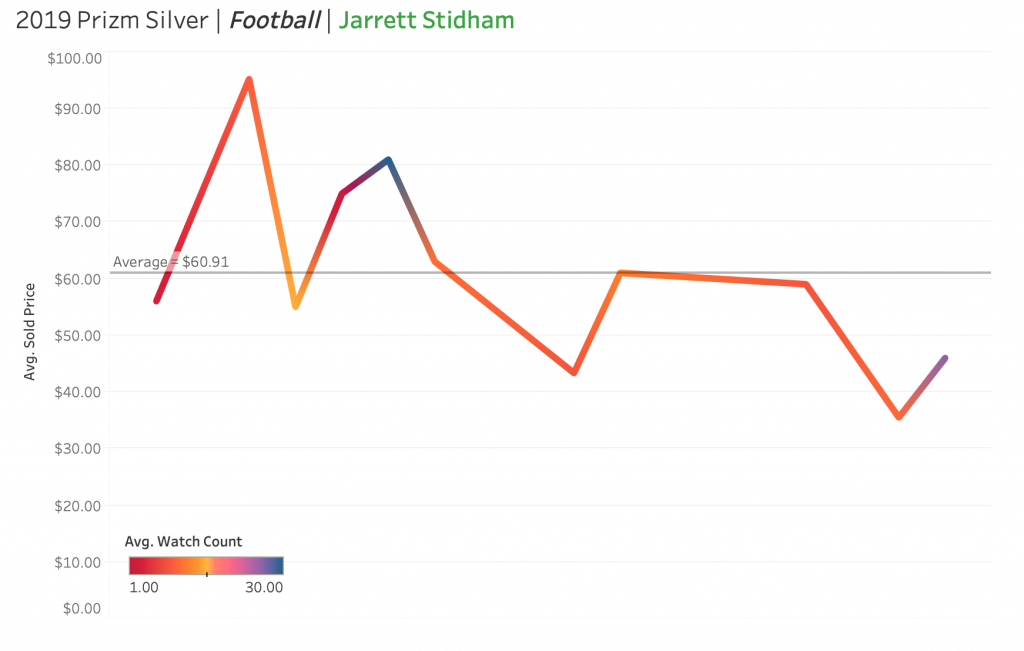 Jarrett Stidham cracks are top 10 on pure upside. The upside being the back up to the greatest QB of all time. LIke Cassell, Brissett, and Garoppolo all molded into starting QBs in the league after leaving New England. The catch here is, Stidham might have the best timing as we might be close to the end of the Brady era. In pure conjecture, I believe Bellichek wants to win a ring without Tom Brady. If this is Brady's last year then Stidham would be in a position to take the reins of a really good football team. Stidham had an interesting college track. He was very successful at Baylor until the Art Briles issues surfaced and then transferred to Auburn where he was really good for Gus Malzhan for two years. Patriots grabbed him pick 133 in the 4th round to back up Brady. Earning the backup job as rookie alone is a good sign. He has very little game action so far,  but had some good games in the preseason. His Silvers are doing really well already, the hobby seems to be hoping for the next Patriot QB. I would be selling at his current price as we still don't know if Brady has 2-3 more years left. If Brady even comes back next year you will see his prices drop. 
---
#8 Drew Lock | QB | Denver Broncos 6'4 228 lbs
Thru 10 Games: No Stats On IR
Trending: UP
My Personal Opinion: SELL
2019 Prizm Silver Prices through NOV 14, 2019!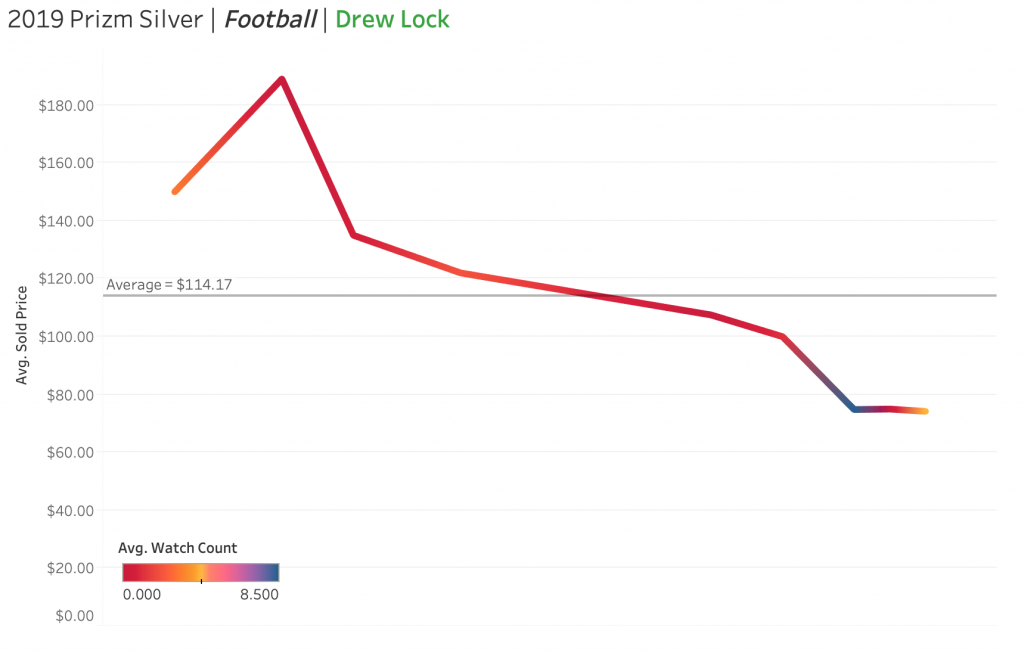 Broncos come out of a bye in week 10. Not much has changed since last week. Broncos are hoping for Lock to practice over the bye. Rumblings in Denver is that he will see the field this year, so hopefully we will get our chance to see what he can do. Brandon Alllen in his first start picked up the victory as the Broncos beat the Browns in week 9. I have no reason to change my tune from week 9 on Lock. He is still a sell, his silver are still providing good returns. 
Here are his 3 TOP CARDS on
e
B
a
y:
---
#7 Kyle Allen QB | Carolina Panthers | 6'3 210 lbs
Thru 10 weeks: 144/234  61.5%, 1598 Yds, 10Tds, 5INTs, 46 QBR
Trending: 
UP
My Personal Opinion: SELL
Allen bounced back from his lack luster week 9 with a strong performance at GB. He went 28 of 43 for 307 3Tds and 1 INT.  He really impressed me this week. He showed great accuracy in poor weather conditions and really impressive anticipation. He has elongated release but still gets the ball where it needs to be. He maybe doing a good enough job to give Carolina confidence moving forward with him. The more interesting news is Cam Newton was placed on IR. This changes the narrative that Cam could be coming back soon to claim the starting job. Now Cam Newton won't be back until the playoffs. Giving Allen basically a full year of starting for the Carolina Panthers. If Allen can lead the Panthers to the playoffs it will be interesting to see how they handle the starting position in the playoffs. With Cam Newton on IR, it does seem that the possibility of Cam Newton's tenure with Carolina may be coming to a close? I am still not buying Allen, still seems like Carolina prefers to have him be a game manager who protects the ball. 
 The top card out there I like for Kyle Allen is Panini Unparalleled Rookie Auto it sold for $535 recently:  
Here are his 3 TOP CARDS on
e
B
a
y:
---
#6 Dwayne Haskins | QB | Washington Redskins 6'4 231 lbs
Thru 10 Weeks: 27/44  61.4%, 284 Yds, 0Tds, 4INTs, 17 QBR
Trending: DOWN
My personal opinion:
HOLD
2019 Prizm Silver Prices through NOV 14, 2019!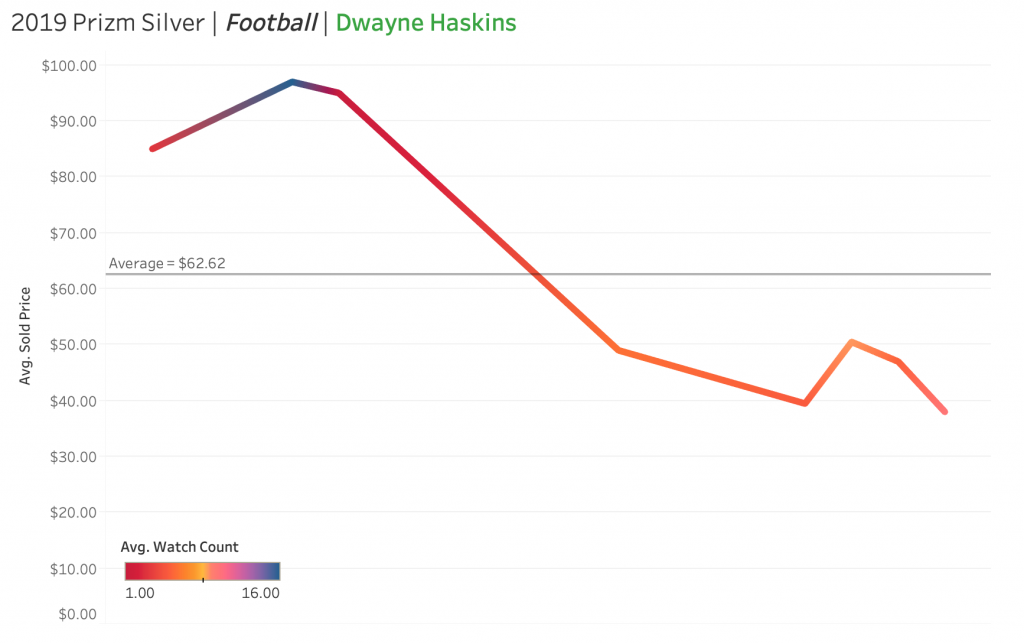 Haskins finally got a week of preparation and a chance to be the starter from the beginning of the game. He didn't wow us with his 15 of 22 for 144 yards 0 Tds, and 0 INTs. Washington was having success running early and fed Adrian Peterson often. The stat line isn't impressive but he didn't turn the ball over which is a positive sign from his previous showings. Buffalo on the road is a tough defense to go after with a weak supporting cast around you as well. He has good arm strength and made some impressive sideline throws with good rhythm. The one concerning part of his game was his movement and awareness in the pocket. He was really slow footed and was slow to set his feet when he was trying to improvise, that will need to be cleaned up for him to have success going forward. Washington named Haskins the starting QB the rest of the season. Out of the bye we get to make a quick comparison as he is up against the same Jets defense that Daniel Jones played. His prizm silver has already dropped nearly 50% since opening week. I am not advising to sell at this point as it is around the price of Ryan Finleys. I would Hold/Wait on Haskins right now. Lets see how the next couple starts go and if we see improvement you can buy on the upswing or get another sell window if you already own.  
Top card out there for me is the 2019 Orgins Dual Rookie Nike Patch Autograph 1/1 with Terry McLaurin his fellow Ohio st. teammate. Card is very nice and of the booklet variety. 
Here are his 3 TOP CARDS on
e
B
a
y:
---
#5 Gardner Minshew / QB / Jacksonville Jaguars 6'1 225 lbs
Thru 10 weeks: 188/307  61.2% 1,976 yards 13 TDs 4 Int 46.0 QBR , 42 att 235 yds
Trending:
DOWN
My Personal Opinion: SELL
2019 Prizm Silver Prices through NOV 14, 2019!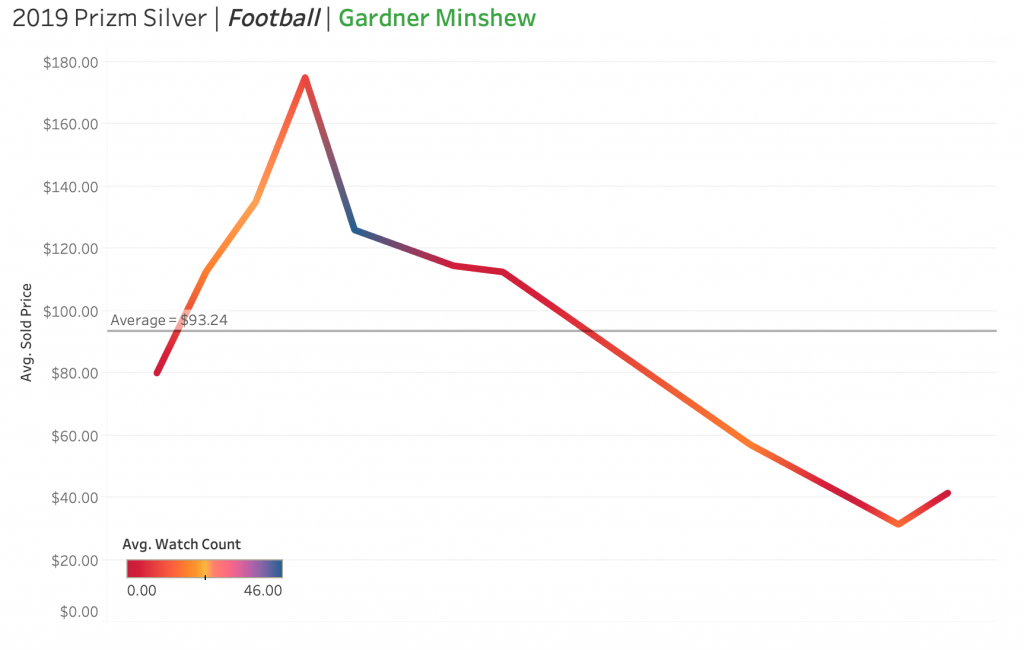 Minshew did not impress in London vs division rival the Houston Texans. He was 27 for 47 for 309 yards 0 Tds and 2 INTs. Most of his yardage came in the 4th quarter playing catch up as Houston was in control of the game throughout. It is all but certain that Foles if ready will start in week 11 after the bye. The Jaguars are 4-5, so Minshew doesn't have the wins to match the stats in his time starting. I will be watching to see how far his cards fall once he is in the back up role. It already dropped almost 35% from last weeks prizm silver price. I saw this coming and advised to sell. He will be a good one to grab if it bottoms out, his next opportunity to start could be sooner than we think. We will see Mindshew starting again at some point. Still have a sell window with the bye week, so sell while you can. 
He has some high valued nice cards on the market right now. This panini contenders 1/1 auto is a real nice Minshew Rc Auto that sold for $1000. 
Here are his 3 TOP CARDS on
e
B
a
y:
---
#4 DK Metcalf  | WR | Seattle Seahawks 6'4 229 lbs
Thru 10 Weeks: 35 receptions 595yds 17.0 Yard per Reception, 5 Td
Trending: UP
My Personal Opinion: BUY
2019 Prizm Silver Prices through NOV 14, 2019!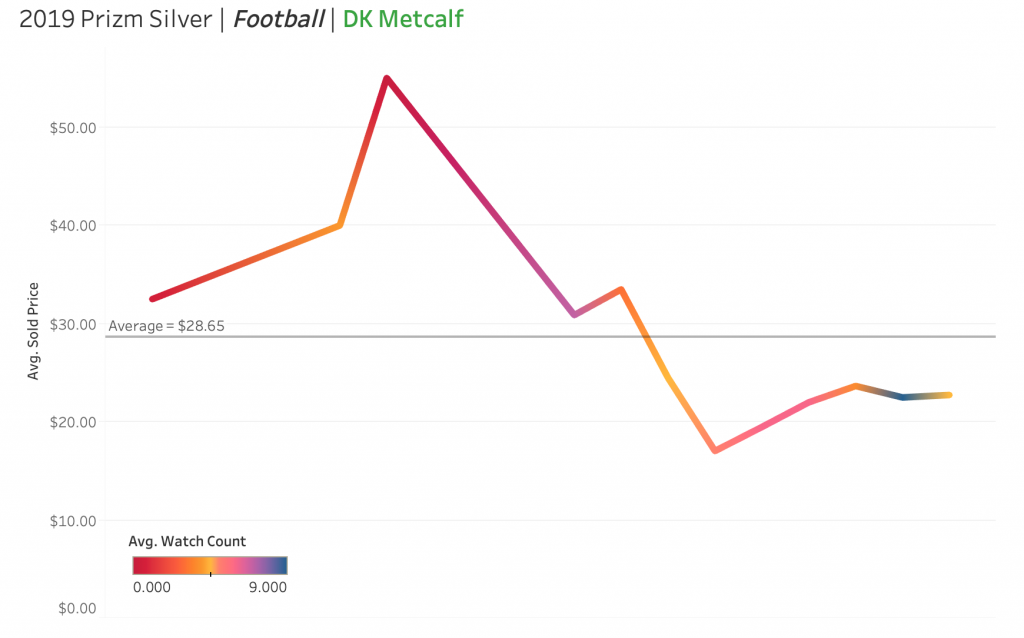 Metcalf followed his strong week 9 performance we another solid game against one of the top defenses in the league. It was a fantastic Monday Night Football game between the Seahawks and 49ers. Metcalf was heavily involved as he saw 10 targets, and turned in 6 receptions. He had a beast mode play that turned into a bad play, as he almost took a WR Screen pass to the house from 30 yards out. He was running through defenders and carrying another, as the defender got his hands inside his ball leverage and stipped the ball at the 1 yard line from him. It was still an incredible display of his strength. He is still having plays were he isn't displaying good body control, and showing stiffness which is limiting his cut ups after catches and the ability to make tough catches. Still feel that Seattle has trusts in him giving the volume required to develop. I mentioned in Week 9 that the Josh Gordon signing was a concern, but Tyler Lockett went down with injury so his volume should not take a hit with the injury. Seattle comes into their bye this week to prepare for the final 6 weeks. I am still buying Metcalf, he is cheap and is continuing to improve each week while also getting WR1 volume. 
My favorite card that recently sold of Metcalf is the 2019 Majestic Platinum Shield RPA 1/1 card. 
Here are his 3 TOP CARDS on
e
B
a
y:
---
#3 Daniel Jones | QB | New York Giants  6'5 220 lbs
Thru 10 weeks; 187/297  63.0%, 1,984 Yds, 15Tds, 8INTs, 47.8 QBR : 32 carries for 208 yards 2 Tds
Trending: UP
My personal opinion:
SELL
2019 Prizm Silver Prices through NOV 14, 2019!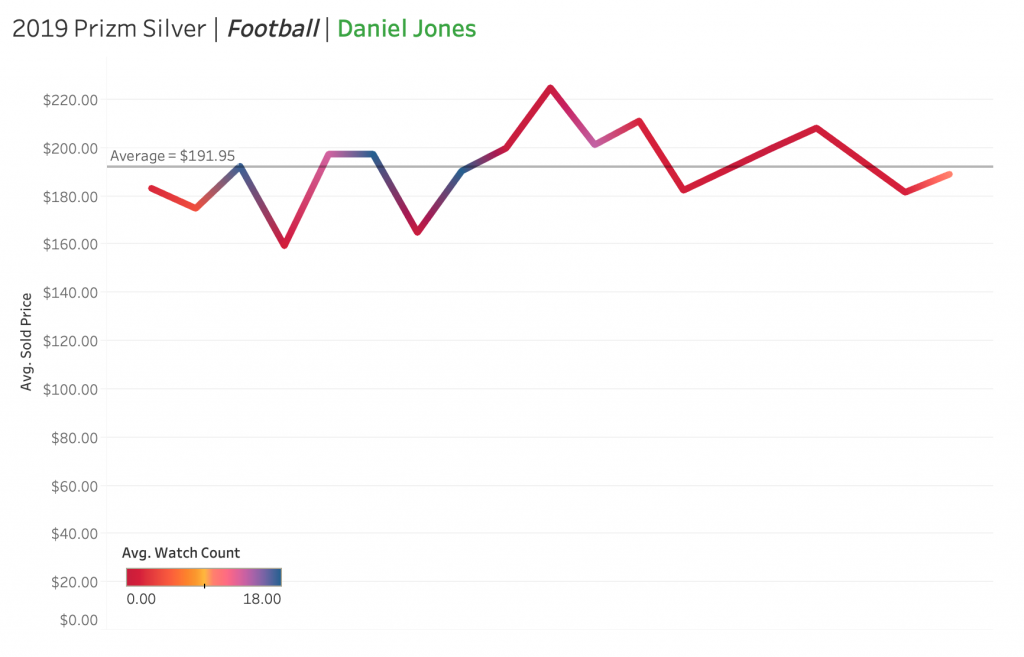 Jones had good statistical game vs the Jets on Sunday with 26 of 40 for 308 and 4TDs. It was still a loss and Jones issues still remain. He again gave up a defensive TD, this time Jamal Adams took the ball out of his hands and went for six. Its crazy how bad the Giants OL is. It isn't helpful that Jones is unaware in the pocket having poor pocket presence. He misses throwing lanes he can step up into at times, but most times he doesn't have a chance. He is getting hit and sacked often. Could be bad for his confidence long term,the David Carr effect. Watching his throws he is consistently hitting the 10-12 yard out, then everything else is short throws. He isn't really stretching the field yet, his long throws he has tried, have been really inaccurate. Even with the 4 Td and 0 INT performance I am still on the SELL wagon. I am just not seeing a long term star here. 
My top Daniel Jones card also comes out of 2019 Panini National Treasures 1/1 Silhouttes RC Auto with the nice Blue Duke D patch…it's a very clean looking card. 
Here are his 3 TOP CARDS on
e
B
a
y:
---
#2 Josh Jacobs | RB | Oakland Raiders 5'10 220 lbs
Thru 10 weeks: 168 carries 811 yards 5.0 yds per carry, 4 Tds, 14 Rec 132yds
Trending: UP
My personal opinion: BUY
2019 Prizm Silver Prices through NOV 14, 2019!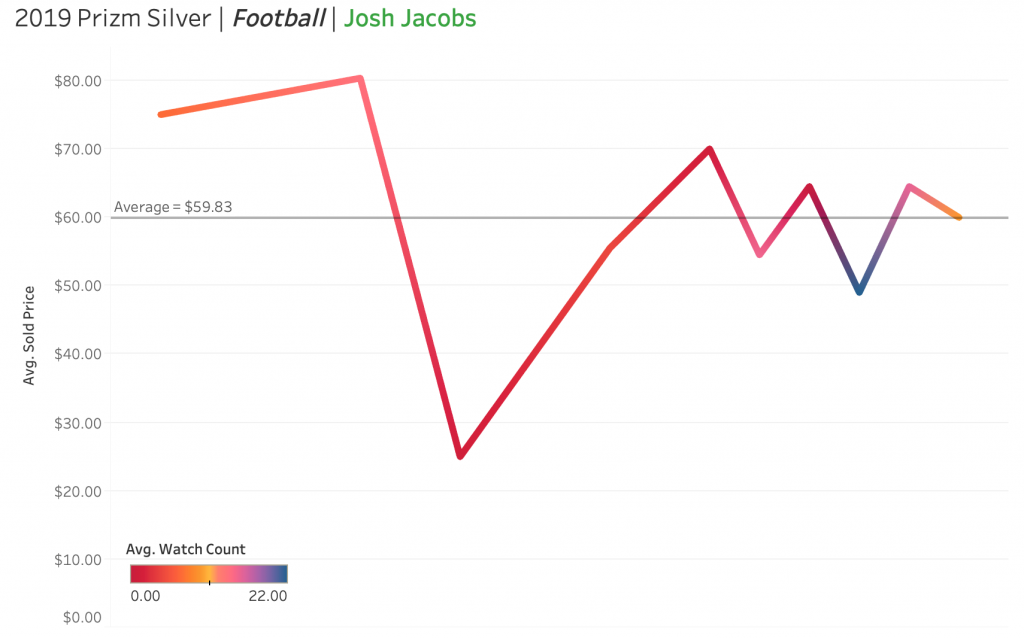 Josh Jacobs played Thursday night against the LA Chargers. Chargers have a stout front 7 and Jacobs still delivered with 100 All purpose yards and a game winning TD. Jacobs is really impressive in the open field, especially on his 3 catches vs the Chargers. He is very sudden and rarely is taken down by the first defender. The game winning Td he made a great cut to elude the safety for a walk in TD. Very impressive showing for him on Thursday Night. Josh Jacobs silver price is way too low. He has to be in the conversation for Offensive RC of the year, and is being valued less than Nick Bosa. That is nuts to me. Take advantage and go and get him. He is also in a strong market with the Raiders, who might be a playoff team. Raiders have Bengals and Jets coming up as well, expect big weeks from Jacobs and potentially 7-4 Raiders team playing @ KC in week 13.
2019 Origins RC Gold Inscription Auto 1/1 Black Hole is my top recently sold card for Jacobs, a nice PC addition for any raiders fan.  
 

Here are his 3 TOP CARDS on

e

B

a

y:
---
#1 Kyler Murray | QB | Arizona Cardinals  5"10 207 lbs
Thru 10 weeks: 230/360  63.9% Completion, 2,553 yds , 12TDs, 5INT,  65.5 QBR: Rushing: 49 carries 351 yards 2 TD
Trending: STABLE

 

  
My personal opinion: BUY
2019 Prizm Silver Prices through NOV 14, 2019!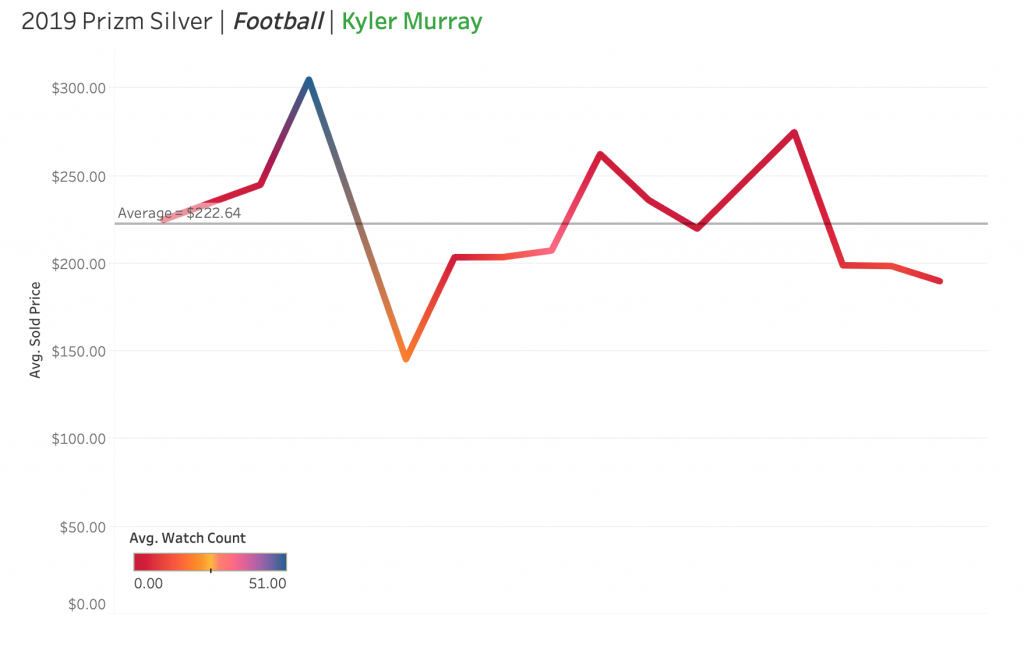 Kyler Murray had another stellar performance against Tampa Bay in a losing effort. He was 27 of 44 for 324 yards 3 Tds and 1 INT. Really good game, his highest amount of throws in a game this year and he delivered with the stats. He did make a crucial INT in the 4th with AZ driving to seal the game he through a pick in the red zone and TB came back down the field with a TD to take the lead and win. It was actually a rare occurrence for Kyler, it was a bad throw in the sense it was off his back foot, but the WR did fall down making it an easy opportunity for the defender.. He set a record for most pass attempts by a rookie without an INT with 176. Kyle is still the clear cut guy to own in 2019. He for me is right there with Lamar Jackson as the top 2 young QBs to own as Darnold and Mayfield have faded. Kyler's passing ability I would invest in him over Lamar, Lamar has been electric but will he be able to supply "QB" numbers for the hobby long term. I believe Kyler will, and he is the top young QB to own right now long term. Watching him play he is so calm and collected for a rookie. They blitz he stands in and makes the correct play, he isn't pressured he takes his time and makes a good throw. He is extremely fast when he needs to run, but is a thrower first. Watching him compared to Jameis Winston is clear view of the talent bump, murray has more zip, quicker release, and is calmer in the pocket. The ceiling is extremely high here. The wave of the new product has died down and you can start getting his silvers under $200 raw. 
Here are his 3 TOP CARDS on
e
B
a
y:
---
The 5 that
ALMOST

made the TOP 10.

 
11. Mecole Hardman | WR | Kansas City
Here are his 3 TOP CARDS on
e
B
a
y:
12. TJ Hockenson | TE | Detroit Lions
Here are his 3 TOP CARDS on
e
B
a
y:
13. Marquise Brown | WR | Baltimore
Here are his 3 TOP CARDS on
e
B
a
y:
14. N'Keal Harry | WR | New England
Here are his 3 TOP CARDS on
e
B
a
y:
15. David Montgomery | RB | Chicago
Here are his 3 TOP CARDS on
e
B
a
y:
---
PSA 10 RC's

— TEAM BREAKS –

SEALED BOXES

—
Ending RIGHT NOW!
[vc_tta_tabs][vc_tta_section title="PRIZM SILVERS ENDING NOW!" tab_id="1572630542578-16c62785-12a7″]
[/vc_tta_section][vc_tta_section title="PSA 10 RC's " tab_id="1570336067552-45fdad31-45ae"]
[/vc_tta_section][vc_tta_section title="BREAK'S ENDING NOW!" tab_id="1570336067655-bb3a2c74-89e2″]
[/vc_tta_section][vc_tta_section title="SEALED BOXES" tab_id="1570336266068-6c565161-844b"]
[/vc_tta_section][/vc_tta_tabs]