Now that the dust has settled with the draft, rosters are becoming more clear. With that, you can see that some Quarterbacks have benefited from the off-season thus far. I am going to keep the Rookie Quarterbacks out of the conversation as they are just getting started. Instead, I am going to focus on those younger quarterbacks searching for a breakout, which can help you catch lightning in a bottle. Let's take a look…
#1 Sam Darnold QB Carolina Panthers 23 yrs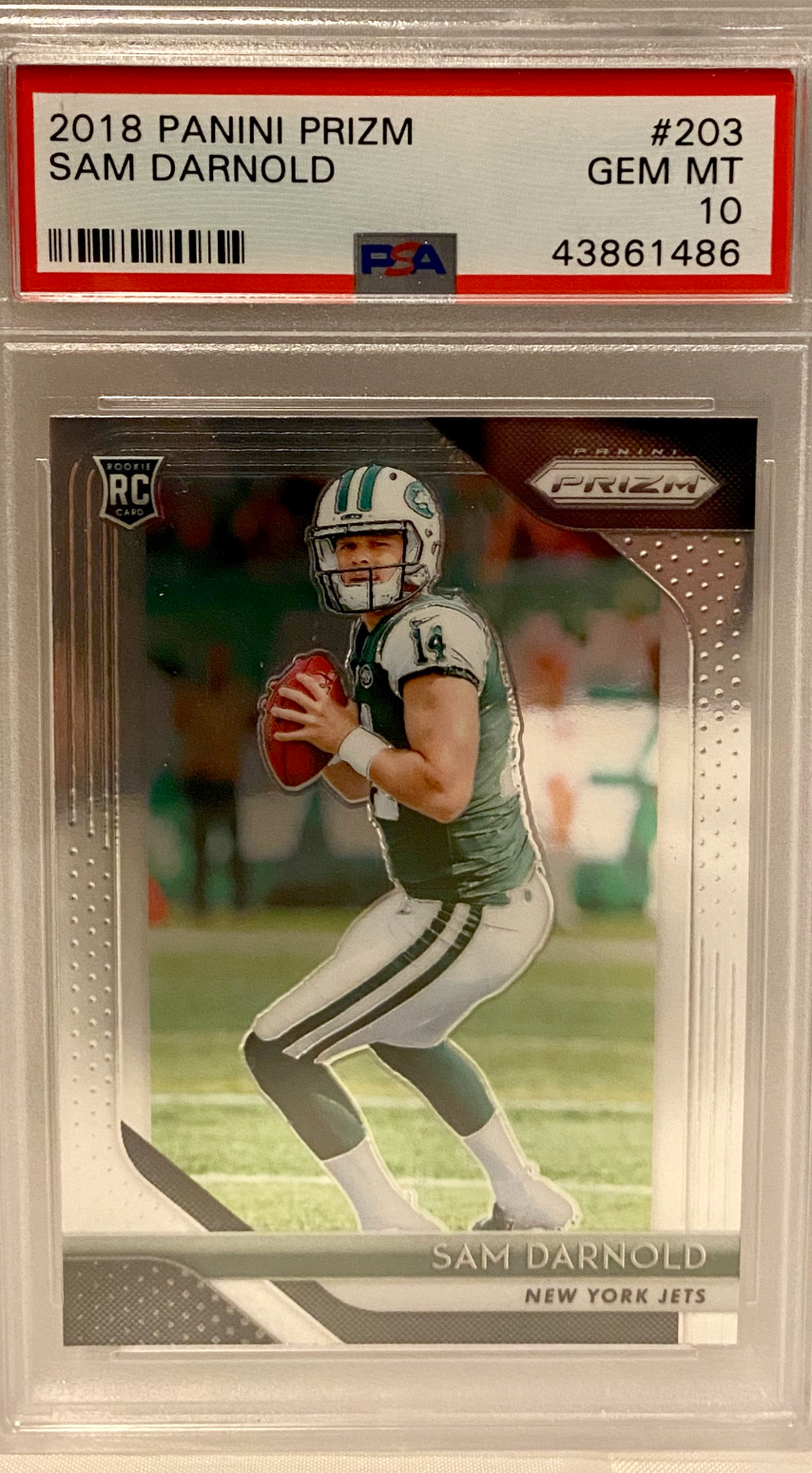 Darnold is in the classic situation of a change of scenery that could spark a career. He turns 24 on June 5th, he is just as old as Kyle Trask, QB drafted by Tampa Bay this year out of Florida. There is plenty of time for Darnold to turn it around. Currently Darnolds PSA 10 Prizm RC is going for $180 and his PSA 10 Donruss RC is going for $50. There is plenty of room for Darnold to grow in value in 2021 within the hobby. I am quite bullish on Darnold myself, I believe he is stepping into a great situation. With the Jets Darnold was never better than a 61% passer and his yards per attempt was around 6. I believe those are both going to increase dramatically in his new situation and those underlying stats to me are the most concerning with his time in NY. If you look at what coach Rhule did last year with Teddy Bridgewater it should give you some confidence in my vision. The Panthers started the year in the mix for the division until the limitations of Bridgewater and that defense was exposed. Teddy had over 7 yards per attempt average and threw for 3700 yards. I believe if Darnold can use his talent he can greatly improve upon those numbers and get our attention in the hobby. The Panthers have Christian McCaffery coming back and one of the better under the radar WRs in the league with DJ Moore who has been starving for some deep ball accuracy. 
Most Watched Sam Darnold Cards on eBay Right Now
#2 Daniel Jones QB New York Giants 24 yrs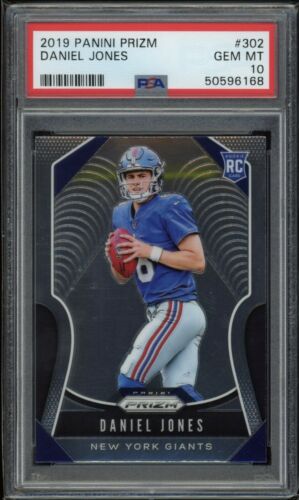 I was concerned about Jones adjusting to the new coaching regime in 2020. That along with injury to the main offensive weapon in Saquon Barkley did not help him prevent the year two slide. Jones is in a good situation for everything to click if he can prove he has the tools to be a successful QB in the league. I am still questioning that IF, but he has a tremendous opportunity to make that step in 2021. Very similar pricing to Darold, Jones is going for $190 PSA 10 Prizm RC and $65 PSA 10 Donruss RC. Very affordable for a starting QB in a major market with some upside. Jones gets Saquon back, they added Kenny Golladay who should be a true WR1 for them, they drafted Toney an explosive player out of Florida, they still have Shepard as well. They have 3 nice receiving options for him to take the next step in his second year in the new system. In a relatively weak division, anything can happen for Jones and the Giants.
Most Watched Daniel Jones Cards on eBay Right Now
#3 Carson Wentz QB Indianapolis Colts 28yrs
Carso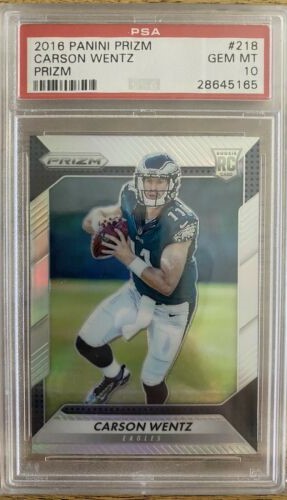 n Wentz is one of the more puzzling situations I can remember. We had a guy who played unbelievably well in year two, giving the Eagles the chance to win a Super Bowl before blowing his knee out diving for a TD. In turn, Nick Foles goes on to win that Super Bowl and get most of the praise. Wentz never fully recovered to that form. He lost his OC Frank Reich to Indy and it seems since that time he has had a tough time getting his career back on track, ultimately bottoming out with his worst statistical year to date in 2020. Wentz was clearly in need of a new situation, and none better than reuniting with his coach Frank Reich in Indy. Indianapolis was the best case landing spot for Wentz in my view, he comes into a team built to win now, and back with his coach he had the most success within his career. Wents Prizm PSA 10 currently just above $400 and his Donruss RC PSA 10 is at $88. While he is much more than the first two on the list, we at least have seen him be really good. I believe with Jonathan Taylor, solid Oline, Michael Pittman, TY Hilton, there is a lot in place for him to come in and put up a great statistical year. Many thought that Rivers "limited" the offense, keep in mind Rivers had over 4000 yards passing 24 TDs, and 11 INTs. He had an impressive 68% completion and 7.7 YPA as well. Wentz could be special in 2021 back with Reich, I am in.
Most Watched Carson Wentz Cards on eBay Right Now
#4 D

rew Lock Denver Broncos 24 yrs

Lock is a player in the offseason that benefited from Denver not doing anything about the QB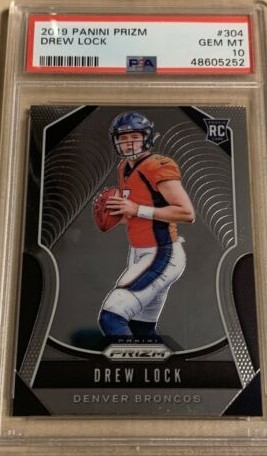 situation. Many thought Denver would be in play for a QB in the draft and when Justin Fields slipped in the draft, they still elected to take CB Patrick Surtain instead. Denver is still rumored to be in on trying for Rodgers, but for now, Lock is their guy. His prices have bottomed out with Prizm RC PSA 10 selling for $90 and Donruss PSA 10 RC selling for $40. Lock was underwhelming last year, to say the least with under 58% completion and 16-15 TD-INT ratio. Denver did add an RB and some OL help in the draft and get Courtland Sutton back in 2021. That along with Jeudy's second year, he has talent in place to succeed if he can put it together in the difficult AFC West.
Most Watched Drew Lock Cards on eBay Right Now
#5 Jameis Winston/Taysom Hill New Orleans Saints    

Many are very excited about Trey Lance's landing spot with Shanahan in SF. Similarly, whoever is the QB for Sean Payton will have a great offensive mind to help aid their success. The Saints still have good offensive talent around them for whoever the starting QB is. Odds from Vegas is favoring Jameis Winston for the starting job. Taysom is limited in his passing ability, and with that many are hopeful that Winston will get another opportunity to be a starter in the league. Tayson is interested in the hobby because he only really has a Contender RC Auto that is going between $350-$400 raw right now, while Winston PSA 10 Prizm RC is going $300. If you own either of these cards, be sure to be ahead on getting out, especially with Winston. If Hill is still named the starter Winston will have a downgrade.
Most Watched Taysom Hill Cards on eBay Right Now
Honorable Mentions: Tua Tagiviola & Jalen Hurts
Tua and Jalen both had improved situations in the off-season. Eagles and Dolphins both added offensive weapons and talent to help their young QBs. I simply left them off the list for now as they both are relatively higher than most on this list. I do feel Tua is a good buy right now, and want to see more on Hurts with the new regime and weapons before I consider him more. 
Most Watched Tua & Jalen Cards on eBay Right Now
Thanks for checking out my article! Please follow me @numbers_behind for more interactions and notifications around my content!