We are getting through our first month of baseball. It has been great to have it back. We have seen the difficulty of having a COVID season, we even have player protests postponing games that have been added to the season. It is absolutely a crazy world we are living in…but for me it has made me appreciate sports even more. I enjoy the games, I enjoy the stats, I respect the players sacrifice to keep us entertained, and I respect players standing up for what they believe is right. It has been an incredible start. The explosion of Fernando Tatis Jr. has been quite the site to see. Shortly before the season started his PSA 10 2019 S2 was around $80, since his hot start it has climbed all the way to the $300 mark! My comparison back in March of his ceiling being near Ronald Acuna seems to be materializing.We have also seen Shane Beiber off to a hot start with an insane K rate.  These two guys are a couple of the big movers this month. Per usual here is the list of who is in what. I will add guys as they become more relevant and/or perform well.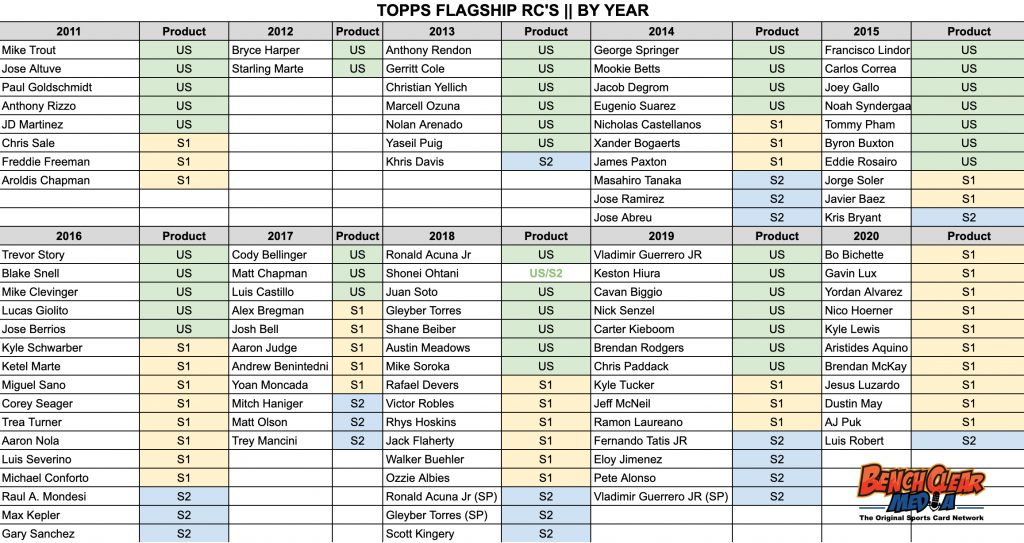 LIVE VIDEO STREAM:
Before I dive into some of my thoughts, be sure to join Ty and I as we discuss this list and the TOP 20 more in-depth. YouTube Session is below!
---
TOP 10 FLAGSHIP ROOKIES
---
The Top 10 list has changed since my first report…to say the least. (If you want to see our ranks beyond 50, sign up for our Patreon page here! Ty gives you a lot of extra analysis on volume and movement weekly.)
Tatis has moved the most from early 20s all the way up to 5. Luis Robert has had some PSA 10s hit the market and those numbers have him sitting at 3 as he is averaging $450 per right now. This should stabilize as the market gets more supply, but he won't drop too much as he is performing very well in his RC season. Charlie Blackmon jumped into the Top 10 with his hot start and having his batting average above .400. Soto came back from COVID better than ever, and with that has passed Acuna in the ranks sitting at 6 and Acuna at 10. It has been very intriguing to watch the battle in the top 10 of the young stars between Robert, Tatis, Acuna, and Soto.
---
#10 RONALD ACUNA JR (2018 Topps Update)
PSA 10 = $215.09
PSA POP = 14,742
---
#9 CHRISTIAN YELICH (2013 Topps Update)
PSA 10 = $240.14
PSA POP = 2,768
---
#8 FRANCISCO LINDOR (2015 Topps Update)
PSA 10 = $240.92
PSA POP = 612
---
#7 CHARLIE BLACKMON (2011 Topps Update)
PSA 10 = $249.88
PSA POP = 200
---
#6 FERNANDO TATIS JR (2019 Topps Series 2)
PSA 10 = $265.78
PSA POP = 8,029
---
#5 JUAN SOTO (2018 Topps Update)
PSA 10 = $271
PSA POP = 12,778
---
#4 CODY BELLINGER (2017 Topps Update)
PSA 10 = $282
PSA POP = 384
---
#3 LUIS ROBERT (2020 Topps Series 2)
PSA 10 = $421
PSA POP = 86
---
#2 MOOKIE BETTS (2014 Topps Update)
PSA 10 = $465
PSA POP = 2,501
---
#1 MIKE TROUT (2011 Topps Update)
PSA 10 = $3,429
PSA POP = 5,007
---
---
TRENDING UP
---
KYLE LEWIS (2020 Topps Series 1)
PSA 10 = $115
Kyle Lewis has really made a case for rookie of the year thus far. Coming up with big hits and amazing plays in the field. It seems that everyone is waiting for him to fade. As a fan of Seattle, I can tell you I was really worried about his K rate along with his age. I also think many see the young talent coming up behind and him and may limit his upside as a the guy in Seattle. Either way he is simply playing great batting .360 with 7 Hrs thus far. Seattle doesn't have the team right now to give him his due, but the numbers are helping him climb the RC ladder. 2020 Topps Series 1 is getting stronger and stronger everyday.
MANNY MACHADO (2013 Topps Series 1)
PSA 10 = $80
Most of the attention in San Diego is on Fernando Tatis Jr.,  rightfully so. Manny Machado is also playing extremely well for the Padres. Starting off batting .280 with 8 Hrs. Machado had a rough first year in San Diego and looks to be bouncing back. His PSA 10 RC is still hovering under $70 per. Machado has impressive career stats this far, he is an impressive defender as well that puts him at high WAR number each year. Point being he is a great player that could be in the Hall of Fame someday. At 28 years old has 5 years prior with 30+ Hrs. Don't sleep on Machado, there is value there.
JESUS LUZARDO (2020 Topps Series 1)
PSA 10 = $58
Luzardo has been one of my targets for breaks and sales. The As are generally quite affordable in breaks and they have a pretty deep RC checklist, especially in Topps Chrome. Luzardo has really given the As staff the stability they need. I still think he hasn't even shown his best yet and he is commanding 9K per nine average and a sub 3 ERA. I am watching him this year to see how he progresses as next year I could see a Beiber type break out. Pitchers may not be the favorite choice, but as you see guys like Degrom and Beiber still command value, they are worth keeping tabs on.
ELOY JIMENEZ (2019 Topps Series 2)
PSA 10 = $70
I feel pretty good about my explanation last month on Eloy trending down as I thought all the attention would be on Robert. That appears to be true as Eloy currently is batting .319 and has 11 home-runs and is still not getting the value you would be expecting. Jimenez's PSA 10 RC still hanging around $70 per, BUY! It's an easy decision, young stud, good market, great young team people will want in on. Eloy started the season with a lot hype, and his is answering the call and the value hasn't corrected. Take advantage.
---
TRENDING DOWN
---
CHARLIE BLACKMON (2011 Topps Update)
PSA 10 = $250
Blackmon had an amazing start to the season, batting over .400 for nearly the first month of the season. With the shortened season many believed it could be a shot for someone to bat .400 in the season. With that surge by Blackmon to start the season he shot up the RC value ranks, however since August 12th he has slowed down. He has batted .240 since that time and only one home-run. Look for his RC prices to fall out of the top 10 but he will still put up numbers as long as he is in Colorado.
YORDAN ALVAREZ (2020 Topps Series 1)
PSA 10 = $65
It was an exciting first game back as he hit a home-run. Then shortly after had some knee soreness and then the shockwave of season ending knee surgery came. Partially torn patella tendon is what did him in. With him being out his values will naturally dip, but we did see a nice little jump after his first game back. We know the excitement around him in the hobby. But the silver lining is…if you were to miss any season, this would be the one. I look for Yordan to be a nice buy as we keep getting deeper in the season. The injury isn't a huge concern for me, since I wasn't counting on his speed anyways. I hope he has a full recovery and we can see him in 2021. Watch for some good opportunities to buy the next couple of months.
YANKEE HITTERS
The Yankees have had again a difficult time with injuries. Judge was just activated back and we hope to see his impressive start before the injury. I will say that Judge continues cause concern for his long term value. He continues to be up and down with injuries and display of supreme talent. Gleyber Torres recently went down with a hamstring. No real cause for major concern, except his value wont being going up and would likely drop a little. He is still the Yankee hitter I want long term. Lastly, Giancarlo Stanton again is missing time. Nothing new to say here, other than I really wonder what he would be like as an everyday player. His power is simply remarkable.
OZZIE ALBIES (2018 Topps Series 1)
PSA 10 = $60
Albies was a guy I was surprised was in my top 25 in my first report. He has since then fallen out of the top 25.  He is off to a dreadful start. He is batting .159 with a 28% K rate. Yikes! Albies has had dry spells like this before, it is still early and actually the Braves in general are not hitting well. He is still fetching close to $70 per on his PSA 10 RCs. I would be selling at $70 on Albies as I see it getting much lower if he can't get out this. He is still a young player and even a dreadful year wouldn't cause me to write him off long term.
---
---
SLEEPERS
---
JOEY GALLO  (2015 Topps Update)
PSA 10 = $45
Gallo has a lot of strikeouts. His contact has always been an issue, but the only way around that is if you have superior power, and he does. Last year he was injured or it could of been his 3rd straight 40 Hr season. He only has 7 Hrs on the year but his exit velocity is still averaging about 90 right now, which is a good indicator the hard hit rate is explained. Gallo is still a guy that can lead league in HRs if he can stay healthy. He is realatively cheap and a guy to keep an eye on.
---
JESSE WINKER (2017 Topps Update)
PSA 10 = $35
Winker has had an incredible start to the season. The Reds in general have been hitting the ball well with the addition of Castellanos. It is pretty clear why it has been hard for Aquino to play with what the OF is bringing.  He is batting .300 with 6 Hrs. He is Top 15 in the league wRC+ (runs created).  Meaning he is making an impact for the team with his bat. Winker was a top prospect in the Reds organization, but had a really tough time vs Leftys and ended up being platooned. He seems to be correcting that and being able to command everyday play. Giving him the opportunity to put up these impressive numbers.
---
BRANDON LOWE (2019 Topps Series 1)
PSA 10 = $56
It is hard to determine if this hot start by Lowe is sustainable but he has my attention. The concern is the power has not been there in the past. He is already at 10 Hrs and his batting .296.  He has been a pleasant surprise for Tampa. He is in the cheap 2019 Series 1, it seems that his sales are picking up. The buzz is there, he is still relatively cheap and guy you can target as he continues to play well.  He 2nd in the league in wRC+ right now, which is really impressive and something that has me believing.
---
Hope you enjoyed the second installment of my Flagship RC Report! Please leave comments below or contact me on twitter @tbanker28 if you want to chat about the hobby!