I hope you enjoyed my first installment of the Flagship Baseball RC report, now it is time to roll out another fun monthly rookie series…the monthly Football RC Report. Similar to baseball, I wanted to give you a clear view of what's going on with the RC cards in the football card market. Football is much more difficult to organize compared to baseball, as baseball has the Flagship base/parallels….for a decade+. Football has Prizm starting in 2012, and then a mix of Topps, Topps Chrome, Bowman Chrome, and other types of RC cards before 2012. With that, the football list won't be as straight forward. The other thing to pay attention to is that some Prizm products did not have Silvers, some only had Silvers, and some had both base and Silvers. Pay close attention to the labeling in the charts before you question why Chris Godwin is priced higher than Odell Beckham Jr. All in all, I hope you can use this as a guide to find and target the players you want to collect. Enjoy!
---
Here is the reality…Football has really been picking up steam in the hobby. Let me get you excited with a chart of the TOP 5 guys and their price performance over the last 90 days.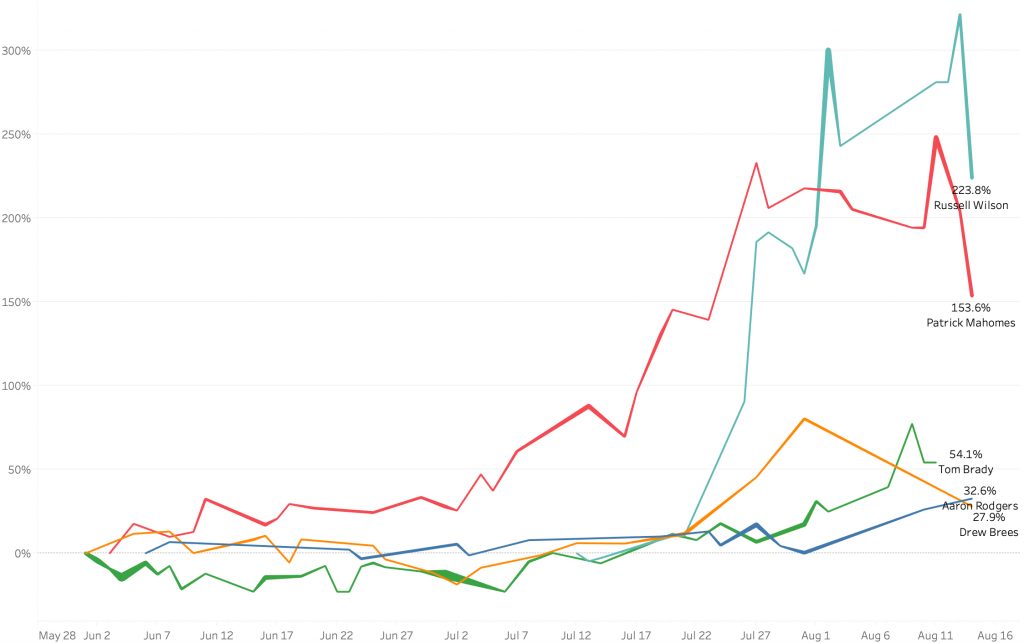 Impressie huh?!
We have Brady who has set the Trout type standard in the hobby for the NFL along with Patrick Mahomes who seems to be the next best QB comparable to Ronald Acuna in the baseball context. Those two are bringing in big-time value with their RC cards. Well… we have a very promising RC Quarterback class this year and 2021 looks to be strong as well. But drooling over the QB's is too easy. The big question is whether the hobby starts to show love across the sport instead of just the quarterback position? That has often been the main drawback to football in the hobby, in the past it has been very 1-dimensional. While the running backs and receivers will never get to the quarterback level, it will be interesting to see if they can close the gap over the next couple of seasons. This draft class in 2020 is one of the deepest classes for all offensive positions that we have seen in a long time. We have 4 1st round Qbs, and 19 WR & RBs taken in the first 2 rounds! The 2020 class won't show up in this report until 2020 Prizm is released but you can see the depth of names on the list for 2020. Very deep class with the opportunity to produce right away. Similar to my Baseball Flagship article, here is the layout of the land in terms of who is in what year and wax prices to help you with value. 
In looking at the RC landscape, the first thing that stood out to me was how quickly 2012 folded on us. Besides Russell Wilson, the rest have fallen off rather quickly. Andrew Luck at the time was the can't miss sure-thing prospect, you had the electric play of RG3, and lastly, Trent Richardson was drafted in the top 5 that year. All 3 of which are backups or out of the league. 2014 stands out to me as well, as that was one of my first writing experiences where I broke down that WR class for the 2014 NFL Draft. That was such a deep WR class and 6 are still relevant receivers in the game today. Overall, the strength of the 2016 Prizm product to 2019 is very appealing for the future of football in the hobby. Especially as I mentioned the crop of Qbs coming next year will continue to drive the product. In looking at hobby wax prices you can see 2017 is up to an insane amount for a hobby box at $3000! In fact, all years of Prizm made besides 2017 added up would only be $278 more than one box of 2017… whew, Mahomes! 
In writing this article after my baseball report, the one thing that stands out the most is the pop reports. For perspective, we saw in the baseball report that Ronald Acuna's Topps Update RC Pop report for PSA 10 was at 13,000, while in football all of the starting quarterbacks in the NFL (including Winston) combined is under 7500! Football's main RC card comes from a product with a lower print run and the mix between silvers and base cards. Even though the true RC card for football is muddied up a bit in terms of a silver or base Prizm or before Prizm RC cards, all RC cards are well under baseball pop reports. With pop reports being low for many, that increases the scarcity and value of players you wouldn't expect. For example, Nick Chubb only has 7 PSA 10 Silver Prizm RCs. In turn, his last sale was for $300 (might be an overbuy), but the scarcity probably made that possible. 
Quarterbacks are still where the money is… this is clear when you see the value chart. Although Saquon Barkley is holding very strong at $600 for a PSA 10 RC Silver. But take him out and the top 16 players would be Quarterbacks. While I do believe that running backs and receivers will continue to grow… Quarterbacks hold the most value and if you buy at the right time will provide the biggest gains. But rest assured the position players provide the opportunity to make smart decisions with much less risk. Especially when buying cards, those up and coming younger position players can be had for cheap. If you can get some gradable cards the bump in value is very attractive.
For example, I snagged a Joe Mixon Silver for $1.25! That is not a misprint, it may not be gradable but a PSA 10 Joe Mixon Silver sells for $80! Why not take the shot, and in this case it's a player that hasn't broken out yet where there is room for growth which I will get into later. I was also interested in seeing that Aaron Rodgers was not in the Top 5 values, at first I thought it must be because there must be a lot of his 2005 Topps Chrome RC, but that isn't the case with a population of 28. It is interesting to see Kyler, Lamar, and Watson all ahead of him. Rodgers is a lock for the Hall of Fame and has already established his legend status while the other 3 have not. 
As mentioned earlier, the Top 10 values are flooded with QBs. You do have a couple of top non-Quarterbacks holding their own such as Saquon Barkley and Michael Thomas. When I look closely at the values it is very interesting to see Mahomes be neck and neck with Tom Brady already. Partially because Tom Brady has a slightly higher pop report but I still feel the best QB of all time should have a bigger lead on Mahomes at this point. Does Brady increase or does Mahomes decrease? Russell Wilson has also picked up some steam over the past 2 weeks as he catapulted up into the $200o range. He was one I was very surprised to see going under $1000 not too long ago (like 4 weeks ago!!). You can see the trend with Quarterbacks is solely focused on the youth. You have Lamar Jackson and Kyler Murray in the top 5, which is based on projection for Murray. Lamar and Kyler are both electric players, but I have a hard time passing on Aaron Rodgers or Drew Brees at their price points versus taking a giant leap of faith with some of the youngsters. We know Lamar had an MVP season but he has had two playoff game flops so far in his career which concerns me. Kyler is still on a young team that is in a very difficult division, so it may be difficult for Murray to even get to the playoffs.
I'll breakdown the Top 10 at the bottom of this article…. let's start with the trending players.
---
THE MOVERS! 
With the same format as the Baseball report, I will approach my trending section the same way. With Training camp just about to get going for everyone, not much performance can be evaluated. My first installment here I will focus on players I see with potential to grow or perhaps values, and also guys I think are being overvalued. In the past month overall all football players are trending up as we get closer to the season, so my trending down players is focused on guys who I can see slipping in value.
---
TRENDING UP
Baker Mayfield
QB Cleveland Browns 
Find on eBay HERE
Baker has had quite the roller-coaster to start his career. He was the number 1 overall pick in 2018, showed some really strong play in his rookie year but faded in year two. With this, his values spiked early and have been dropping steadily since. He has a low pop report and his behind a lot of Quarterbacks that I don't think have the upside that Baker brings. It is going to be a big year for Mayfield to silence the doubters but guys like Drew Lock, Daniel Jones, and even Josh Allen are above him in value and have questions in their games as well. I am concerned with the turnover of the coaching staff in Cleveland as I hope it doesn't stunt Baker's growth. If Baker can get back to his end of 2018 form and the Browns can make a playoff run, look for his value to go way up.
Joe Mixon RB Cincinnati Bengals
Find on eBay HERE
In the 2017 draft, Mixon had some off the field issues that made some teams cautious with him in the draft, but of course, the Bengals ignored that and still made him a relatively high pick because of the talent. The Bengals the past two years have been a disaster, to say the least. With the OL and QB issues, it has been very difficult for Mixon to show his true talent. I think with the Bengals adding Burrow and building a younger team, it will create a better situation for Mixon to break out. He is really cheap to buy, and a lower risk option to put some money into and find some solid gains. 
Deandre Hopkins WR Arizona Cardinals 
Find on eBay HERE
Hopkins was really cheap for PSA 10 RC Prizm at $80 and has a really low pop report at 34. However, during the process of writing this article two recently sold at $262 & $300. He has gone out of the easy buy category and into the hope you have some base Rcs in great shape that you can grade. He has been one of the more consistent WRs in Houston for the past few years. To see him below guys like DK Metcalf, Tyreek Hill, and Chris Godwin before those last couple sales were quite surprising. I think Hopkins moving to Arizona could see even a bigger workload and be a huge factor in Kyler Murray's progression. 
---
TRENDING DOWN
Drew Lock QB Denver Broncos & Daniel Jones QB New York Giants
Find on eBay HERE
I have Lock and Jones in the Trending down section as I believe most of their value is based on hype. They are still the "new thing" that everyone is putting their money on, and in reality, they haven't done anything yet. Lock produced some wins at the end of the year for Denver but his numbers were below average overall, Jones didn't win any games and most are hanging their hat on some flashes he showed while taking his lumps. To see them where they are in the Qb ranks of value is surprising. With the 2020 QB class being strong, the attention is going to shift quickly if either of them struggles out of the gate. 
Christian McCaffery RB Carolina Panthers
Find on eBay HERE
I struggled to put McCaffery here. I think he is an amazing player and the best running back in the league. I am concerned with his workload and how sustainable it is, I am also concerned with the coaching and QB change in Carolina. I am betting that CMC is at peak value in terms of his perception and production as a running back. He may go on to have a very solid last few years as the starting RB for Carolina, but his video game numbers are going to become more realistic and his hobby value will come back down. 
Nick Bosa DE San Francisco 49ers
Find on eBay HERE
Nick Bosa had an electric RC year with SF, helping them to reach the Super Bowl with his impressive play in the playoffs. His 2019 Prizm Base RC is still fetching $100. That is really high for a first-year defensive player. I don't see that value sustaining even if he has 10+ sacks next year. When you look at a guy like Khalil Mack who has been dominant for 7 years and his PSA 10 Prizm RC is only $40, it shows you this is more about a new player in a big market rather than a top valued RC Card. Sell the ones you have now, and get them back when they slide down. 
Deshaun Watson QB Houston Texans
Find on eBay HERE
Watson is a talented Qb that landed with the wrong team. I feel like the Texans have made every possible mistake in building a team around him. He didn't have an OL early and was getting pummeled but was still productive. Then the Texans deal his top WR away and I am unsure what Houston will be as an offense with Hopkins gone. I have also felt that the coaching staff there has been dreadful, I just don't see Watson taking a step closer towards a championship, which with the QB position is what he needs to increase his value and demand. Watson has had a high volume of sales, which can be attributed to having the highest pop report or people getting out while they can. With that being said, I think his Prizm Silver RC will be coming down.  
---
SLEEPERS TO WATCH
Jameis Winston QB New Orleans Saints
Find on eBay HERE
Winston still has the arm talent to play the QB position, it has always been the mental part of the game he has struggled with. Bruce Arians thought he could fix him, one year later Winston is out of Tampa Bay. Winston did land in New Orleans, which is a familiar conference opponent with a team that has an aging QB on the way out. If Winston can pick up anything from Drew Brees to help him be a better QB he may get a crack at the Saints job with a talented roster and consistent coaching staff then he may have fallen in the right spot. His value will continue to be cheap as he is the back up in New Orleans, but keep an eye on his Prizm RCs in case he gets another chance to restart his career after Brees retires. 
Kenyon Drake RB Arizona Cardinals 
Find on eBay HERE
Drake is dirt cheap for his 2016 PSA 10 Prizm RC at $30. He was constantly held back from playing in Miami and never given the opportunity to show what he could do. He convinced Arizona quickly he deserved to play and went on to have an amazing year in 2019, while essentially putting David Johnson on the bench. With Johnson off to Houston and no real threats drafted at the running back position, it looks as if Drake will be the guy in that talented offense. Barring COVID,I am excited to see what he can do as a starter from day 1.
Michael Gallup WR Dallas Cowboys
Find on eBay HERE
Gallup had his breakout year in 2019 as he established himself as one of Dak's favorite deep ball targets. Gallup coming out of Colorado St was a very talented player who showed flashes of an NFL number 1 receiver. With the contracts in Dallas getting log jammed, I think it is going to be tough for Dallas to keep Amari Cooper long term, with the addition of CeDee Lamb on an RC Deal I can see Dallas planning their receiver future around those two players. His base 2018 Prizm PSA 10 RC is selling for $27 and you can get his RC Raw for under $5, not bad for a guy who could find himself as the number 1 receiver in Dallas soon. 
---
Now,  here is the data for the Top 5 Players — tune into our LIVE YouTube Session on Monday Night for the breakdown of the FULL REPORT!
#5 | AARON RODGERS
2005 Topps Chrome
Current Price: $1,487
90 Day % Movement: 32%
Find on eBay HERE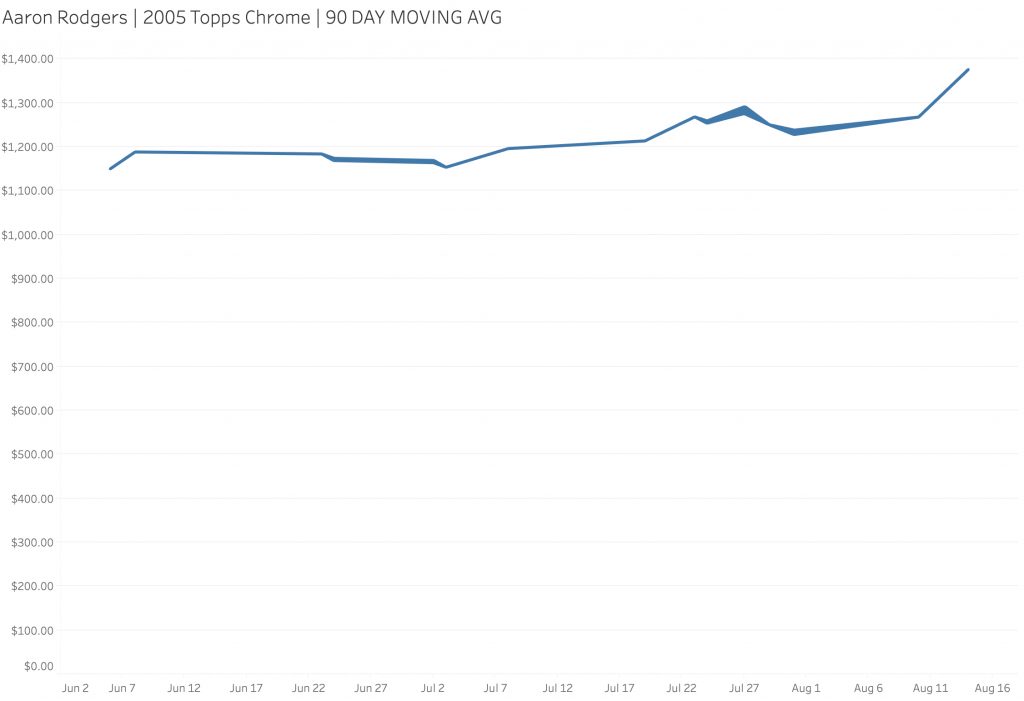 ---
#4 | DREW BREES
2001 Topps
Current Price: $1,549
90 Day % Movement: 28%
Find on eBay HERE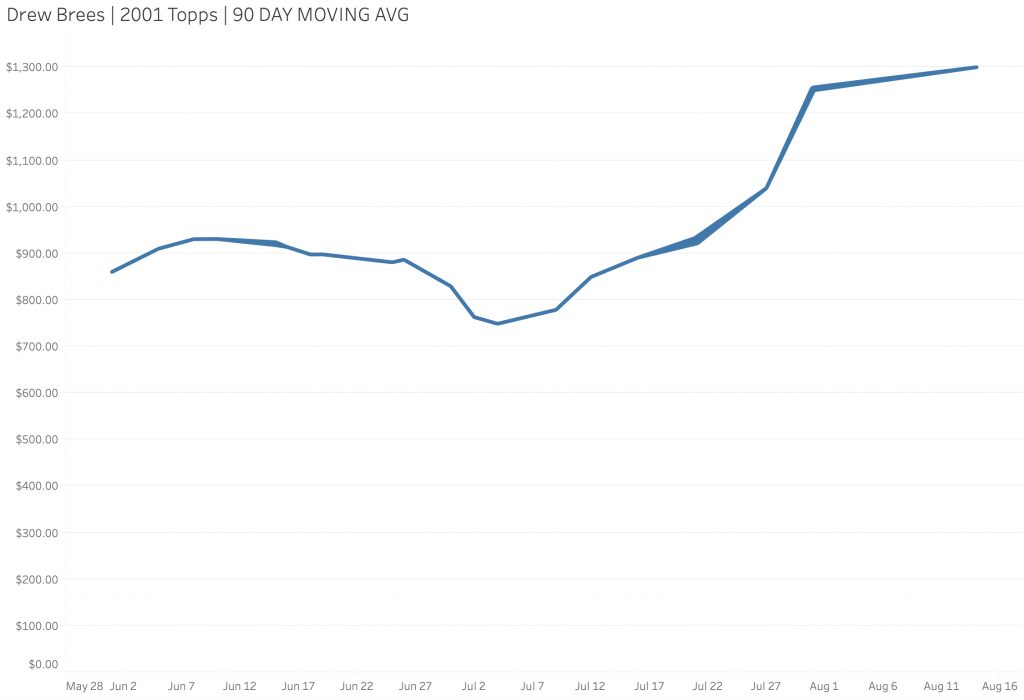 ---
#3 | RUSSELL WILSON
2012 Panini Prizm
Current Price: $1,978
90 Day % Movement: 220%
Find on eBay HERE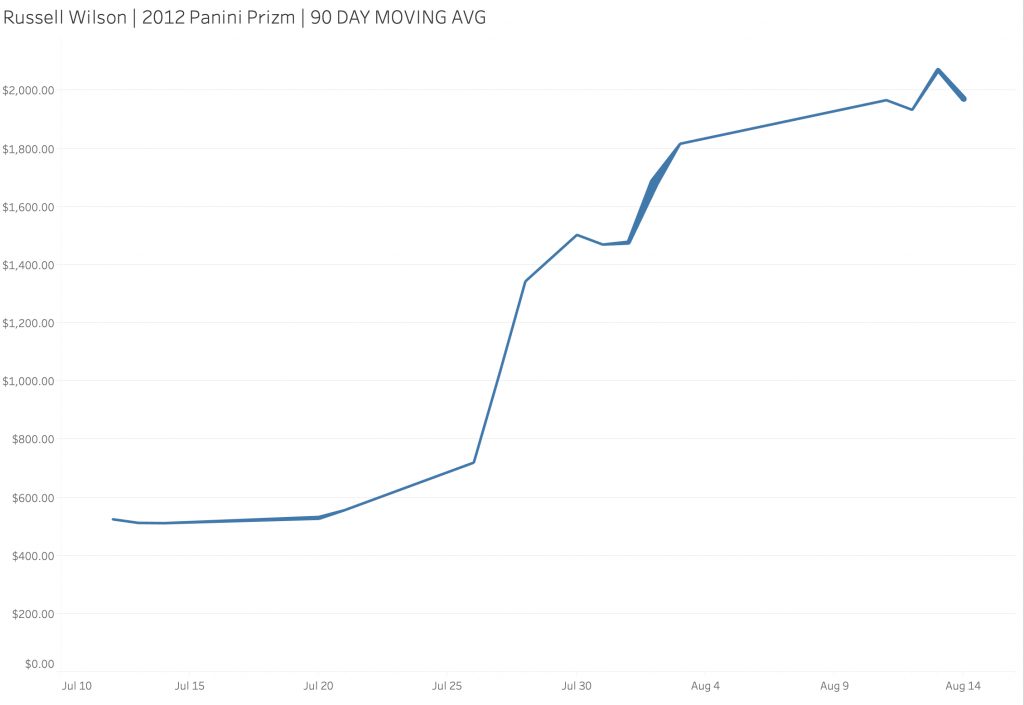 ---
#2 | PATRICK MAHOMES
2017 Panini Prizm Silver
Current Price: $7,900
90 Day % Movement: 153%
Find on eBay HERE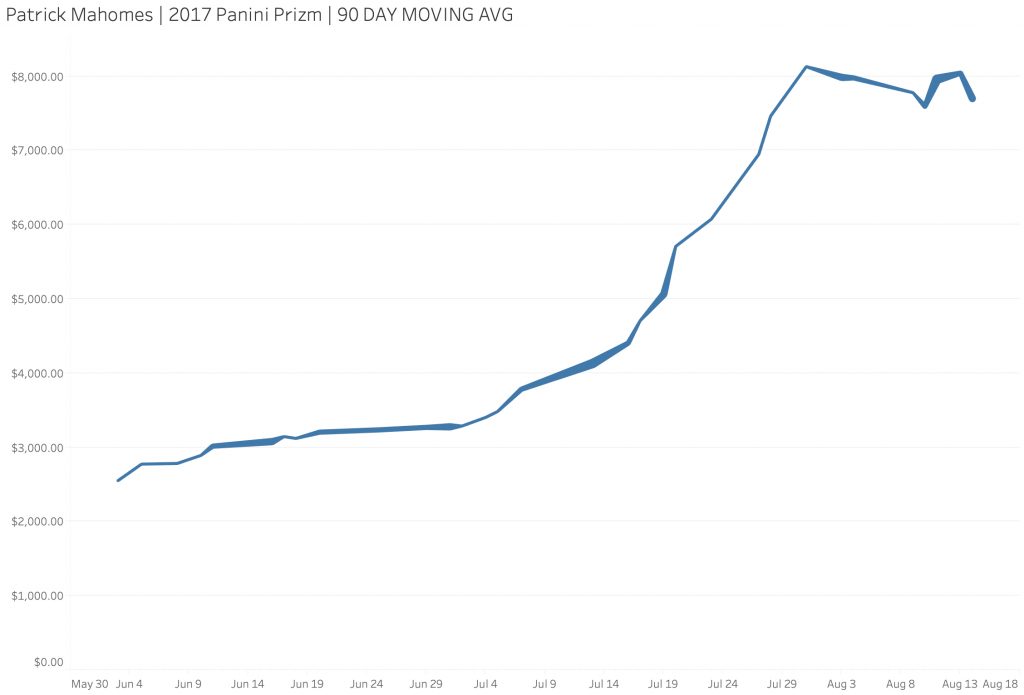 ---
#1 | TOM BRADY
2000 Bowman Chrome
Current Price: $10,5000
90 Day % Movement: 54%
Find on eBay HERE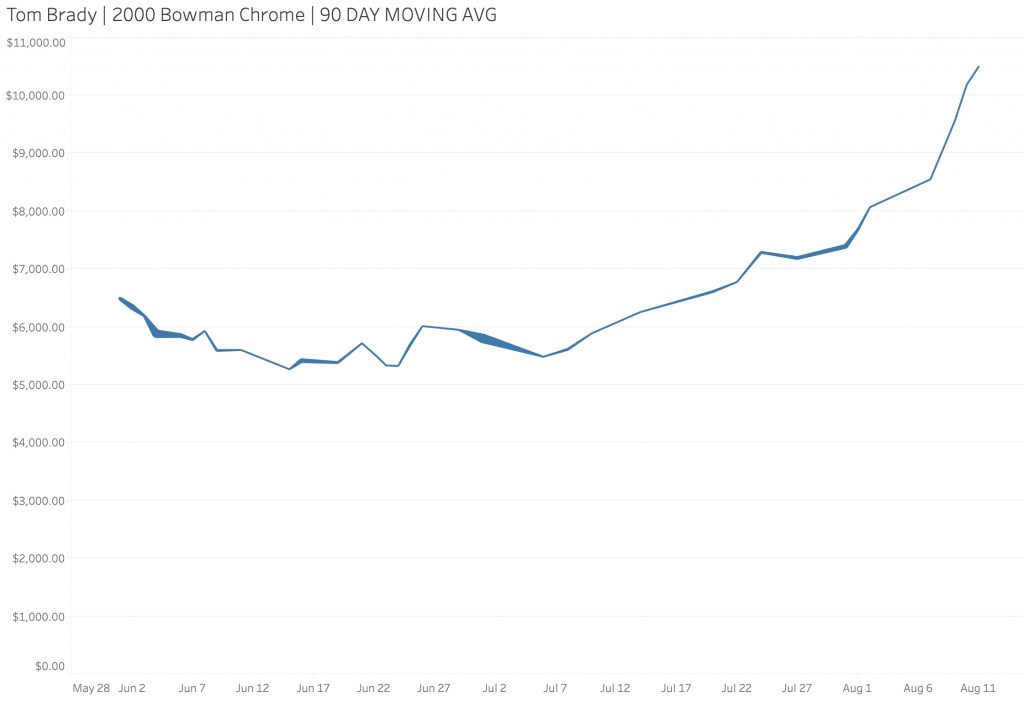 ---
Hope that was helpful. Let us know what you think!!