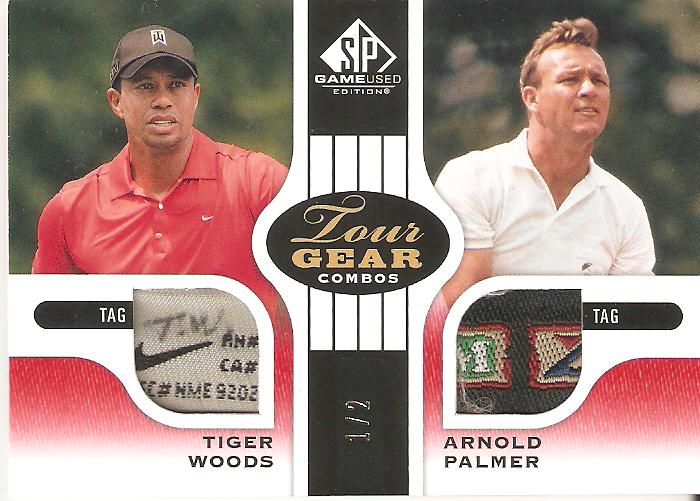 Everyone that collects sports cards has a personal collection. Personal collections can vary from a certain player, a certain subset, a certain team or a certain type of card. Throughout my sports card journey I have stored autograph subsets, players, teams and autograph patch cards into my personal collection, but recently my personal collection has grown to include pretty much everything I can get my hands on.
Certain cards may be more expendable than others, but for me if a player is performing well or a rookie that has any sort of potential, I will most likely keep their cards in my PC. I also like to hold onto nice looking autograph patches simply because they are nice to look at, and it does not matter who the player is. For example, when Select Football was released a few months ago, I purchased a couple of boxes and managed to pull a nice two-color patch autograph of quarterback Connor Cook who is currently the third-string quarterback of the Oakland Raiders. In the limited action that he has seen on the field, he has not looked great. Regardless, the card is nice looking and that is why it is a keepsake for me. Other autograph patches with nice swatches of lesser names that are part of my personal collection include SP Authentic Future Watch Rookie Patch Autograph cards of Griffin Reinhart and Radek Faksa as well as Topps Finest Rookie Patch Autograph cards of Vincent Brown and Shane Vereen.
Getting Patchy!
Autograph patch cards with nice swatches also carry a heavy premium on the secondary market and this makes it somewhat rare to see random autograph patch cards in someone's personal collection. Typically patch autographs that are held onto are of favorite players and team collections. This is where my collection is a little bit different than some. My biggest pull ever was from 2012 SP Game Used Golf and it was this incredible Tiger Woods/Arnold Palmer Dual Tag Card. My reaction after pulling this card was pure silence, but when those around me started to look at the card and even take pictures of it, I knew that the card was in forever in my possession. However, with group breaks of every product now available, this makes it rarer and rarer for a card such as my this to belong in a collector's personal collection, since the temptation to sell is just too high.
Pride and Respect
The most common cards that are part of any collector's personal collection are those of their favorite teams. My largest personal collection that I currently own is of the Los Angeles Rams and I have over 1000 cards which includes rookies, autographs and game used cards. I took an interest in the Rams during the late 1980s because I thought they had nice looking uniforms and obtained most of my cards through trades online and at local sports cad shows here in Toronto. Naturally, I also keep all Toronto cards that I can get a hold of as well. Unfortunately, I have not been able to amass much of a Toronto personal collection over the years and I have approximately 500 Toronto cards to my name.
The sports card collectors that I have met over the years that I have the most respect for and have become close friends with, are those that have amassed impressive team and player collections. I have noticed that those collectors that focus more on obtaining cards for their personal collection are easier to get along with and generally are in a better mood than those that are looking to obtain cards just so they can flip them for a profit. Pick your team style group breaks also give the collector a chance to purchase their favorite teams and it is always nice to see someone land a card that will be a keepsake.
Precious Pulls and Deals
Other cards that I keep in my personal collection are cards of players that I have pulled from my personal breaks or obtained from trades or sales that get extremely hot on the field and in turn sell very well in the secondary market. The best examples of this are the Cody Bellinger and Antonio Senzatela autos I was lucky enough to pull from 2015 Bowman Chrome. Both rookies are starring for their respective teams right now and one of them has the inside track on the National League Rookie of the Year Award. The most notable card that I have obtained through trade that has skyrocketed over the past year is my 2013 Panini Signatures Giannis Antetokounmpo rookie card auto out of 199 that I got from a trade with a buddy. Giannis is viewed as the next Lebron James but at the time I traded for the card a couple of years ago, he was just a player that I liked to watch play. His rookie card autographs sell from between 80-$4000 for his 2013 National Treasures Rookie Patch Autograph and his autograph card is something I will always cherish.
Gone but Never Forgotten
Like any other collector, there are also cards that I have had in the past that I wish I still had. The most notable of these cards for me is a Dual Sign of the Times autograph card of Wayne Gretzky and Mario Lemieux from 2006-2007 Upper Deck SP Authentic Hockey. I purchased quite a few boxes of this product and since this was during a time in my hobby journey that I enjoyed trading cards, it is no longer in my possession. Over the years, I also had another Wayne Gretzky autograph from 1994 Upper Deck Be A Player and a National Treasures Stephen Curry autograph jersey, which I did not mind trading since it went to a friend who collected him. That is my logic as far as collecting is concerned. What matters most to me is the happiness of myself and every other collector that I come across.
No matter how young or old a sports card collector is, their personal collection is what defines them. There are those collectors that are hardcore and will go all out to purchase and obtain as many cards of their favorite player or team as they can and there are those such as myself who are happy when we are lucky enough to obtain one via a box break, a sale or a trade. The personal collection is also something that will always exist in the hobby because there are always new innovations and products that are being released. Somewhat gone are the days of collecting a certain player and subset, but this has been replaced with new sports that have recently been introduced to the hobby such as soccer. The bottom line is the hobby is in a very good place right now and the personal collection is at its core.