A hobby is a good way to spend your money and time on something you enjoy. Some people collect stamps, others like to travel, but those in the sports card hobby love spending endless amounts of their hard-earned money on pictures of athletes on pieces of paper. Over the years, I have gone through periods of time when I have spent various amounts of my available spending money on sports cards. When a product comes out that I really enjoy, I would focus on that product until I got a card that I would consider worthy for my personal collection.
Typically, this takes approximately seven boxes or so, but there are times when it has taken less. The only product that I had a bad experience with was 2016 Bowman Chrome Baseball, which I opened seven boxes when I was chasing Vladimir Guerrero Jr., top prospect for the Toronto Blue Jays, and did not obtain a card that currently sells for more than $20 on the secondary market. I am aware that with a rookie focused product such as Bowman Chrome that only time will tell if cards are a worthy investment, but I did not pull any prospects in the MLB Top 100, so my hopes are not high at all.
Over my years of purchasing sports cards, I can honestly say at times that I have been out of control with my spending habits. Much in the way that druggies are addicted to drugs and gamblers are addicted to betting, collecting sports cards is my guilty passion, and there are times when I have slowed down realizing that I am getting out of control in my spending habits. Nevertheless, collecting sports cards is my main hobby, and over the years I have been able to thoroughly enjoy certain products. This article will focus on the top eleven non-hockey card products that I have liked the most, with a focal point on what made me interested in them and how much I spent on them.
and be sure to check out an amazing new site. 

---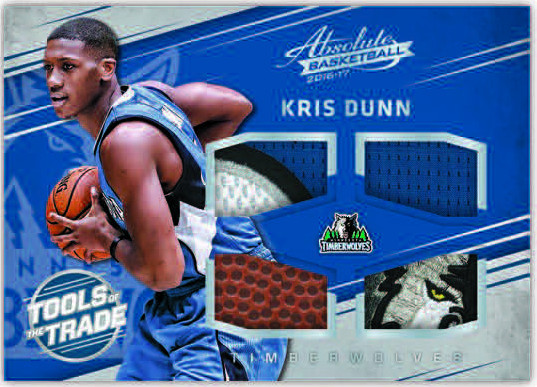 11. Absolute Brand
I enjoy the Absolute brand because of the nice memorabilia cards that it has. I purchased seven boxes of Absolute Football in 2010 chasing Sam Bradford cards and I failed in my conquest. However, I still have a few of the nice patch cards I pulled back then including a Dez Bryant two-color patch card  and a nice three-color patch card of former New Orleans Saints wide receiver, Devery Henderson.
Absolute is like the SP Game Used brand that Upper Deck releases every year, but there are a couple of differences. Most notably SP Game Used has true rookies numbered to the player's jersey number whereas Absolute is more known for its memorabilia autographs than base cards and autographs. However, both brands are known for their premium memorabilia swatches and they include some of the nicest patches in the hobby.
Since 2010, I have only purchased a couple of boxes of product from Absolute. This is mostly because of the large number of products that has been released since then, but the Jahlil Okafor quad-memorabilia autograph that I pulled last year is one of the favorite items in my personal collection, due to the nice-looking basketball swatch that it has. With the desire to collect the Toronto Maple Leafs going back to normal next year, Absolute might be a brand that I go back too.
10. Prizm Brand
The reason why I consider this brand one of my favorites is because of their cost point and the number of low numbered parallels and autographs that you can get per box. This brand has also been very good to me as well and home to some of my nicer pulls. I have not gone overboard in buying boxes of this product, buying only a few boxes in total, but I have been able to pull two autographs of Chicago Cubs superstar Kris Bryant, a gold parallel out of 10 of Bryce Harper and a black finite one of one card of Florida Panthers' goalie Roberto Luongo. I also got one box of Prizm Football last year and got a nice rookie autograph out of 49 of Paxton Lynch.
This brand is low-end and has sticker autographs and that is one of the reasons why I do not spend more on it. Prizm Basketball is also very popular among collectors and even the base rookie cards do well on the secondary market. I am not much of a basketball card collector and have yet to buy any packs or boxes of Prizm Basketball, but that might change if the Toronto Raptors draft someone decent in the future.
9. Select Football
The Select brand is one of my favorites in the sports card world and makes three appearances on my list. What I enjoy about it are the design, checklist and like Prizm, the low numbered parallels. The thing I like about the low numbered parallels in Prizm and Select is that Panini did not go absolutely nuts in the different kinds of parallels that there are. Like Bowman Chrome Baseball, there are only a few levels of parallels with the elusive one of one being the lowest one.
I tried two boxes of this years Select Football and did decently. My best card was an autograph patch card of Connor Cook, but I also got an autographed jersey card of promising New York Giants' rookie wide receiver Sterling Sheppard. My one criticism of the of the current line of Select products is the three-leveled base set. In total, there are 500 cards which is a high for a base set, and I believe there is no need to have three different levels and one would have been fine. It is hassle to sort through the cards to see which level they belong to and since there is not much difference in terms of value and even design, it is essentially a waste of time.
8. Topps Museum Baseball
What attracted me to Museum Baseball a few years ago were the framed autograph cards that you can pull. I used to own a gold framed autograph card of Atlanta Braves' pitcher Julio Teheran and this card is one of my bigger eBay purchases. Museum Baseball is also the only high-end brand that I will spend my money on. Most of the boxes that I purchase are in the 1-$150 range, but a box of Museum Baseball is approximately $250.
Other than the metal framed cards, Museum Baseball is also filled with nice patch cards, on card autograph cards of the greats of today, rookies and greats of the past, and very hard to pull one of one game used cards, such as logoman patches. Unfortunately, like any high-end product, a Museum Baseball box break can be very rough. I got two boxes and three packs of this product last year, and in those three packs my best hit was an autograph jersey card of Slade Heathcott (yah, who?). My two boxes were a little better and my best cards were on card autograph cards of Bo Jackson and Aaron Nola, both numbered to 5.
If Museum Baseball was $50 cheaper I would buy more boxes, since it is just one of those products that I thoroughly enjoy breaking despite it being a tough break. I believe the product is just done very well across the board and since it is not a one pack break like most high-end products, the sting of a bad break is not as painful as it could be.
7. Contenders Football
Contenders Football is another hobby staple, and one of the more popular football products out there on the sports card market. What makes it a desired brand are the autograph cards of the rookie standouts, which are all on card. There are also autograph cards of veterans and coaches, but the rookies are where this product excels.
Contenders Football is the football product that I have most recently spent the most money on, and I bought seven boxes back in 2015 when I was chasing Todd Gurley autographs. Collecting the Los Angeles Rams over the years has been tough for me since they have lacked players with star power, and I have always collected them because I liked the team. I thought about getting back into collecting Rams this past year, but with the excitement surrounding the Toronto Maple Leafs, that is where I decided to spend my money.
Out of my seven boxes, I pulled a very nice NFL INK autograph out of 10 of the now retired Tony Romo. Like the other cards mentioned in this article, this card is also a personal collection keepsake. Unfortunately, the rest of my autographs were a major downer, and this is the best example so far on this list of how an addiction for busting wax can go terribly wrong. Regardless, I enjoyed busting the product and will undoubtedly open more in the future.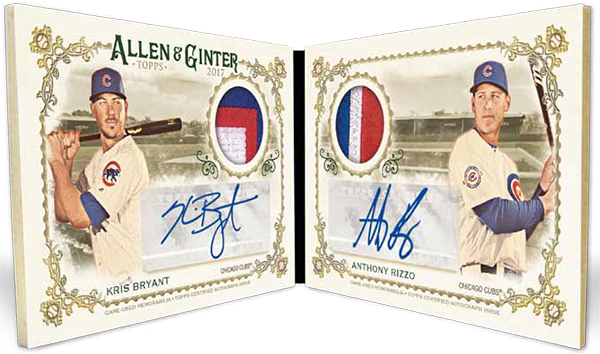 6. Topps Allen and Ginter Baseball
Even though Allen and Ginter is listed as a baseball product, it is more well known for the wide assortment of autographs that it has of athletes and celebrities. I started buying boxes of this product in 2012 because of the London Olympics and I remember buying a Michael Phelps relic card from eBay. This edition also had rare autographs of tennis superstar Roger Federer, actress Kate Upton and a lot of the current baseball stars such as Mike Trout and Bryce Harper.
Allen and Ginter is one of the only products out there that does not focus on one sport and that is where its appeal is for me.
The design is basic, but it is simple and nice and the autographs are on card which is always a bonus. I like that the rarer autographs are signed in a different colored pen as well. The mini cards are also a nice part of what makes up Allen and Ginter and this design is an Allen and Ginter exclusive and there are also rarer variants of the base version of these cards, which are part of chase and desire for this product.
Perhaps the most popular cards in this product are the "rip" cards that are inserted. These cards either contain a short print mini card or a rare relic or autograph card. In the two boxes of Allen and Ginter I opened last year I was lucky enough to pull a rip card, and it is one of the most exciting pulls of my life. My rip card only contained a short printed mini card of Clayton Kershaw but the decision-making process of either to rip the card or not, was one of my most exciting moments as a sports card collector. What makes Allen and Ginter a great product is that is unlike any other product that is out there in the sports card market and this makes it a mainstay that only keeps getting better. Good job Topps!!!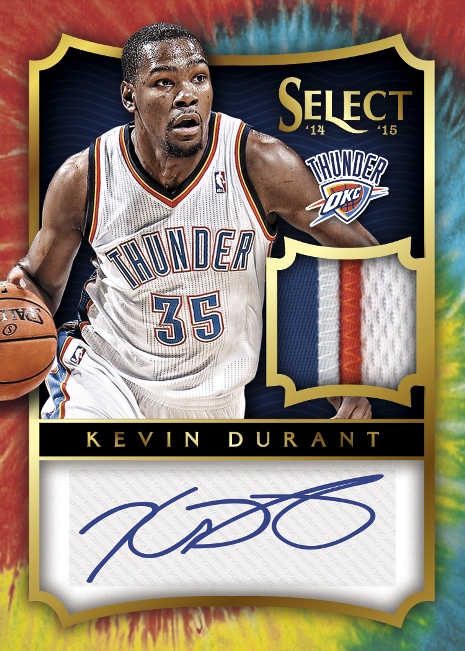 5.Select Basketball
I went nuts with 2014 Select Basketball trying to hit an Andrew Wiggins autograph and managed to pull one a couple of boxes in. This did not stop me from buying more boxes and in total I bought about eight boxes of this edition and most of the cards remain in my personal collection. Highlights of my break include autographs of Kevin Love and Harrison Barnes, a patch card out of 10 of Kareem Abdul Jabar and a gold parallel also out of 10 of Demarcus Cousins.
I also got a couple of boxes of Select Basketball in 2016 and some of my nicer pulls that year were autographs of Devin Booker and a very nice autograph out of 10 of Dennis Rodman, which is probably the nicest card in my basketball personal collection. The basketball edition of Select is a little bit better to me than the football edition because of my personal experiences with it. If my pulls in my football breaks were as good as my basketball breaks, it would have been higher on this list or perhaps slotted in the same position. Regardless, the Select brand remains one of my favorites and their products are something I look forward to every year.
---
CHECK OUT THE #1

SPORTS CARD MEDIA NETWORK

:

---
4. SP Authentic Golf
The SP Authentic brand is known across the hobby world as one of the most popular and that holds true for golf. Golf is one of those niche sports in the collecting world in the same mold as soccer, but the reason why I appreciate golf cards is because they do suffer from the biggest issue in the sports card industry, over saturation. Usually, golf card products come out every two years, but one has not been released since 2014. My guess is that Upper Deck is having issues signing the likes of Jordan Spieth and Jason Day, but whenever golf cards hit the market again, they will with a major bang.
I got a bunch of boxes of 2012 SP Authentic Golf and even though I did not get any huge autographs, the price was good and I did get most of the main rookie autographs and some nice Sign of The Times autographs as well. I was chasing Michelle Wie and Rory Mcilroy rookie autographs in 2014 and did not have any luck, but once again got a pile of autographs that will remain in my personal collection.
Golf is also a sport that I used to watch with my family and play with my family whenever I could, so collecting golf cards has that added incentive as well. Golfers also have very clean autographs unlike some of the other athletes in professional sports, who can have lazy looking autographs.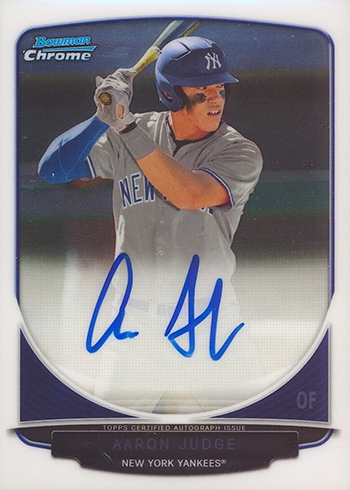 3. Bowman Chrome Baseball
I started off being a modest fan of this product in 2012 and only got a few packs of the jumbo edition. I did very well and my best cards were a refractor autograph of current Boston Red Sox outfielder Jackie Bradley Jr. and a gold parallel out of 50 of former St. Louis Cardinal prospect Oscar Taveras, who died a couple of years ago. At the time, these cards were worth in the $50 range and I traded them both, thinking that I made a very nice profit. Unfortunately for me, both cards soared to over $200 in a matter of months and I got a sick feeling in my stomach. Since then both cards have settled back down to the value I traded them for, but I still regret not holding onto them.
2013 was when I started buying boxes of this brand and I have another story of unloading a card too soon, but then not regretting it as much in the long run. I got three boxes of the jumbo edition which includes three autographs and my best pull was a gold refractor autograph of then top prospect for the Washington Nationals, Lucas Giolito, who has since been traded to the Chicago White Sox. My Giolito was a $300 card when I pulled it and I made a deal for a refractor autograph of Pittsburgh Pirate's outfielder Gregory Polanco and some cash. The Giolito card quickly went to the $500 range, but like the two cards I mentioned earlier, this card is now one third of the value that I unloaded it for and it looks like Giolito is a bust of a prospect.
Every year since 2013, I have gotten at least a couple of boxes of Bowman products, and as mentioned earlier, I went overboard in 2016 looking for Vladimir Guererro Jr. cards. Some of my other solid pulls out of this brand were a golf refractor Farm's Finest autograph of reigning National League MVP Kris Bryant and my best pull by far is the Cody Bellinger base autograph I pulled two years ago. Bellinger is one of the hottest players in baseball right now and his card has gone up from $20 two years to over $400 today. I have never been about monetary value when collecting, but Bellinger's hot streak makes me wonder if I should grade my card and maximize the value and sell it in the future.
The Bowman Chrome brand is one of the most consistent and popular brands in all of sports and I will continue to purchase boxes of it every year. This brand has also taught me the value lesson to be patient with your cards and never sell or trade too soon because you never know if a certain player can get hot and become a personal collection keepsake.
2. Select Soccer
The 2015 release of Select Soccer started with a bang and a lot of hype since it was soccer's introduction to the mid-end card market. Since then many higher end soccer card products have been released with varying degrees of success. Prior to spending a large sum of money on soccer cards, I bought a couple of boxes of 2014 World Cup Prizm and I did well, managing to pull a gold refractor out of 10 of Rafael Marquez and an autograph of Steven Gerrard.
Like most of the products on this list, my enjoyment of it is a direct result of the success I had in my breaks and Select Soccer is no different. In my second box I pulled an autograph out of 39 of one of the best soccer players ever, Cristiano Ronaldo and my reaction was once again priceless. I used to record my breaks onto my computer and normally I place all the packs with hits to the side and reveal them at the end of the break. However, for whatever reason I looked at one of the stacks with a hit before the end and poof, that's when I realized my amazing pull! I have gotten various interest for this card over the past couple of years, but it firmly remains in my personal collection, since it is a once in a lifetime type of card.
Other cards that I managed to pull were patch autograph cards of Luis Suarez and James Rodriguez, which I have since traded to my closest sports card trading buddy. What I liked most about this product was the number of low numbered parallels in it which is what Select is known for. In my seven boxes, I was also able to pull a green parallel out of 5 and a host of autograph jersey cards numbered less than 50. Unfortunately, this is a double-edged sword and the ease of pulling these low numbered cards also saturates the market with these types of short prints, thus killing the value in most instances.
Nevertheless, soccer made a triumphant debut in the mid-end card market in 2015 and what has happened since then has already started to be rectified and I have all the faith in the world that Panini and Topps will continue to make soccer a desirable sport to collect.
 1. SP Game Used Golf
2012 SP Game Used Golf is where I got the biggest pull of life, a dual game used card tag card of Tiger Woods and Arnold Palmer. The unique thing about this card was the Tiger Woods swatch has his initials, which is something I have never seen on a card before. This led me on a wide goose chase on who could have possibly written these letters and why. I contacted Upper Deck, Nike and even Tiger Woods himself on his Twitter account and the only response I got was that it was an employee that wrote those letters when they were doing Tiger's laundry. Pretty cool though! I also pulled a nice Anika Sorenstam auto out of 5 out of this product which I wound up trading for a bunch of I.K Kim cards for my personal collection.
I bought only a couple of boxes and packs of SP Game used Golf in 2012 and 2014 since it is an expensive product. There are three packs per box and each box had an Inked Driver autograph and a First Tee Rookies autograph card. These look great and the Inked Driver cards especially were very nicely done. What I like most about SP Game Used golf is that the swatches from the various types of memorabilia, either have multiple colors or are from materials that are rare such as gloves. Another cool aspect about golf game used cards is that anyone can wear the clothes that professional golfers wear on a daily-basis, and that can not be said for any other sport.
Opening packs of this product was not about getting the big pull because that is always a crap shoot. It was about obtaining cool looking cards for my personal collection, and if I was lucky enough to get big money cards, it was a nice bonus. SP Game Used Golf is also something I prefer over the hockey product since I believe that even though SP Game Used Hockey has made some nice changes over the years by introducing new subsets such as Banner Season game used cards, SP Game Used Golf just has more appeal across the board.
---
Collecting sports cards is a passion for all of us but there are times when we get out of control and wish that we saved our money. Getting a nice card is difficult when busting wax and it is even more difficult to obtain a card that is a personal collection keepsake. I have been lucky enough to pull some eye dropping cards in my time, and the products that I had this fortune, are my most favorite. Big pulls might be the most important factor in compiling my list of favorite non-hockey products of all time, but such things as design, rarity and checklist also play a big role.
What do you think? Agree / Disagree? Tell me below!