Okay, we are sitting here on October 1st, 2019 and the hype for the upcoming NBA Season is as loud as it's ever been. The Zion Williamson mania is sweeping collectors up and bringing lots of new money into the marketplace. This excitement has carried over not just to 2019-20 Panini Basketball products, but it's also bringing a whole wave of new money into the past couple of years products'. I was EXTREMELY impressed with the movement across 2018-19 Panini Prizm Silver prices. Prices are strong, volume is strong, and the movement across each level (top to bottom players) is significant. There are going to be some GREAT opportunities to jump in the next few weeks, I'm excited to share some tips!
Quick Note: If you aren't a subscriber on our PATREON PAGE (HERE), you should jump in now. We have lots of extra insight posted for members….and this report is delivered earlier to everyone who is supporting us. 
Finally, if you are looking for boxes, I still think the best bet is to purchase Cello boxes. I wouldn't pay more than $130 a box. Here are some that are available now:
With all that said, I'm excited to get you the data up through
October 1st, 2019

.

Now let's dig into the numbers!
---
If you are curious about last year's Prizm Ladder — Check out the 20+ releases of the 2017-18 Panini Prizm LADDER(s) RIGHT HERE
If you want to discuss these details, head to our Discord Channel

>>>> RIGHT HERE.  <<<<<

Lots of great discussion taking place! 
---
NBA Rookie Single Pricing
Report for October 1st, 2019
Overall Average PSA 10 Rookie
Silver Sales Price =
$54.88   >> 

+19.5%

 

from last month
and a quick video to break some of this down:
---
#10 – Collin Sexton
eBay: CLICK HERE to see his SILVER's ending now.
---
#9 – Mitchell Robinson
eBay: CLICK HERE to see his SILVER's ending now.
---
#8 – Michael Porter Jr
eBay: CLICK HERE to see his SILVER's ending now.
---
#7 – Landry Shamet
eBay: CLICK HERE to see his SILVER's ending now.
---
#6 – DeAndre Ayton
eBay: CLICK HERE to see his SILVER's ending now.
---
#5 – Marvin Bagley III
eBay: CLICK HERE to see his SILVER's ending now.
---
#4: Jaren Jackson Jr
eBay: CLICK HERE to see his SILVER's ending now.
---
#3: Shai Gilgeous-Alexander
eBay: CLICK HERE to see his SILVER's ending now.
---
#2 – Trae Young
eBay: CLICK HERE to see his SILVER's ending now.
---
#1 – Luka Doncic
eBay: CLICK HERE to see his SILVER's ending now.
---
Out of Top 10:

 Kevin Knox (13), Anfernee Simons (12), Lonnie Walker IV (11)
---
THE INTRIGUING PLAYERS
Here are the players/charts the look most interesting to me….
This one stuck out to me because Mikal moved up 17 spots in Volume Ranking. This tells me that folks are buying up his cards and he's gaining a little momentum. His bases are sub $5….and his PSA is sub $30. I'd consider this a low risk investment to land a guy who could easily be prices where Knox/Miles Bridges/Simons are ($50-$65 PSA 10). 
Here is a player that had a roller coaster ride during his rookie season. He had a stretch of 3 weeks that propelled him into collectors relevance… but tailed off toward the end of the year. He moved up 18 spots in volume this month and is seeing more interest in his PSA 10's… watch him.
Alright, this one is very interesting. He dropped in volume (8 spots) down to 30th… but his PSA prices continue to rise. I'd HIGHLY consider looking into some RAW Silver's for Jalen Brunson around $6-$10. He could end up being one of the starting guards (opposite Doncic)… and will get plenty of face time with the continued rise of the Mavericks. 
This one is simply a case of me just liking where he's priced. I'm absolutely willing to take a shot at Aaron Holiday for PSA 10's below $25. He dropped 25% this month in PSA 10 price, but rose 5 spots in volume. I just think he's one of the guys near the bottom 3rd that have a real shot at evolving into a Tier 2 player. 
---
THE GUYS I'M
NOT

BUYING

Here are the charts that I'm not interested in….

Yeah, I just don't see it. The chart looks good, but I'm just not a believer in Graham's game translated well enough this season. He doesn't have elite athleticism or an elite jump shot. I'm staying away at this price.
I was a big Trier investor during the middle of last season, but the more I think through his options in New York…I get less excited. There aren't enough shots to go around…especially with RJ Barrett trying to prove his worthiness of a high selection. I'm waiting to see where he falls on the depth chart or if he becomes a trade candidate. He can score in this league. Just need opportunity.
---
Overall Ranking
Here are the OVERALL pricing for all rookies.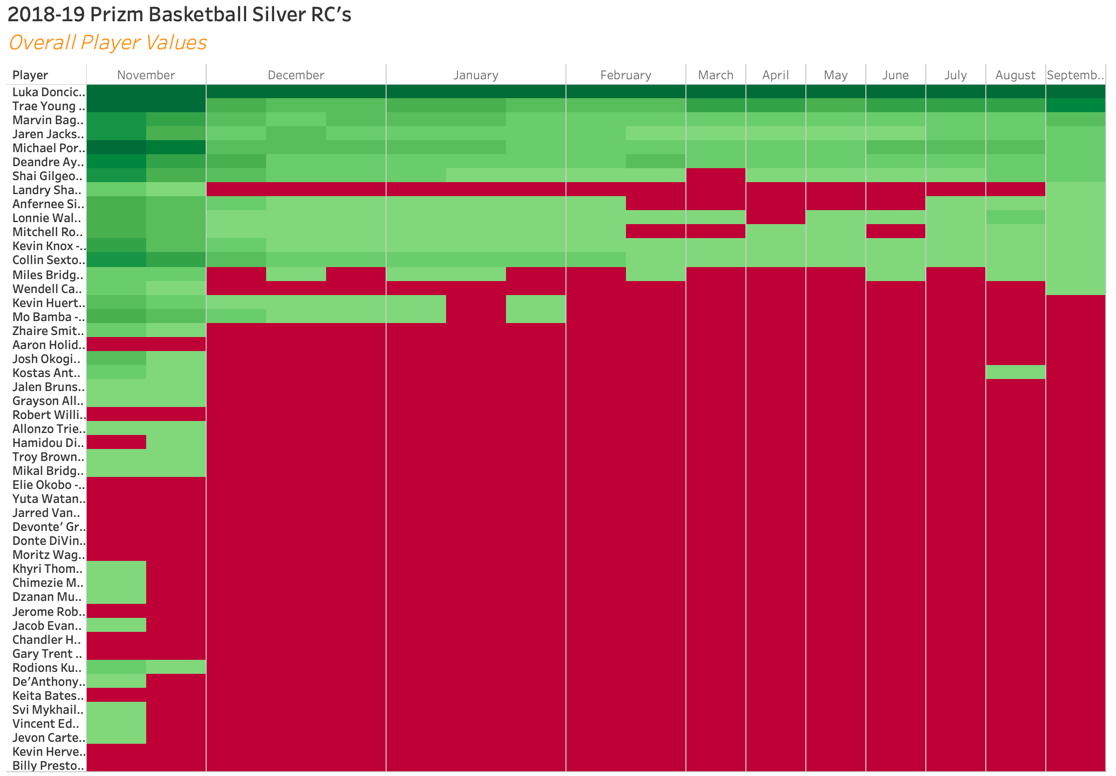 ---
TEAM RANKINGS
Here are the OVERALL rankings for Team Values in the product.

---
Current Pricing for 2018-19 Prizm Hobby Boxes:

RIGHT HERE
Criteria
We run reports on all rookies PRIZM SILVER sales for a given week. We exclude any variation, auto, or memorabilia prices to make sure you are getting a good representation of the actual silver pricing. We use silver prices as a baseline because they are considered by many to be the de facto standard for "base" rookie – NBA cards.
[vc_custom_heading text="FIND YOUR 18/19 Prizm Cards Ending Today! " font_container="tag:h1|text_align:center|color:%23096abf"][vc_tta_tabs style="modern" color="vista-blue" active_section="1″][vc_tta_section title="10 BGS PRISTINE" tab_id="1546709993626-54765ef2-b5f7″]
[/vc_tta_section][vc_tta_section title="PSA 10 GRADED" tab_id="1546710032357-8bc08e8d-ddab"]
[/vc_tta_section][vc_tta_section title="9.5 BGS GRADED" tab_id="1546709780712-5cd44cd2-7606″]
[/vc_tta_section][vc_tta_section i_icon_fontawesome="fa fa-universal-access" add_icon="true" title="SILVER'S ENDING NOW" tab_id="1546709708888-a2bcc9a9-9e47″]
[/vc_tta_section][vc_tta_section title="GOLD /10″ tab_id="1546710043722-3879b529-5ca9″]
[/vc_tta_section][/vc_tta_tabs]